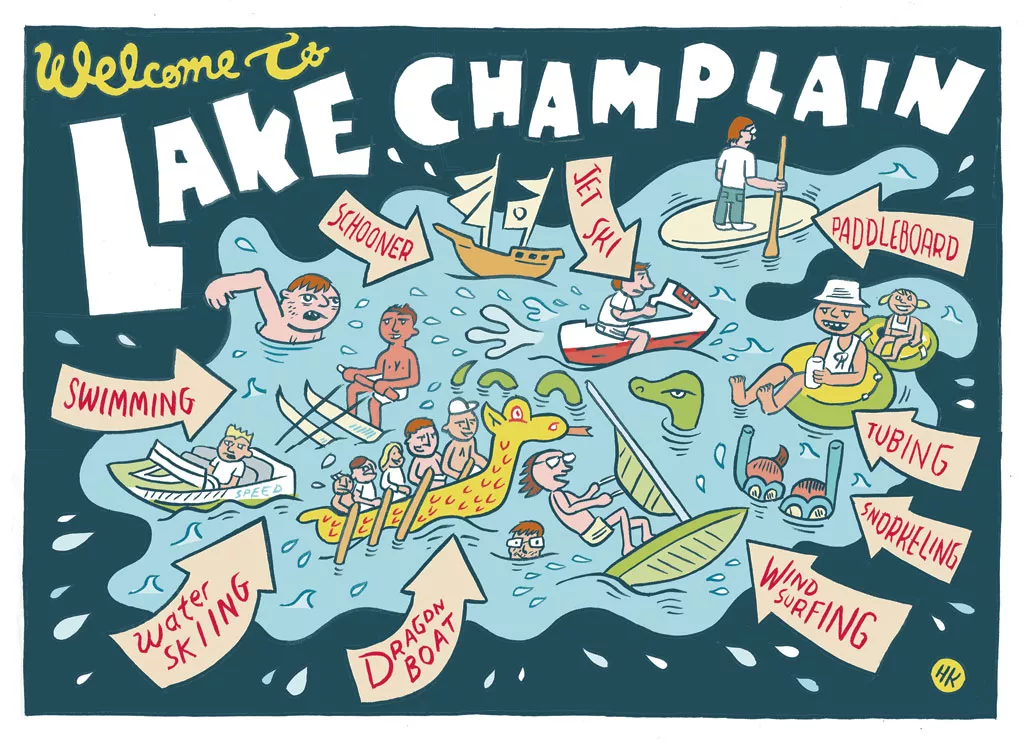 Lake Champlain, at about 1,200 square kilometers, is the 13th-largest lake in the U.S.; its 25 cubic kilometers of fresh water ranks it 17th in volume. In other words, it's a big enough lake to accommodate just about everyone on its shores who might want to swim, kayak, parasail or otherwise engage in aquatic activity. No, really: The computation website Wolfram Alpha tells us that if every single Vermonter — and there are about 626,000 of us — were to jump into Lake Champlain at once, the level of the lake would rise a scant 3.68 micrometers.
Most of us, though, might prefer to enjoy Lake Champlain's bounding main on a floating device, e.g., sailboat, kayak, paddleboard, etc. What to do if you don't own any of the above?
Plenty of lakefront businesses enable patrons to rent a boat and hire a crew, and a Vermont boating license is surprisingly simple and inexpensive to obtain.
But there are many more ways to get onto or into Lake Champlain. In case you need assistance figuring this out, we present them here. Bon voyage!
Swimming
The simplest way to commune with Champlain's water: Just don a swimsuit and jump in! Or, if you're hip to the locations of local semisecret nude beaches, you can save yourself even the cost of swim trunks or bikinis.
Just watch out for algae-slicked rocks, hungry lampreys, nibbly sturgeon and elevated levels of dioxins, PCB and phthalates!
Rafting & inner tubing
No one's stopping you from grabbing your favorite inflatable and hitting the water. Inner tubes and rafts are cheap and easy to use. Hipsters may wish to purchase an ironic inflatable horsey.
A so-so inner tube will set you back no more than 30 bucks at an outdoor-outfitter store, and is sufficient for a confident swimmer. Safer, multichambered inflatables — durable enough to be towed behind a speedboat but also propellable by kick power — are easy to find. West Marine in South Burlington sells a number of multipassenger tubes for about $100.
Snorkeling & SCUBA diving
The place to go for underwater limnological fun is Burlington's Waterfront Diving Center, which rents and sells all the flippers, face masks and rebreathers you'll need for snorkeling or SCUBA diving in Lake Champlain. The shop also offers a wide variety of classes, from an introductory snorkeling clinic to a master SCUBA-diver course, and even charters boats that visit such dive sites as the Underwater Historic Preserve. (Incidentally, that preserve, which includes the watery wrecks of many a vessel, is in the public trust; while anyone can visit it, registration is required.)
Standup paddle-boarding & surfing
Standup paddleboarding (or SUP) is sort of like surfing, sort of like kayaking and sort of like a core workout. Ali Marchildon, "Chief Wahine" at Burlington's WND&WVS, calls it "the fastest-growing water sport in the world."
What accounts for the sport's popularity? "It's very accessible, and, really, anybody of any age and any fitness level can find success right off the bat," Marchildon says. "You don't need a huge amount of practice or lessons in order to have fun doing it."
Besides offering courses and giving free SUP demos twice a week, WND&WVS on Pine Street sells and rents SUP gear. The boards cost anywhere from about $600 to $2,000; paddles, shoes and other gear are extra. The versatile boards — made of fiberglass and foam or durable, inflatable rubber — may be used as simple fishing boats; some can even be outfitted with a removable sail that turns them into windsurfing boards. If your need is speed, the sleeker, carbon-fiber boards can slice quickly through the waves.
If you want to give SUP a try before committing to the purchase of a board, Paddlesurf Champlain offers an "everyone-welcome weekly group paddleboard tour" that departs from Burlington's Oakledge Park. The company's SUP lessons cost $30 per hour; board rentals are $15 per hour and $55 for the whole day.
As for SUP's paddle-less ancestor, surfing, Lake Champlain doesn't have anything on Waimea Bay or even Rockaway Beach. Surfers won't find the huge, surging waves they need to hang 10. (Then again, no sharks!) Still, says Marchildon, surfing is occasionally possible on Lake Champlain "if the wind is going in the right direction." Check Oakledge Park; if conditions are right, you might get a chance to play Big Kahuna.
Windsurfing & kiteboarding
Middlebury may be landlocked, but that hasn't prevented the town's Northshore Kite n' Sail from offering a wide range of classes in SUP, windsurfing and their partially airborne cousin, kiteboarding. When weather conditions prohibit lake excursions, the shop's instructors teach kiteboarding courses in the middle of a field, the better for landlubbers to get the hang of it. Introductory lessons start at $69 per hour; advanced classes (on the lake) cost up to $340 for up to three hours.
Waterskiing, wakeboarding & tubing
Got a friend with a boat? Then you can have fast-paced aquatic fun simply by hitching a ride. If you're looking for a wave-skimming tow, there are three basic vehicular categories: inflatable, ski and board. We've already addressed the first.
For water skis and wakeboards, West Marine is, again, a sensible option. A good pair of water skis will set you back only about $150; add a life vest and a tow rope, and you're good to go. The less-familiar wakeboards are to water skis what snowboards are to alpine skis, with wider bases that offer greater stability. At West Marine, several models sell for around $200, but you can pay up to $500 for higher-end models.
Jet Skis
Jet Skis are the motorcycles of the water: fast, loud and show-offy. They're fun, but just because the surface of the water is softer than highway blacktop doesn't mean you shouldn't play it safe, kids. Be sure to wear a life jacket and familiarize yourself with your Jet Ski's safety features. And all Jet Skis must be registered in their owner's home state.
The prices on these babies run into four and five figures; beginners are better off renting. Check out Sail Lake Champlain in Isle La Motte, where, depending on the vehicle's size, $75 or $90 will get you an hour of Jet Ski time.
Kayaking, canoeing & dragon boating
If you're someone who scoffs at such doohickeys as wakeboards or kiteboards, then perhaps it's time to rent thyself a boat. The two simplest kinds — canoes and kayaks — are in ample supply in Vermont, and renting or even buying one is fairly affordable.
Umiak Outdoor Outfitters, with locations in Stowe and South Burlington, bills itself as "Vermont's leading paddle sports shop." Kayak rentals, which Umiak offers at Waterbury Reservoir and Burlington's North Beach, range from $20 for two hours to $50 for six; canoe rentals also top out at $50.
The store also sells boats of both varieties. Entry-level vessels run as little as a few hundred dollars; top-notch watercutters can cost upward of $3,000.
If you'd prefer to go boating with two dozen friends, consider Vermont's dragon-boat scene. These long paddleboats, known for their use in annual charity races in Burlington, seat up to 20 people. Can't rustle up that many pals? Burlington's Malia Paddling and Racing Club, operating from the Lake Champlain Community Sailing Center, can place you on a team of like-minded paddlers. The $250 annual membership fee covers two weekly practices and two races; prospective members' first two practices are free.
Boats
If you're thinking about renting a boat for a sunny summer afternoon's enjoyment, you have a number of choices. The first is: motorboat or sailboat?
If you were born after 1974 and wish to pilot a motorized aquatic vessel in the state of Vermont, you need a boating license. (Either that or you need to hire a captain, crew or both.) To get a license, you must pass the online Vermont Boater Safety Course (boat-ed.com/vermont). Once that's done, the license is yours for $30.
Marine Plus of North Ferrisburgh has six powerboats for rent, ranging from a 14-footer with a 9.9-horsepower engine to a 260-horsepower, 22-foot craft. Daily rates range from $165 to $350; fuel and launch fees are extra. In South Hero, Apple Island Resort Marina rents out motorboats for $150 to $275 per day.
Piloting a sailboat requires some training. If this is your goal, take a sailing course or two at Colchester's International Sailing School, located in Malletts Bay. The ISS offers courses for beginners and pros, kids and adults, on catamarans and on racing sailboats; prices vary.
You'll want to test your new sailing skills by renting a sailboat, which you can do at various locations around the lake. Burlington's Lake Champlain Community Sailing Center, which also offers a host of sailing classes, charges $55 for an hour's rental, and offers season passes ranging in price from $200 for a student to $725 for a family.
The same organization's Women in Wind program uses sailing to build confidence and leadership skills in Vermont girls and women. The program's team-building activities — in sailing and SUP — are designed to foster self-confidence.
The Community Sailing Center also offers an adaptive sailing program. In a partnership with Vermont Adaptive Ski and Sports, CSC's program has been helping people with disabilities get on the lake since 1997. Its offerings include group and private sailing lessons, as well as sailboat, canoe and kayak rentals. The Northeast Disabled Athletic Association offers similar programs, as well as an annual regatta, from its home base in Malletts Bay.
If you're content just to let someone else drive, you might consider calling up Burlington's Whistling Man Schooner Company. In addition to offering thrice-daily cruises during the summer sailing season, Captain Mike Crowley hires out his boat, the 43-foot-long Friend Ship, for private functions of up to 17 passengers. Rates range from $370 for an eight-person, two-hour cruise on a weekday to $1,920 for a 12-person, eight-hour cruise on a weekend. BYOB!
Last but not least, we have ferries. Arguably the most passive way to be "on the lake," the ferries that shuttle between Vermont and New York — departing from Grand Isle, Burlington and Charlotte — are functional and unglamorous. But they offer some of the best views around. What's more, some of them run through the winter. Your trusty SUP or Jet Ski sure won't help you enjoy the lake in December — unless you're looking for chilblain braggin' rights.