Hannah Palmer Egan
Burger at Burke Publick House
I wake up at 7 a.m. The plow trucks have been scraping by since before dawn. It's a workday, but I check the snow report anyway, just in case the storm dropped an unexpected load on the Northeast Kingdom.
Lo and behold: 20 inches overnight! I feel a swelling flutter in my heart. My self-diagnosis: powder fever, an illness cured only by skiing or snowboarding.
I call a skier friend: "Wanna go to Burke today?"
She's buried under a stack of taxes, emails and accounting, but my affliction infects her over the phone.
"Be there in half an hour," I say, pulling on long johns and boot socks.
As climate change threatens to bring us a never-ending streak of mild winters, any great snow day could well be your last. So it's key to spend as much time on snow as possible. Right?
But plowing pow is hard work, so a sweet morning meal is nonnegotiable. I usually make a two-egg breakfast sandwich at home. But, as a professional food lady and devout skier, my recommendation for folks looking to fully celebrate a NEK powder day would include stopping for sustenance.
At Miss Lyndonville Diner, for instance, the skillet breakfast — biscuits, gravy, eggs and bacon for $5.50 — is excellent fuel for shredding. If that's too much, the homemade cinnamon-raisin bread is almost a meal in itself.
Stuff some candy in your coat pockets to eat on the lift between runs, and make sure you have a dank lunch to look forward to.
Courtesy Of Auntie Dee Dee's
Fig sandwich at Auntie Dee Dee's Homemade Vt Baked Goods
If you're going on a Friday, Saturday or Sunday, do yourself a favor and grab a sandwich at Auntie Dee Dee's Homemade Vt Baked Goods, which is just beyond East Burke village on your way up Mountain Road.
Danielle Ekasala's daily-changing array might include a fresh baguette layered with prosciutto, figs and herbed chèvre; or flaky croissants cradling smoked salmon, soft cheese, red onion and capers. Of the several creations I've sampled — er, devoured in about three voracious minutes — a ciabatta Caprese, with its wet mozzarella, sweet tomato and fresh basil, was exemplary.
On the mountain, a nice warm-up might involve wide, easy turns down Fox's Folly, a quick zip down Upper Willoughby (that view!) and meandering, thigh-warming arcs down any of the friendly runs that ferry skiers into the Mid Burke base area. All or none of these trails may be groomed, depending on the snowfall, so be prepared to start the day with burning legs. That's when your pocketed lift candy will come in handy.
Next: Hit the Dippers, and maybe duck into one of the steep tree runs on the east side. Launch off a rock or two toward the top of Throbulator glade. If the snow's deep enough, you can ski anything with few consequences, aside from a face full of snow. Burke's woods on a powder day are precisely the reason northeastern skiers ski glades. Deep pow will make you a super-skier.
You'll probably forget about that sandwich you stashed for lunch. But at some point, you'll need to dose more calories. As you sink your teeth into Dee Dee's sourdough and layers of salty cheeses or meats, your aching thighs will thank you.
Hannah Palmer Egan
Fried pickles
The afternoon warm-up is even more crucial than that of the morning. You'll probably feel cold and stiff and horrible at first. Persevere! Hit the lift candy! Ski like a lazy flailing flapper if you need to. But get through those first few runs, and you'll be shredding Dixiland, the mountain's longest, leg-burning forest, in no time flat.
Consider the pain justification for the day's delicious, two-part finish. Start with fireside beers at Mid Burke's Bear Den bar, which is easily one of the friendliest places on Earth. You're likely to find people from your hometown, or your best friend from summer camp's hometown. Over cheers in plastic cups, you'll gloat about the great skiing and how people who weren't there totally missed out.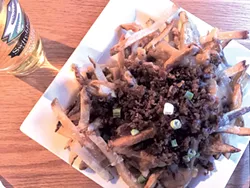 Hannah Palmer Egan
Sugar Shack poutine
Then, down in East Burke village, slink back through the alleyway behind Northeast Kingdom Country Store to the Burke Publick House. The pub's extensive tap list includes at least a dozen excellent Vermont brews. Split a plate of Sugar Shack poutine with your ski buddy and revel in picking through the messy mass of hand-cut fries, cheddar and maple-tinged gravy, piled high with crumbled bacon, chorizo and scallions.
And that's just a prelude to a fat and juicy burger swaddled in buttery brioche that can barely contain the cheese, pickles and bacon. If you're prone to eavesdropping, listen in as the bartender chats with other guests about how he spent most of the day tumbling down Burke's glades — and how it was OK because there was so much pillowy snow.
Then smile as new friends — the ones you met an hour before over beers in the base lodge bar — swing by your table to say hello and ogle your food. Relax into the camaraderie of lamenting, with a mix of pain and pride, the satisfying sting still lingering in your legs after an epic mountain day. And watch with a belly full, and a heart swelling with anticipation for the next time, as snowflakes fall outside.