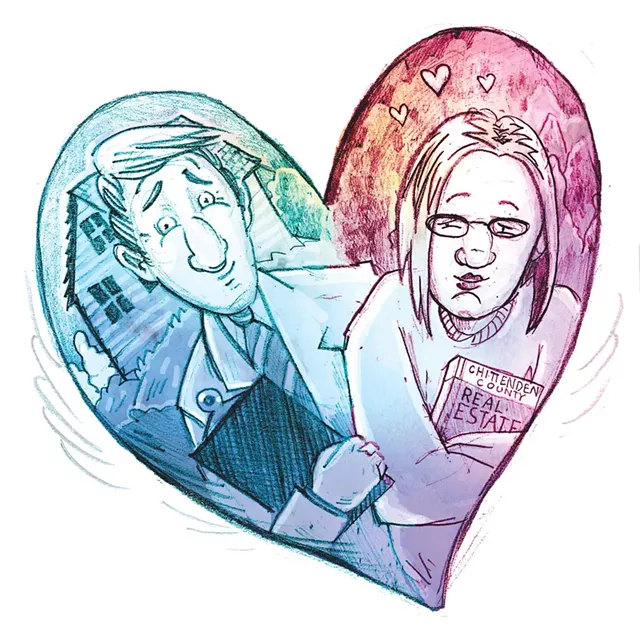 Ask anyone who's house-hunted in Chittenden County in the last year or two, and they'll tell you: It ain't easy. Low inventory and high demand have made it a seller's market and contributed to a fast pace in which, at least during the busy spring season, homes can get snatched up within a matter of hours.
So here's something buyers should try to avoid during this already difficult process: writing a breakup email to their real estate agent. I found that out the hard way.
It's not you; it's us. (It was you.) It's not personal; it's business. (It was both.)
My husband and I met our agent while viewing a Winooski condo early in our search. We hated the place but liked the guy showing it to us: He was about our age and seemed chill, the kind of person we'd want to befriend. He wasn't pushy, which would've been a big turnoff; we were first-timers with no buying deadline, willing to wait for the right place. Knowing nothing else about him, we began our relationship and signed a six-month contract.
We called it quits just three months in.
Why? Some days, our agent was difficult to reach. Was he ghosting us? Not exactly; he just never told us he's more responsive to text than email. He'd sometimes go away for the weekend without letting us know. These little communication issues became big problems: Time and again, we missed out on viewing houses we really liked.
Things got real — real fast — when we briefly went under contract on a charming Colchester condo. Our agent couldn't make it to the home inspection and didn't send a colleague in his place. When inspection revealed major issues that made us seriously second-guess the purchase, we looked to our agent for advice. That easygoing attitude? We now realized it was a pitfall. He was so impartial that we couldn't tell if he thought the place was a great deal or a total dud.
We ended both the purchase contract and the agent contract in a cloud of confusion, and it was several months before we felt ready to move on and begin working with someone new. We're finally scheduled to close on a sweet Winooski home in February — and the difference the right real estate agent made in our search was dramatic. As with dating, sometimes you don't know what you've been missing until someone better comes along. In our case, we'd been missing clear communication, diligent research and, most importantly, an expert opinion. And we were better this time, too: We didn't breeze past the crucial getting-to-know-you period in which expectations are set and goals agreed upon.
Especially in an unforgiving housing market, "a bad Realtor can hold you back," says Blair Knowles of the Knowles Group at Keller Williams Realty. So, how can buyers find "the one" for them? Read on.
The Setup
No idea where to find an agent? Start by asking friends, family and coworkers — even your bank teller or hair stylist.
Jen Cozine, whose family purchased a raised ranch in Colchester in June, hired Karin Ericson of Keller Williams because "almost all our friends had used her and recommended her," she says. Cozine has since passed Ericson's name along to others in her network.
"Word of mouth is where I find the strongest and best relationships come from, on both ends," observes Dora Dernavich of Coldwell Banker Hickok & Boardman Realty. "You already have that little bit of trust built in. If your cousin worked with this person and had a great experience, that goes a long way."
If you're new to the area and truly know no one — as was the case for Sarah and Sam McLellan, who moved to Burlington from Boston in 2016 — get oriented by attending a home-buying seminar. Sam met Dernavich at one such event, a Seven Days House Party, designed to attract motivated local experts. Though they "went with the first person we came across," says Sarah, "it just happened that we ended up liking her very much."
First Date
Once you've identified a prospective agent, "don't be afraid to interview and personally meet the Realtor," says Cozine. Be prepared to talk about yourself and your goals, and come armed with questions.
"Can they relate to you and understand what you're looking for? Do they understand your goals and timeline? Does your agent work weekends?" Dernavich rattles off. "[Ask:] What's your preferred communication style? What's your history? How long have you been here? How many deals have you done?"
That last question may also help you determine how many clients the agent is currently juggling. "I know agents that do hundreds of deals in a year," says Knowles, "and they're not going to give as good service as someone who does 10 sales."
Knowles also "interviews" potential clients. "We have a fun little sheet we actually have them fill out," she says, to learn about the buyers' goals and lifestyle — whether they're looking for a house to live in or rent out; how long they hope to live there; whether they have pets. She also discusses finances, closing costs, market conditions and inspections. "If we go straight to the property," she says, "a lot of times the buyer isn't well educated when it comes to making the offer."
Strings Attached
Before agreeing to work with any agent, learn the details of their contract, says Knowles: "Are you marrying yourself to that person for six months? A year?"
Neither Knowles nor Dernavich asks potential clients to sign paperwork at the first meeting. If buyers are hesitant about working with Dernavich, she offers a two-week or one-month trial run "that allows me to show them the full scope of services I provide." Knowles waits until the third or fifth home showing to ask buyers to sign — and notes that Keller Williams clients "can exit an agreement with us at any time for any reason."
What else should you look for in the fine print? The agency's for-sale-by-owner policy. "We found that there was this whole underground operation of people buying and selling without using agents," says Jessica Liggett, who purchased a Williston home in July working with Dan Cypress of Element Real Estate. She estimates that 90 percent of the properties her family viewed were FSBOs.
"It's definitely a seller's market," she says. Some of those "sellers would say, 'There's no way I'm paying a real estate agent.'" So it's important for buyers to understand whether they would be on the hook for their agent's fees — and to proceed accordingly.
Dream Team?
"This is a very fast-paced market," says Cozine, noting that she attended showings with an offer letter in hand — because by the time she walked out the door, there would likely already be another offer on the home. When it comes to viewing properties, "You can't have a delay," Cozine emphasizes.
So ask about an agent's schedule and team support. "There are a lot of great small agencies out there. What I really like about working at a larger company is the support you get and the technology you get, and how that trickles down to the clients," explains Dernavich. She's preparing for maternity leave and knows her clients will be in good hands, because "I have a whole slew of coworkers who can cover for me."
"We never want to be the reason a person can't see a house," agrees Knowles. "If you have a Realtor that can't show you houses after work or on weekends, you probably want a different Realtor."
That Special Something
In a difficult housing market, any advantage helps. So ask agents: What do you specialize in? How can you go the extra mile for me?
Perhaps they're intimately familiar with the town you're interested in and can alert you to nearby schools and parks. Perhaps they're willing to go door-to-door in your neighborhood of choice and ask owners if they'd consider selling — as Cypress did for the Liggett family. "That was above and beyond," says Jessica Liggett. FSBOs are a "complicated process, and Dan was really great about guiding us through it."
Cozine estimates that her Realtor, Ericson, saved the family $30,000 to $40,000 on repairs. Their Colchester home had already passed the sellers' septic inspection, but Ericson was familiar with that inspector's work and urged the Cozines to pay $100 for an inspection of their own. Sure enough, the septic system got a failing grade, and the sellers were required to foot the bill.
When it comes to inspections and fix-it costs, first-time home buyers are often at a loss. But a good agent can advise you, Cozine says: "They have this whole arsenal of tools and tips that you don't even know about."
Finding Chemistry
Above all, you should have a good vibe with your real estate agent. You'll likely be texting them on a daily basis. You'll seek their advice on everything from purchase price to plumbing. "You're going to be spending nights and weekends and going into a house that is vacant," says Knowles. "You want to have a good feel."
"Buying a house is kind of like being a bridezilla," jokes Cozine. "You have these visions, and [a good agent can] help you rein them in — and also see past things, like dirty homes."
Cozine and Ericson viewed so many homes together that they started nicknaming them: "One house, we called it the Stinky-Cat House! She dealt with us well ... If I buy or sell with a Realtor and then I never hear from them again, I'm now going to think that's weird. [Ericson is] such an integral part of the family now."