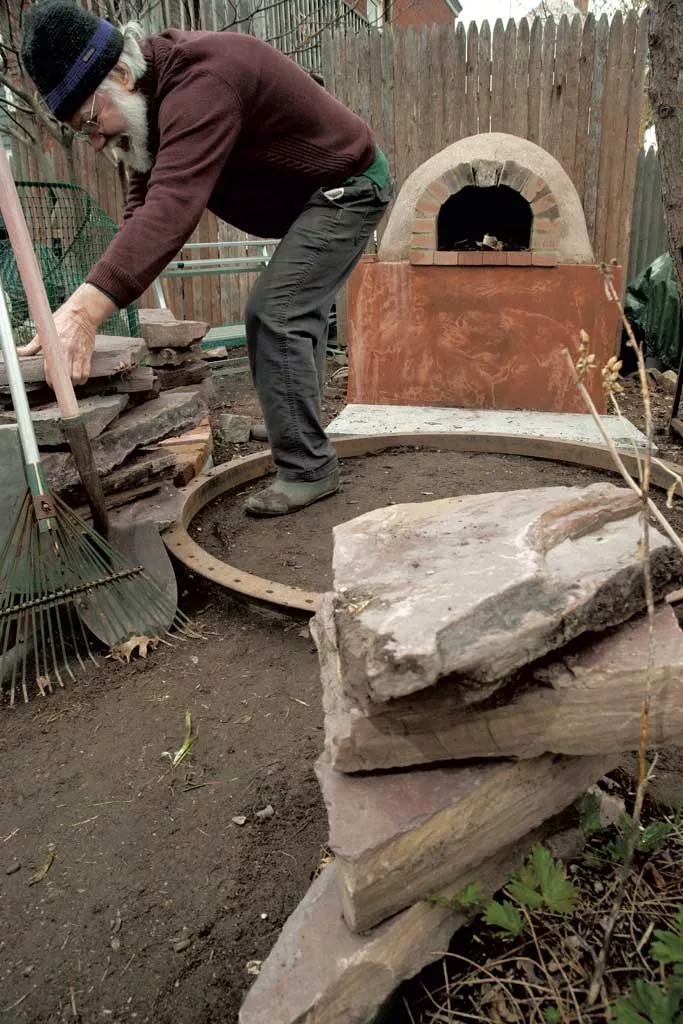 Matthew Thorsen
Charlie McClintock finishes the hardscaping around the pizza oven constructed last fall.
Charlie McClintock's backyard in Burlington's Old North End abounds in quirky trappings that make the most of his limited acreage. He's lived in the city for decades, but that hasn't stopped him from working the land and inviting his guests to enjoy the outdoors.
McClintock's modestly sized yard on Russell Street currently has a small perma-culture operation, a covered patio area with a driftwood sculpture garden and a greenhouse — all projects that only a dedicated student of urban agriculture would undertake. Among these long-term works-in-progress is a brand-new addition: a handcrafted, brick-domed earth oven that he plans to fire up this summer for outdoor pizza parties.
McClintock prides himself on being a do-it-yourself kind of guy, but that oven was custom-made for him by a buddy: Mark Krawczyk. A woodworker, owner of permaculture design and consulting business Keyline Vermont, and an earth oven expert, Krawczyk is currently building his own home on a recently purchased parcel of pasture and woodland in New Haven.
"That oven wouldn't be there without Mark's generous help and expertise," McClintock says, "because I tried [building] it, and it was a total failure."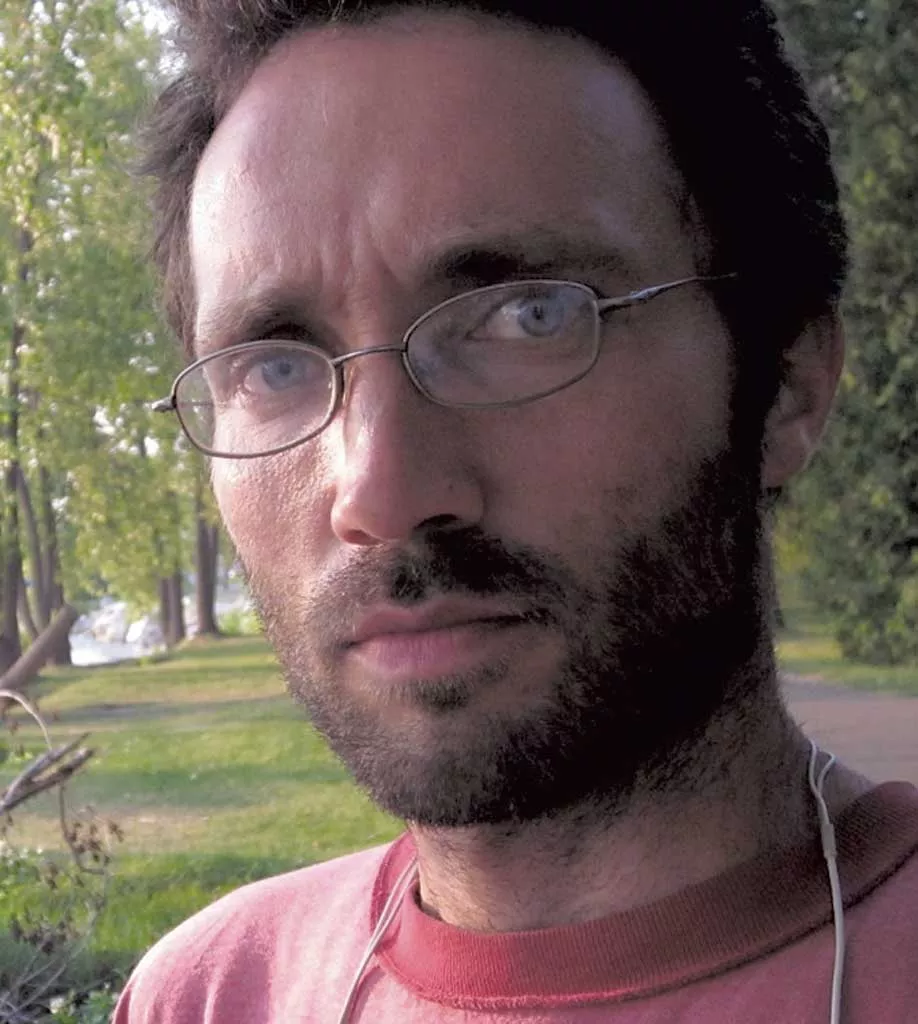 PHOTOS COURTESY OF MARK krawczyk
Earth oven expert and instructor, Mark Krawczyk of Keyline Vermont
Krawczyk teaches earth oven courses at Yestermorrow Design/Build School, the sustainable-building school in Waitsfield, and leads workshops at local public schools and colleges. He built McClintock's oven as the hands-on component of a workshop he was teaching to a group of Burlington College students. And, despite his friend's professed difficulties, Krawczyk believes anyone can build one. You just need the right materials — which cost no more than a few hundred dollars, he says — and patience.
"The first oven I did was back in 2001," Krawczyk remembers. "It's embarrassing, the first one that I built in my parents' backyard in Milwaukee! As crappy as it was, it lasted 10 years."
Krawczyk has since honed his craft. He says the first thing a builder needs for a successful earth oven is a solid foundation, which can be made from stone or another noneroding material. "People tend to want to skimp on the foundation — they just want the oven," Krawczyk notes. "But the foundation offers drainage and decent protection against the frost heave."
Elevating the oven also protects it against "splash," or moisture from the ground that would cause its walls to disintegrate. Not least, having a raised oven is more convenient: "Nobody wants to be laying on the ground checking to see if the pizza's done," Krawczyk points out.
The next step is constructing some kind of roof to protect the oven. "People always ask, 'Can I get away with not building a roof?' And you can, but you're going to have to rebuild your oven, because it's built out of earth, and it'll liquefy. If protected and maintained," Krawczyk instructs, "it'll last a really long time, but it takes some maintenance."
The roof can range from a simple tarp to an elaborate structure that also shields guests from the elements.
Once the roof and the foundation are in place, the builder can turn his or her attention to the oven itself. Krawczyk suggests laying a hearth of firebrick, a kind of ceramic material, typically gray or cream colored, that is used to line kilns and fireplaces. For backyard ovens, Krawczyk recommends a hearth with a 31-inch diameter.
Then, create a dome of sand atop the hearth. "Basically, you sculpt the void," Krawczyk explains. "You sculpt the hollow that will be the oven itself out of sand." Over the dome, layer four inches of a clay-and-sand "cobb" mixture. "You want just enough clay to bind it all. If you have too much clay, there'll be more cracking. If you don't have enough clay, it's not going to hold together; it's going to crumble," he advises.
An opening should be made at this stage; Krawczyk likes to use brick arches. The sand from the dome will be scooped out through the opening once it dries.
The final step is protecting the earth oven from the elements. Krawczyk recommends clay "slip," a liquefied mixture that includes either pearlite or vermiculite. Then a layer of plaster should be applied — not concrete, he stresses, which will trap moisture from baking and cause the oven to deteriorate over time.
Krawczyk says that building the oven "is something that's easy to complete in a weekend." But then — and here's where the patience comes in — you have to let the oven dry for several weeks. This might be a good time to work on your pizza recipes.
When the oven is fully dried, scoop out the sand and warm up the oven with a few test fires before baking your first pie.
McClintock, for his part, plans to host his first outdoor party when summer kicks in. He says he can't wait for guests to sit on the stone patio, gaze at the sculpture garden and indulge in wood-fired pizzas from his oven.
The original print version of this article was headlined "All Fired Up"