Paul Heintz
A handgun in state storage
Chris Cole is used to hocking trucks, fuel pumps, filing cabinets and office chairs. As commissioner of the Vermont Department of Buildings and General Services, he's responsible for selling off the state's surplus property.
"We're the Kmart for state government," Cole said.
These days, he has a new line of products on his shelves: hundreds of seized and abandoned firearms. Among them are two particularly unusual items: World War II-era rifles bearing the Nazis' Reichsadler emblem — an eagle clutching a swastika in its talons.
For decades, these and other guns piled up in police evidence rooms around the state, with no clear process for their disposal. Some of the weapons had been used in the commission of a crime, while others were temporarily confiscated and never reclaimed. A new law signed in April 2018 empowered Cole's department to take possession of the firearms and tasked him with selling them.
"This is surplus property, but it's surplus property that is a little bit unusual for us," Cole said last week as he showed off a drab, windowless room retrofitted to store the weapons.
The room's location is a secret to all but a few state employees. Cole agreed to show it to this Seven Days reporter on the condition that he not reveal its whereabouts — even to his editors. The commissioner initially suggested that a blindfold might be in order.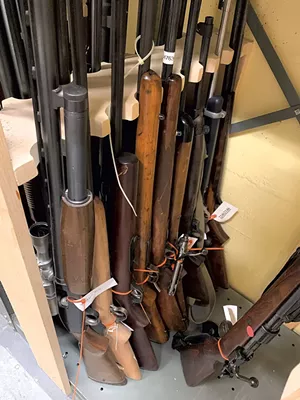 Paul Heintz
Rifles in state storage
There's not much to see. The room's concrete walls are lined with metal shelves and wooden gun racks. Each weapon is labeled with a white tag bearing its serial number and has been disabled with an orange zip tie. Two authorized state employees must be present to enter the room, which is secured by combination and key locks, an alarm system, and video surveillance.
Though Cole has taken every precaution to keep the weapons from walking away, he's not too concerned that thieves would target his merchandise. "They're not worth anything, really," he said, noting that most 25-gun lots have been selling for just $3,000. "Some are good, some not so good. So [buyers] are rolling the dice."
Until 2018, the Department of Public Safety was charged with storing seized and abandoned firearms, and the state treasurer was responsible for their disposal. But according to Sen. Dick Sears (D-Bennington), no treasurer in recent memory had embraced the task. "So all those guns for years and years and years accumulated," said Sears, who chairs the Senate Judiciary Committee.
In January 2018, Sears introduced legislation to address the backlog and allow the Department of Buildings and General Services to sell the weapons to federally licensed firearm dealers. Those dealers would have to complete criminal background checks on any potential retail buyers.
According to Sears, his committee never seriously contemplated destroying the guns, rather than putting them back in circulation. "At the time, we were just trying to solve a storage problem," he said.
Paul Heintz
Chris Cole
The bill was uncontroversial at first, earning support even from the state's uncompromising gun-rights groups. But after a mass shooting the next month at a high school in Parkland, Fla., and the exposure of an alleged plot to shoot people at Fair Haven Union High School, lawmakers loaded up the legislation with more controversial measures, including universal background checks and a ban on high-capacity magazines. Sears, its original sponsor, ended up voting against the bill, but Gov. Phil Scott signed it into law that April.
It took more than a year for Cole to open up shop, which frustrated lawmakers.
Rep. Maxine Grad (D-Moretown), who chairs the House Judiciary Committee, said she was particularly concerned that the growing backlog might be discouraging local police departments from making use of another new law allowing them to seize guns from those cited or arrested for domestic abuse. According to Sarah Robinson, deputy director of the Vermont Network Against Domestic and Sexual Violence, the storage issue had also become "a primary barrier" to consideration of yet another bill, which would require the confiscation of guns from those served with a restraining order for alleged acts of domestic abuse.
"There are certainly folks who would like a storage process that is moving more swiftly before they support it," Robinson said.
Cole insisted at the time that he was working on it. "It's a lot easier to pass a law than it is to actually implement it," he later explained.
In June, the Department of Public Safety transferred 366 guns to the new secure storage room, and the email bidding process for the first 25-gun lot began. In the months since, Cole's department has completed nine sales and off-loaded 225 firearms, bringing in $31,514. Given the costs of administering the program, Cole expects it will still end up costing the department money.
The 10th lot, which is now in the bidding process, includes just one gun: the first of two 8mm Mauser K98 bolt-action rifles in the state's possession. A description on the Buildings and General Services website notes that it includes "Nazi symbol w/harness, bolt action, no scope." The second Mauser features the same swastika-adorned eagle and is expected to go up for bid at a later date.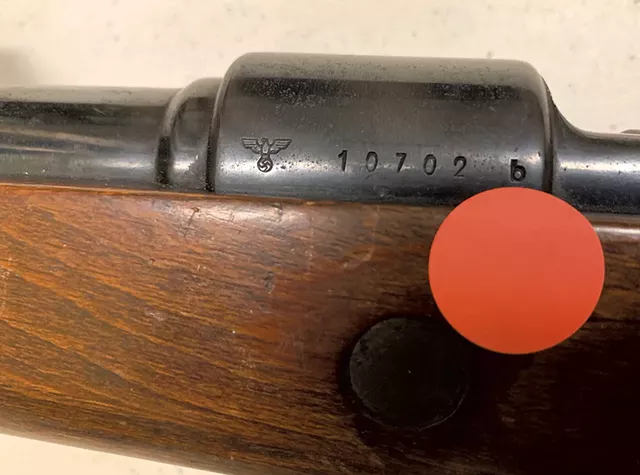 Paul Heintz
The Nazi Reichsadler emblem on a rifle that the state is selling
Cole appeared uneasy discussing the first gun's provenance as he showed it to a reporter. "It's more of a German infantryman [rifle], but I think they put the symbol..." he said, his voice trailing off.
According to Deputy Public Safety Commissioner Christopher Herrick, the Vermont State Police obtained the first Mauser during a 2013 arrest for cultivation of large amounts of marijuana. Because the owner had previously been convicted of assault and robbery with a firearm, he was prohibited from possessing it, and the cops seized it. Herrick did not explain how the second Mauser came into his department's hands.
Informed of the pending state sale of Nazi guns, Sears said, "I would suggest that they destroy those, but it's up to them."
Now that Cole has sold off nearly two-thirds of the state's excess firearms, he's turning his attention to county and local law enforcement collections. In the coming months, he plans to write each of the state's 14 county sheriffs and roughly 50 municipal police departments to offer to take the weapons off their hands — and determine the quantity in their possession.
"Nobody knows how many guns are in storage in the state," he said.
Cole is hoping to work with the Montpelier Police Department as he develops a system for acquiring the county and local weapons. Earlier this month, Cole's department met with Sgt. Jeff Pearson, who oversees the Montpelier PD's evidence room.
According to Pearson, it's currently storing 87 firearms. "I think I can safely say that some of them date back to the '90s," he said.
Pearson said he's grateful that the state is willing to take them off his hands, but he has some concerns. The Department of Buildings and General Services is unwilling to accept guns used in homicides or suicides, as well as those that are illegal to sell under state law.
"That, to me, is a real sticking point because, unfortunately, suicide by firearm is very common," Pearson said, estimating that 10 to 15 percent of the guns in Montpelier's possession came from families of suicide victims who do not want them back. "I think being selective is not the right approach. I think there needs to be some kind of mechanism in place to take all of them — or give us another alternative."
Both sides say they expect to work out any disagreements. And others in local law enforcement say they are eager to clear out their stores. The problem is especially acute for the smallest of police departments, which often have the least space to spare in their evidence rooms and the least time to deal with the guns, according to Vergennes Police Chief George Merkel, who heads the Vermont Association of Chiefs of Police.
"I've got enough to do without selling firearms," he said.