Stephen Mease | Corey Genier
The 24th annual South End Art Hop kicks off this Friday, September 9, in Burlington. To those who've never attended, it can be hard to explain what all the fuss is about. It's not enough to say that more than 500 artists will show and sell their work in open studios and businesses from Main Street to Home Avenue. And, yes, there's a juried exhibition, a buzzing Kids Hop on Saturday morning, an artists' market and a sassy fashion show called STRUT. These components are the heart of the Hop, to be sure. But there's more.
Perhaps it takes sifting through the Art Hop program to appreciate the sheer variety of activities. The 72-page booklet with a pullout map, distributed in Burlington and beyond in recent weeks, reveals what's in store. We pulled just a few samples for this story.
The Hop is about not just looking, but doing. Anyone interested in learning a new skill can choose from needle felting, screen-printing, mural making, landscape painting, taiko drumming and djembe skinning this weekend. Never mind the potential inspiration to be gleaned from demos of yoga, aikido, chocolate sculpting and latte-art making. For history buffs, Preservation Burlington will lead tours through the South End to highlight its industrial and architectural past.
Did we mention the live music, umpteen local food vendors and unparalleled people-watching opportunities?
What may be unique to this arts fest is that nearly every single enterprise in the South End gets involved, from breweries to a tire store to wellness centers to the Burlington Electric Department. What cannot be explained or listed in a program are the intangibles: the Hop's collective joie de vivre and its pride of place.
Do some of the estimated 30,000 attendees just come to party? Sure. But the Art Hop is, at its core, a celebration of hands-on human creativity.
Of course, all those artists, food trucks, Porta-Potties and trash bins don't organize themselves. Who makes it happen? The South End Arts and Business Association, which is just what it sounds like — an organization that "fuses art and industry" in the post-industrial hood known as the South End Arts District.
SEABA has a staff of one and three-quarters and a 12-person board of directors; it operates on an extremely modest budget from its office and gallery at 404 Pine Street. Year-round, the organization curates art exhibits at a dozen locations; offers marketing, networking and educational opportunities to members; and generally advocates for the district's businesses and individual artists. To put on its signature event, SEABA relies on a number of corporate and media sponsors, more than 100 volunteer helpers, and three temporary or part-time coordinators.
SEABA turns 30 this year, yet its name remains unfamiliar to many locals outside the South End. That's why we've taken the opportunity here to introduce the people behind the acronym — and behind the Hop.
— Pamela Polston
Who
Adam Brooks
SEABA executive director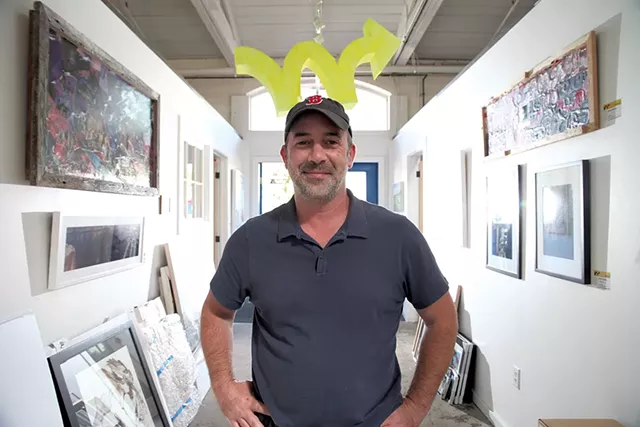 Matthew Thorsen
Adam Brooks
Lounging in his office in shorts and sipping an iced coffee late last week, Adam Brooks looked remarkably chill. Though Art Hop 2016, one of Vermont's largest annual arts events, was only a week away, SEABA's executive director and sole full-time staffer didn't appear the least bit stressed.
"When you're dealing with staff, artists, volunteers and [business] sites, and they're all freaking out to a certain extent, as head of Art Hop you've just got to keep calm and rational and make good decisions," he said.
In fairness, this is Brooks' fifth Art Hop since he took over as executive director in 2012. Since then, many of the people he's hired for key Art Hop positions, including associate director and curator Sarah Drexler, coordinator Lisa Condon, and STRUT coordinator Gina Tron, have already worked this event with him several times.
"Hiring the right people, having them come back year after year, and having them work together with the South End community to create this event ... makes Art Hop a lot more fun," he said.
Brooks arrived at SEABA with a background more tailored to business than the arts. The 44-year-old Vermont native grew up in the Colchester house his father built in 1971, where his parents still live. As a teen, Brooks often worked for his dad building garages and renovating bathrooms and decks. He credits his father with instilling his serious work ethic.
"He used to dock my pay based on the number of nails I bent," Brooks recalled. "It taught me a valuable lesson: Take your time and do it right the first time."
After earning an associate's degree in public relations and marketing from Champlain College and an education degree from what was then Castleton State College, Brooks took a teaching job at the Greater Burlington YMCA. His next position was at the Lake Champlain Regional Chamber of Commerce. Running the South End nonprofit was a logical and smooth transition.
Brooks admitted he won't get to visit as many Art Hop sites this year as he'd like. "But the fact that I can see 30,000 engaging with art and being connected with their community, to me that's a huge intrinsic reward," he said.
And when it's over? "I immediately go into planning mode for next year."
— Ken Picard
Sarah Drexler
SEABA associate director and curator
Matthew Thorsen
Sarah Drexler
Sarah Drexler may not run Art Hop herself, but she makes most of the decisions about what Art Hop visitors see, and where.
As SEABA's sole curator, Drexler chooses where to place all the SEABA-curated exhibits during Art Hop — and then physically places the pieces herself. Though some South End businesses curate their own shows, Art Hop's biggest display sites, such as the VCAM/RETN Art Space and the Maltex Building, will each house 30-plus artists with about six works apiece. Last week, Drexler hung 180 works of art in one day.
"I just spent an entire day hammering nails into a brick wall. My whole body hurts," she said with a laugh that week, during a rare half-hour breather at her Pine Street office. "Some of those pieces are heavier than I am!"
Needless to say, Drexler must be judicious about where artwork gets placed. Some businesses request that controversial, erotic or disturbing imagery not appear in their establishments. For example, Regional Educational Television Network (RETN) and Vermont Community Access Media (VCAM) may not take issue with artists making bold statements in their gallery space, she explained, but their neighbor, a daycare center, might. As she put it, "We don't want to scare little kids [away] from art."
Drexler faces occupational hazards besides hitting her thumb with a hammer and frightening toddlers. Because artists don't have a say in the placement of their art (unless they show in their own studios), she tries to be fair, rotating works so that artists who were in less-frequented sites at previous Hops appear in better-trafficked ones this year.
Like Brooks, Drexler worked at the Lake Champlain Regional Chamber of Commerce before joining SEABA in 2012. Unlike her boss, the 34-year-old Massachusetts native has an arts background of sorts, with a degree in photojournalism from Green Mountain College. As she put it, "My parents always called me 'artsy-fartsy.'"
Drexler admitted she doesn't get to enjoy Art Hop as much as she did before she worked at SEABA. Still, what's her favorite part of this annual event?
"Seeing everyone have such a great time, seeing artists sell their work and hearing them say, 'This was the best Art Hop ever!'" she said. "It's such a wonderful feeling."
— Ken Picard
Lisa Condon
Art Hop coordinator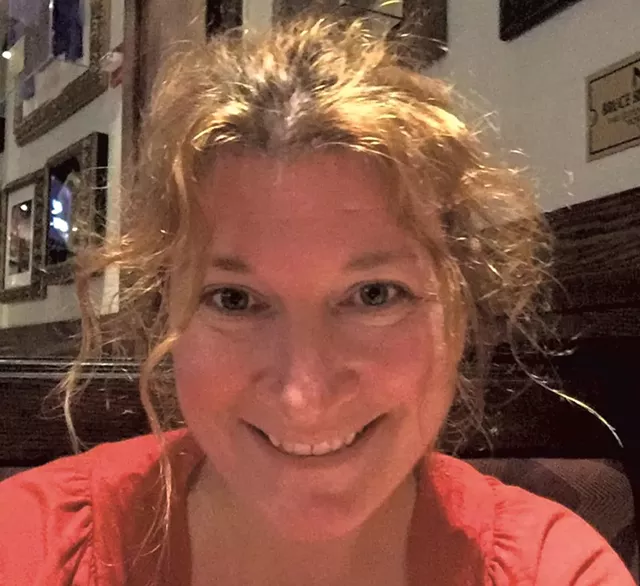 As a much-needed reinforcement for the lean SEABA staff, Lisa Condon is returning for the third year to hold the Art Hop reins. That is, while Adam Brooks and Sarah Drexler manage the artist-related components, Condon tackles the considerable logistics of everything else — "from the tent to the food vendors to the Porta-Potties," as she put it. "I deal with mapping out where things are set up, and the permitting."
The job is right in Condon's wheelhouse. As the founder and owner of Red Sapphire Consulting, which specializes in business development and strategic marketing, she has a skill set that includes "planning corporate and fundraising events," she said. Looking over every detail is her thing. She has also helped coordinate the Lake Champlain Maritime Festival.
Besides, Condon added, "I love Art Hop!" Her relationship with the SEABA director goes back further, though: She and Brooks met when both worked for the Lake Champlain Regional Chamber of Commerce and served on the same committee. "So when [Brooks] put out a call for a planner, I stepped forward," Condon said. She's kept at it, despite splitting her time between Vermont and Delaware.
Condon's Art Hop planning began back in January. By the time Friday night arrives, everything and everyone should be where they're supposed to be, but this coordinator will stay on the move, ready to tackle any problems. Does she get to enjoy the event? "I enjoy myself by walking up and down Pine Street about a hundred times," Condon said with a laugh.
This year, the city will close a section of the Pine Street corridor to traffic; Condon noted with relief that the change will "make people safer, and bring people to the center of the Art Hop." But any large public event still involves unknowns. "You have to be prepared to put out fires," Condon said.
Her favorite part of the job is "when the moving parts and pieces finally come together on opening night," she added. "Watching everything fall into place to create this successful event. I think we have a good team in place to take care of any problems."
— Pamela Polston
Holly Pedrini
Volunteer coordinator
Matthew Thorsen
Holly Pedrini
This is Holly Pedrini's first year officially working for the Art Hop, but the Burlington resident has been involved with the event as an attendee or a volunteer since its inception 24 years ago. She's lived in Vermont for the past 33 years, longer than in her native Baltimore. The Hop had a much smaller footprint in its early days, Pedrini recalled: "It was mostly just the Maltex Building."
The event has come a long way since then. Pedrini is tasked with organizing some 100 volunteers, without whom the Hop wouldn't be possible. She's well equipped for the job: By day, Pedrini works at the University of Vermont's Dudley H. Davis Center managing the operations and event-services office. Her three-month Art Hop stint began in July; she finds time for organizational wrangling in the evenings.
"I'm a pretty calm person," Pedrini remarked, and added to this self-assessment that she's "a good problem solver" and "kind of a planner." She aims to match volunteers with their interests, whether those involve delivering program guides, setting up for the STRUT fashion show or staffing an information booth. Her army will wear what Pedrini called "the artiest T-shirt around" — tie-dye prints made by the South End company Select Design.
More volunteers are still welcome, Pedrini said; she's happy to accommodate last-minute helpers. Just email her at volunteer@seaba.com.
— Rachel Elizabeth Jones
Gina Tron
STRUT coordinator
Courtesy of Shannon Alexander
Gina Tron
For the second year, 33-year-old Gina Tron is serving as coordinator of STRUT, the Art Hop's Saturday-night fashion show. The Hop's only ticketed event, it will feature 17 local designers and take place on a catwalk under the tent behind the Maltex Building. The show is so popular that it happens twice in one night and generally sells out.
Herding the fashion cats is one helluva job. Tron is the go-to person for the designers, models, DJs and MCs. She handles social media, coordinates hair and makeup, and oversees lighting and stage direction. And she didn't come in cold: In her six-plus years living in New York City, Tron acquired the experience necessary to pull it off.
"I used to be the creative director of a fashion show called Williamsburg Fashion Weekend, which is very similar to STRUT," she said. "Like STRUT, it was a very fun event. Some of the performances are straight runway stuff; others are just weird — not even clothing."
In this year's Burlington show, Tron cited body painting by Little Artsy Faces as an entry in the "not even clothing" category. A jewelry designer will exhibit her work on the runway, too. But Tron seems most excited about the teen designers — there are five, she estimated.
"It's really impressive, what they create," she said. "Especially after working with designers in their twenties and thirties in Williamsburg, some of the designers here that are 16 are comparable in terms of ... the quality."
The rest of the year, Tron is a writer. Currently, the shock-blond wordsmith contributes to the Barre-Montpelier Times Argus. She also freelances for Vice, LadyGunn and other print and online publications, and has published two books: You're Fine., a 2014 memoir chronicling her time in a dual rehab and psych ward; and a collection of absurdist short stories called Eggolio and Other Fables.
Her participation in the Art Hop is especially significant this year, because Tron was recently diagnosed with breast cancer. Not shy about discussing it, she admitted that she initially wondered whether to continue with the show. But, she said, working on STRUT "has been a great distraction."
— Sadie Williams
What
South End Spaceman
Conant Metal & Light, 266 Pine Street
Matthew Thorsen
Steve Conant
If Donald Trump is elected the next president of the United States, Steve Conant plans to leave the planet — in a rocket ship.
Drivers down the Pine Street corridor over the past few months may have noticed the 24-foot rusty cylinder taking shape outside his business, Conant Metal & Light. Titled "Skyward," it's Conant's entry into the South End Art Hop's outdoor sculpture show. And it works.
At least, it will feel like it works. While hoppers won't be allowed to climb in — for liability reasons — the maker said that when the work is complete, "You'll be able to get inside and strap yourself in and have an out-of-body experience. Lights will blink and things will flash and smoke will rumble out of the bottom."
The creative metal artisan has entered pieces in the sculpture show before, but this is by far the largest — it weighs in at 6,000 pounds. Inspired by Rube Goldberg and steampunk imagery, the steel titan isn't taking flight any time soon — at least not physically.
"I like the idea of creating [an experience] which sort of puts you in another place," Conant said, "and encourages you to ask a lot of questions: 'What's that all about? Does it really work?'"
— Sadie Williams
Sweet Devotion
Lake Champlain Chocolates, 750 Pine Street
Even in the best of circumstances, making art ain't easy. But what if you're a sculptor and your medium keeps melting? Chocolate, which begins to soften at about 72 degrees, isn't the easiest material to work with. But at Lake Champlain Chocolates, it's the medium Emily McCracken prefers.
Over the past 12 years, the company's resident chocolate sculptor has built everything from edible clocks — which ticked in real time on the Food Network — to cute Easter critters and pirate Valentines. Each year McCracken, who holds a degree in ceramic illustration, draws on her fine-arts background to stage an edible exhibition during Art Hop. Last year's show depicted Alice's Adventures in Wonderland's wandering playing cards and roses painted red; previous displays have interpreted midcentury science fiction and steampunk machinery in 3D.
"It's the one time of the year that I can do whatever I want," McCracken said.
This year's exhibition — on view through September — will feature four or five pieces inspired by the skeletal and floral imagery of Mexico's Day of the Dead. Visitors can catch McCracken in action on Saturday, September 10, 1 to 2 p.m. — that is, if the chocolate is game.
Hannah Palmer Egan
In Tune
Creston Electric and Sarah Ryan Studio, 8 Home Avenue
Matthew Thorsen
Sarah Ryan and Creston Lea
What's more beautiful than a painstakingly crafted handmade guitar? For a gear junkie, not much else, especially if the maker is Creston Lea, owner of Burlington's Creston Electric. And his collaboration with artist Sarah Ryan elevates stunning craftsmanship to aesthetic perfection.
After Lea crafts the guitars and gives them a base coat, he hands them off to Ryan. She adds her meticulously ornate floral and avian designs, reminiscent of the embroidery seen on fancy Western-style shirts.
The two artists have been working together for a decade and just completed their 100th collaboration. Local musician Kelly Ravin of Waylon Speed is the proud owner of that centennial red and white axe.
Ryan and Lea occupy studio space on Home Avenue, the southernmost stop on the Art Hop map. There visitors can see where the guitars are crafted and painted. Large photographs of their collaborations will be on display, along with a number of guitars. Ryan will exhibit some of her non-guitar work, as well.
Burlington singer-songwriter Lowell Thompson, who owns the very first Lea/Ryan guitar ever made, will strum with Ravin on Friday night.
Want a Creston guitar to call your own? Be prepared to spend a pretty penny — particularly for one that's passed through Ryan's hands. But at the Art Hop, admiring is free.
— Jordan Adams
Hopping North
Community Sailing Center, 234 Penny Lane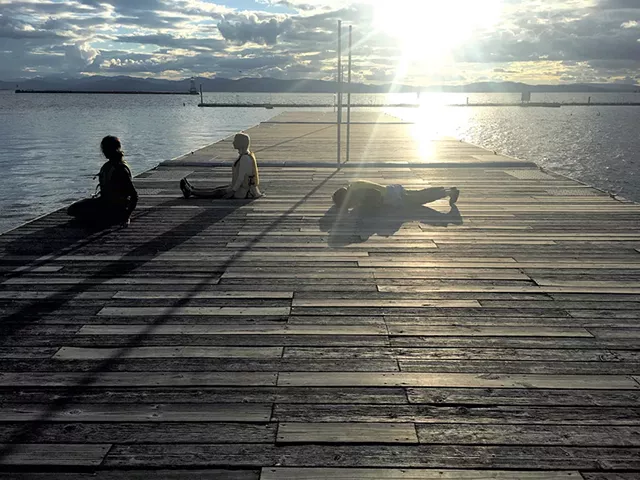 The South End Art Hop is generally confined to, well, the South End. But this year, Erika Senft Miller is attempting to expand those boundaries by drawing crowds to the Community Sailing Center on the Burlington waterfront.
"Between Land & Water" is a collaborative, site-specific performance featuring choreography of multiple movers on land and lake. Roxanne Scully of WND&WVS will lead dancers on paddleboards. Other groups, directed by local choreographers, will be stationed on the retaining wall, dock and other features of the sailing center.
Composer Matt LaRocca, along with area musicians and the South Burlington Community Chorus, will provide the soundtrack to the evening. Expect them, too, to appear in unexpected places.
Why the sailing center? For Senft Miller, the location embodies liminality, a concept that fascinates her as an artist. Liminality is defined as the state of being in transition, or in the initial stages of a process.
"I've always been intrigued by that estuary between the space where everything and nothing happens," she said. "The pause between an inhale and an exhale."
The nonprofit Community Sailing Center, fittingly, is currently raising money for a massive renovation, which places it smack-dab in the middle of that realm of possibility.
Filmmaker Hilary Hess, among other videographers, will record the performance. Senft Miller said she will use the footage to create an immersive installation for the annual "Of Land & Local" exhibition hosted by Burlington City Arts at the Shelburne Farms Coach Barn.
— Sadie Williams
Carny Capers
Barge Canal Market, 377 Pine Street
Couresy of Julianna Brazill
When she's not making the vintage store Barge Canal Market look fabulous, Julianna Brazill is an illustrator. At this year's Art Hop, the Burlington resident will have the opportunity to merge her occupations, transforming Barge Canal's Pine Street warehouse space into an old-timey carnival. The art carnival — or ARTival — will offer sideshows, traditional games such as a beanbag toss, and a fortune teller-themed photo booth.
When Seven Days visited, Brazill was hard at work painting a larger-than-life, two-headed woman on plywood. When complete, the conjoined figure will be displayed along with her strong man and fortune teller. All will have holes where their faces would be, so guests can insert theirs for a silly photo op.
Nearby, Barge Canal co-owner Adelle Lawrence helped ready the space by hanging thick red velveteen drapes.
In addition to Brazill's paintings, the ARTival will distribute a multitude of her bubbly, benign cartoon drawings in the form of temporary tattoos and DIY buttons, which will be awarded as game prizes. Koala in a party hat? Check. Unicycle? Check. Not-even-creepy clowns? Check. Cuteness? Duh.
— Rachel Elizabeth Jones
PinBox Wizards
Cardboard Teck Instantute, ALTernator, 388 Pine Street
Pete Talbot and Ben T. Matchstick
Pete Talbot and Ben T. Matchstick are on a mission to make gaming low-tech. Or rather, "low-teck." Over the past year, the self-proclaimed "professors" of the Cardboard Teck Instantute have been quietly introducing the PinBox 3000 to a global market.
What exactly is a PinBox 3000? It's a small, DIY cardboard pinball machine with interchangeable playboards and infinite possibilities. The dynamic duo aims to demonstrate the game's potential with the Cardboard Teck Instantute's PinBox 3000 Kickstarter Campaign and Art-Cade during this year's Art Hop. The cardboard extravaganza will take place at the makers' new studio in the ALTernator (former quarters of Burlington Furniture).
Talbot and Matchstick, a theatrical pair with backgrounds in education, puppetry and performance art, will invite the public in to experiment with some of the designs they've created.
The Art-Cade will have more than 20 unique PinBox 3000 varieties on hand. The Glorkian Warrior features a groovy printed playboard designed by Burlington cartoonist James Kochalka. One of the more DIY-centric games, called Siege the Day, boasts the most elaborate playboard to date, said Talbot. Its Arduino-powered gate releases marbles from a painstakingly crafted castle.
During the Hop, the PinBox creators want to "get as many people as we can to get their hands on these things," said Matchstick, "and to enjoy ... this kind of blissful platform of gravitational puppetry."
He and Talbot are particularly excited to help parents introduce their kids to the familiar gaming device made modern — sort of. "It's futuristic retro," declared Matchstick. "It's simplexity."
— Sadie Williams
Painting as Protest
Speaking Volumes, 377 Pine Street
"The Freak Show" by Al Salzman
Fairfield octogenarian Al Salzman has a reputation for making politically incendiary paintings. In 2007, he exhibited the "Garden of Earthly Delights," seven works of political satire, at Burlington's Speaking Volumes. In 2013, he mounted an exhibition titled "Subversive" at ArtsRiot. Those paintings depicted drone attacks and an American president riding a bloody, broken soldier.
For this year's Art Hop, Salzman returns to Speaking Volumes with two public works: panorama-style, acrylic-on-canvas paintings that spread eight feet tall by 16 feet long. In these, the artist eschews color for a dramatic, serious palette of black, white and shades of gray.
The first mural, "In memoriam for the women and children of My Lai and the 2.5 million Vietnamese slaughtered by the United States of Amnesia," distinctly incorporates elements of Picasso's mural "Guernica." Salzman replaces Spanish civilians bombed during that country's civil war with the victims of the 1968 attack by American troops. When the Art Hop is over, Salzman plans to offer the painting to the people of Vietnam, he wrote in an email to Seven Days, "as a meager form of repentance."
Salzman's second work is "The Freak Show," which takes its name from a George Carlin quote incorporated in the painting: "When you're born, you get a ticket to the freak show. When you're born in America, you get a front-row seat." The chaotic, dystopian piece includes among its many interwoven scenes ones of Bill Clinton receiving fellatio, Barack Obama using a joystick to drop missiles in the Middle East and an infant Donald Trump pounding his fists in a high chair.
The grisly scenario also depicts masses of African American inmates behind bars and a black man being riddled by police bullets. On the piece's right side, an adult Trump lays the bricks of his proposed border wall.
Though Salzman's works contrast with the generally festive spirit of the Art Hop, they serve as an important and timely reminder of art's role, past and present, in deploring human violence.
— Rachel Elizabeth Jones
Disclosures: Pamela Polston is a past member of the SEABA board of directors; Seven Days is a media sponsor of the Art Hop.