Jeb Wallace-brodeur
Baker Marc Levy removing fresh-baked baguettes from the oven
Laurie Furch, a former bakery owner, has answered calls for the King Arthur Flour Baker's Hotline for almost six years. Every shift, she handles dozens of questions from anxious bakers. She's used to troubleshooting problems such as Why are my cookies taking an hour to bake? Or, Can I substitute all-purpose flour for bread flour?
But not even the holiday baking season and its deluge of calls prepared Furch and her teammates for the tsunami of home baking appeals that struck the weekend of March 14. That Sunday, the hotline handled a 50 percent spike in calls.
As the coronavirus pandemic shut businesses and schools, and shelter-in-place orders rolled out nationwide, homebound Americans were baking at an unprecedented rate — and they needed help.
Millions of those bakers turned to Norwich, Vt.-based King Arthur for advice — and for flour to fuel the new national pastime.
The crescendo of phone calls was something the company could handle by redeploying staff from its temporarily shuttered baking education center and retail operation. Addressing a nationwide run on flour that left grocery store shelves bare was a bigger challenge.
"Not only were people all learning how to bake," Furch said, "then Americans decided they all needed flour at the same time."
King Arthur started as a regional New England brand and eventually developed national distribution for its products. In recent years, when customers from Florida or California emailed to ask where to buy the flour, they could be referred to a nearby supermarket.
The pandemic changed that — and shone a national spotlight on a beloved Vermont company and how it does business.
It's a welcome story that demonstrates nice guys can finish first.
'Playing With the Big Boys'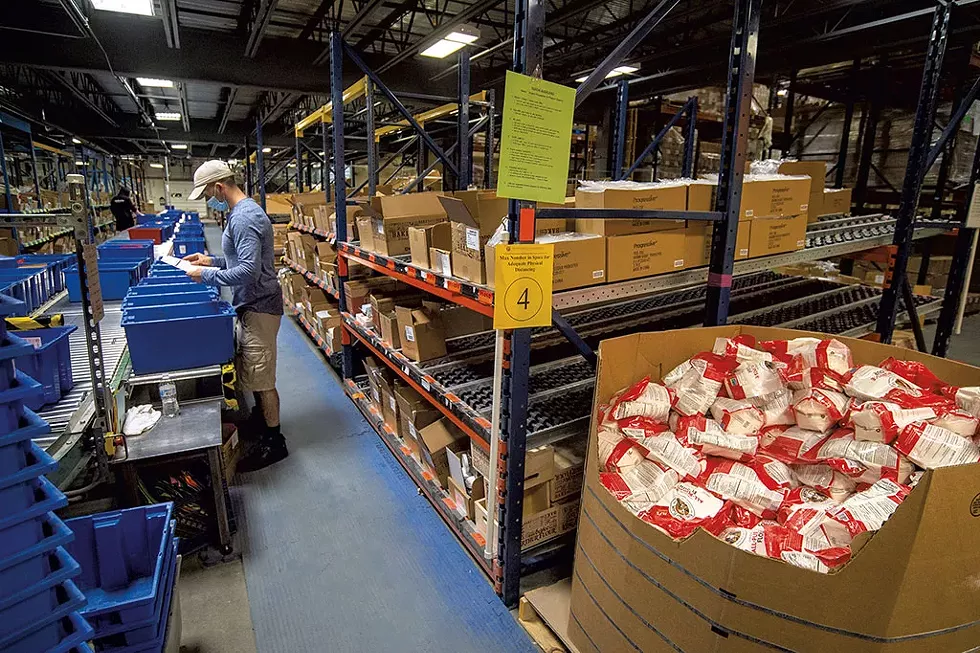 Jeb Wallace-brodeur
Justin Severance filling mail orders at the fulfillment center
King Arthur was founded as Henry Wood & Company in Boston in 1790 to import high-quality European flour. In the 1980s, fifth-generation owners Frank and Brinna Sands moved the family-owned company to Vermont, where it began its transformation into the go-to source for home bakers.
In 1990, the company marked its bicentennial and hit $6 million in sales. That was also the year PJ Hamel was hired as employee No. 6. One of her tasks was to help expand the company's reach beyond New England.
The owners told Hamel, "'We're starting a catalog. Can you write a catalog?' And I said, 'Oh, sure,'" she recounted.
The original goal of the catalog, Hamel said, was to get the company's flour to fiercely devoted customers who had moved out of its New England distribution range, particularly snowbirds who spent winters down south.
The brand was already firmly established as a regional favorite for its high-quality, unbleached, additive-free flour. "People were writing to us and saying, 'I'm in Florida and I can't find King Arthur flour. Could you send me some?'" Hamel said. "And Brinna was going down to the post office in Norwich, wrapping flour in paper bags and sending it to Florida."
The first catalog went to 10,000 existing and prospective customers.
Thirty years later, King Arthur flour is sold through a national roster of grocery stores. Catalog mailings have reached 8 million a year, offering customers traditional and gluten-free flours and mixes, along with a wide range of specialty baking ingredients and tools. Annual revenue has climbed to $150 million, including flour sales to food service accounts such as bakeries and restaurants.
The company also sells direct to consumers from a robust website; in addition to products, the site is filled with friendly, instructive posts designed to help people master piecrust or parse the difference between cream and butter scones. Until the pandemic, an easy cheesecake recipe — with no flour unless you count store-bought graham crackers — had long ranked in the top three recipes among more than 1,500 in the online database.
In 2004, Frank and Brinna Sands completed the sale of the company to their employees; in 2016, King Arthur was named the company of the year from a field of 16 finalists by the Employee Stock Ownership Plan Association. The association highlighted "the inclusive nature of the company," demonstrated by King Arthur's application letter signed by 100 employee-owners.
While the company built its early reputation on European flour, now it proudly touts that all its wheat is U.S.-grown and milled through partnerships with millers and farmers from Buffalo, N.Y., to Washington State. The company blends and bags its mixes and has one direct-sales fulfillment center in Norwich, but all remaining packaging and fulfillment is contracted out around the country.
King Arthur employs about 365 people, all but 30 at its Norwich headquarters, making it the second largest employer on the Vermont side of the Upper Valley. Its flagship retail store, bakery, café and baking education center drew half a million visitors to Norwich last year. That statistic puts it on par with Ben & Jerry's Waterbury factory, which has long claimed the title of single largest attraction in Vermont.
According to Nielsen tracking data shared by King Arthur, the company currently ranks No. 1 nationally for retail sales of unbleached, all-purpose flour. It is the second overall flour brand behind Gold Medal, owned by food giant General Mills.
Hamel retired last year just shy of her 30th anniversary with the company; she still writes for the King Arthur recipe blog from her home in Cape Cod, Mass. Over her tenure, "the little Vermont company became a big national company," she reflected with a mix of awe and pride. "We're playing with the big boys."
'The New Hot Category'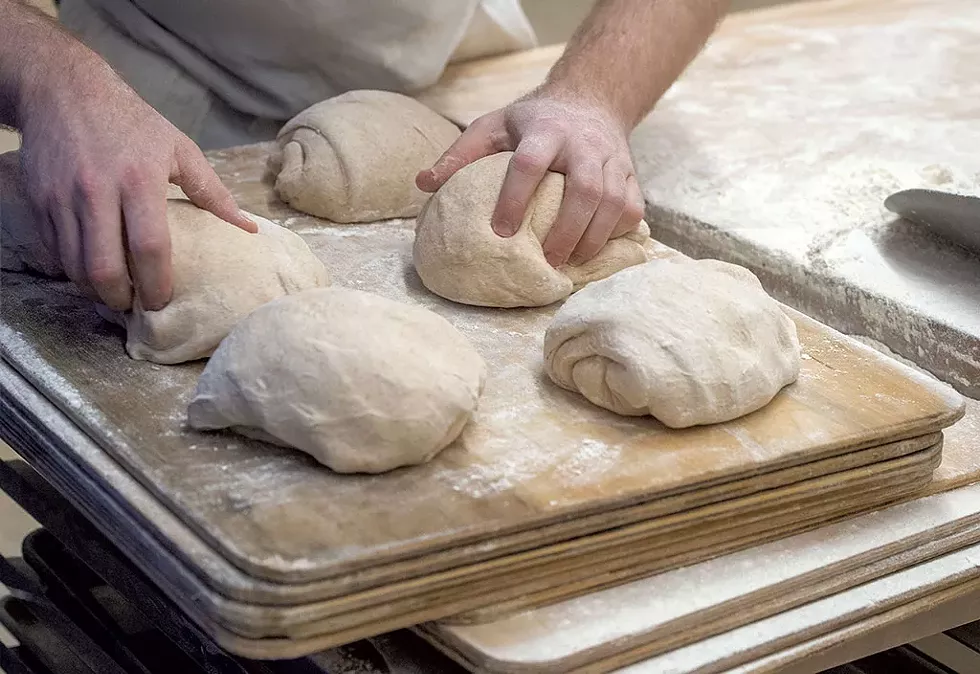 Jeb Wallace-brodeur
Baker Lucas Diggle shaping loaves
Normally, the flour business is pretty sleepy and doesn't tend to grab headlines. Plain wheat flour is a low-margin business that many consumers consider an undifferentiated, basic commodity.
"If you want to make money, you don't grow potatoes; you sell potato chips. You don't sell flour; you sell breakfast cereal," explained Jeffrey Hamelman, a certified master baker and retired original director of King Arthur's Norwich bakery.
But COVID-19 has affected almost everything, including the flour world.
March is the slowest time of the year for flour sales, although it leads up to Easter, which is the second busiest baking season after the winter holidays.
So Bill Tine, King Arthur's vice president of marketing, was surprised when, seemingly out of the blue, hotline call volume took its giant leap in mid-March.
Tine said he recalls a late Sunday evening phone call to check in with colleagues about the unusual numbers. But, honestly, he said, that period of time is a blur. King Arthur, like every essential business, was busy figuring out how to keep going and keep its employees safe. Then, unexpectedly, they were simultaneously faced with the sudden spike in demand for flour and baking advice.
The week of March 16 was when grocery store orders started to pick up in an unseasonal way. Over the next four weeks, they leapt 600 percent over prior year sales, Tine said. There were well-publicized shortages of toilet paper and hand sanitizer, but, he said, "It was a little bit of a shock that all of a sudden flour became, like, the third thing that started to go out of stock."
In response to empty grocery shelves, more consumers ordered direct from King Arthur than ever before, reaching six times normal sales.
On April 19, the company tallied a new one-day website traffic high of close to 1 million user sessions and 2.3 million page views. It blew past the previous record of 542,000 sessions on the day before Thanksgiving 2019.
And the orders looked different, Tine said. Direct sales were traditionally a mix of harder-to-find specialty products. But now consumers were ordering the core supermarket item they could not find: King Arthur's signature 5-pound red-and-white paper bag of flour.
While management was scrambling to get those bags back on grocery shelves nationwide, Furch, her hotline colleagues and the team that handles social media interactions were on a never-ending hamster wheel.
As call volume snowballed, it started to feel "like a continual Christmas season," Furch recalled. All told, the calls, emails, social media interactions and web traffic across April and May saw a sixfold increase.
Management did what it could to deepen the bench. The four-person digital engagement team grew to 17, thanks to bakers and baking instructors whose regular jobs were on hold or much reduced. The hotline similarly drew on six reinforcements from within the company, bringing its ranks to 21.
At no time, according to Tine, did the company technically run out of flour. What it ran out of was enough bagged flour to feed the newly voracious appetite of Americans stuck at home.
During the initial spike, Tine explained, King Arthur had enough flour to fill orders because the pipeline was full in preparation for Easter. In fact, throughout the whole flour "shortage," he said, there was never insufficient grain or even milling time to turn the grain into flour. The roadblocks were bagging capacity and speed of distribution.
Starting in mid-March, King Arthur was in constant communication with its milling and distribution partners to add shifts and speed up delivery, Tine said. The company paid the extra cost of shipping flour from mills by truck instead of the usual railcars. And King Arthur signed a contract with a new distribution center to get grocery shelves restocked as quickly as possible; it also negotiated a partnership with an additional mill.
But no matter what company leaders did, it felt like they were just plugging holes in a leaky bathtub. There simply were not enough additional bagging lines at any of their partners to fill the orders.
"As soon as a truckload of flour came in, it was sold that next day," Tine said. Unlike toilet paper hoarding, he pointed out, people were using all the flour they bought and heading back for more: "People were actually baking."
To the surprise even of those in the flour business, it turned out that the quarantine was compelling people to bake, whether because they couldn't get out to buy their daily loaf, they craved comfort food or they simply had a lot of time on their hands. Suddenly, social media feeds were filled with photos of pies, cakes, cookies and crusty loaves of sourdough tagged #quarantinebaking.
Nielsen data for year-to-date retail sales of wheat flour through May 16 shared by King Arthur show the category up almost 70 percent over a year ago.
"We were one of the highest-growth categories in the grocery store," said Tine. "That's not normal."
The media jumped on the at-home baking trend, too. King Arthur was inundated with interview requests from the Los Angeles Times to the Wall Street Journal, NPR's "Marketplace" to CNN. "I don't know if I can name someone that hasn't been in touch," said Tine. "Baking's kind of the new hot category."
The company's baking experts were featured on national TV, discussing the jump in calls and sharing King Arthur's French-style country bread recipe on CBS' "Sunday Morning," among others. Management explained to business publications such as Forbes how they'd ramped up to ship more than 6 million bags of flour in March, a 268 percent increase over March 2019.
All that exposure helped more people around the country learn about the Vermont company — which was both an opportunity and a challenge. To feed the growing demand, King Arthur took a risk.
Throughout its milling partnership network, all bagging lines that could handle King Arthur's 5-pound bag were maxed out. It would take nine months to construct a new one, Tine explained. But one mill did have a 3-pound line available.
With record speed, King Arthur designed a new 3-pound bag and had it printed and shipped to the milling partner; the first of a planned million bags came off the line the week of May 4.
The new item is more expensive to produce, and the plastic bag doesn't fit the company's sustainability goals, but it allowed King Arthur to fill direct-to-consumer orders while getting its 5-pound paper bag back on grocery shelves.
#quarantinebaking
Screenshot
Pastry chef Gesine Bullock-Prado on "The Isolation Baking Show," cohosted with retired King Arthur Flour bakery director Jeffrey Hamelman
As Americans took to the kitchen in March and April, baking anxiety rose. Home cooks worried about how to keep their sourdough starter alive and wondered just how long to not-knead that loaf of no-knead bread.
King Arthur has staked a claim as America's baking expert. Reminiscent of its logo, the company is the white knight of baking, ready to gallop in and save people from baking misadventures.
"King Arthur is like the best grandparents to bakers in the world," said Mitch Stamm, a longtime professional baking instructor at Johnson & Wales University in Providence, R.I., and board vice chair of the Bread Bakers Guild of America.
Ever since King Arthur launched its first web page in the mid-1990s, Hamel, the original catalog writer, recalled, "We just really wanted to connect with people — not just to sell them things but to educate. Brinna was very, very strong on wanting to teach people," she added, referring to Brinna Sands, who, along with her husband, is no longer directly involved with the company.
To this day, when Hamel writes a blog post, such as her recent "10 Tips for New Sourdough Bakers," she explained, "I want to take people by the hand and say, 'You can do this.'"
This approach is not wholly disinterested, of course. "Almost everything we do, we approach it like, What would help consumers bake?" said Tine. "If we help consumers bake, it will come back to benefit us."
That thinking is what drove the 1993 launch of the Baker's Hotline, as well as the 2000 establishment of the Norwich bakery and education center. It offered about 800 classes last year, including kids' baking boot camps, British classics and professional intensives. The company opened a Washington State education center in 2016.
Hamelman recalled Brinna Sands running across the parking lot to ask if he'd start their bakery and school. "She's a visionary," he said simply. "She's the one who felt like King Arthur would never be a truly complete company just selling flour. It's got to be showcasing what the flour can do."
Anyone can call the hotline and ask for free help. Furch and her teammates do ask callers what flour brand they're using, mostly in order to help them efficiently. King Arthur is known for its tight quality specifications, including protein percentage, which can impact recipe results. Consistency is one of the reasons many bakers, particularly professionals, favor the company's flour.
During the height of the quarantine, when yeast was especially scarce, the hotline saw a huge jump in questions about sourdough baking, which relies on a combination of wild yeasts and beneficial bacteria to leaven bread and other baked goods.
"It was insane," Furch said. "Everybody and their brother was trying to start a sourdough starter."
For her evening shift, Furch would start at 5 p.m. "You check your emails, you put your headset on and almost immediately there's phone calls waiting," she said. "People are on the West Coast; it's still two o'clock, so they're wondering if they can make sourdough bread in time for dinner."
Furch found herself spending more time with certain callers, some elderly or living alone. She recalled a man who called from New York City. "He said, 'I just came home from work, and I'm exhausted,'" Furch said. It turned out he was an emergency room physician. "He would come home, and he would just want to work on his sourdough starter."
Many people, she said, would describe how "they were baking things and leaving them on doorsteps for neighbors — you know, trying to share and build some community themselves by just making little gifts."
To supplement the advice offered on the Baker's Hotline — and in hopes of helping people before they picked up the phone — King Arthur amped up its online content with video tutorials on how to bake sourdough bread and blog posts on baking with less yeast. It also launched several new video shows.
In "Martin Bakes at Home," King Arthur baker and instructor Martin Philip demonstrated perfect baguette technique. In "Baking With Kids," King Arthur instructors made granola and whole grain pancakes with the help of their own kids. "The Isolation Baking Show," a partnership of King Arthur and Vermont-based cookbook author/pastry chef Gesine Bullock-Prado, offered serious instruction and corny jokes with retired bakery director Hamelman.
The two-part April 18 show featuring braided challah and a Great Depression-era chocolate cake recipe has racked up almost 5 million views.
Doing the Right Thing
Courtesy Of Michael Savino
Michael's Cookie Jar donating cookies to Kids' Meals in Houston, Texas, supported by King Arthur's For Goodness Bakes program
Sharing is deeply baked into King Arthur's core values. During the pandemic, it has kept its education center instructors busy baking bread to donate to community organizations; retail employees sewed more than 1,000 masks for King Arthur employees and to donate. The company also launched a new For Goodness Bakes program, which has paid 31 bakeries hard-hit by the pandemic to bake for those in need in communities around the country.
Since 1992, King Arthur has also offered free baking lessons and supplies to middle school students. That program has evolved into Bake for Good, which sends three employees to teach at schools around the country. Its video version has come in handy this year.
In a normal year, some 35,000 youngsters participate, and each receives a kit of supplies to bake two loaves of bread: one to keep and one to give to someone in need. "I have seen fifth graders fill their wagon with bread and walk it down to the food shelf," said program manager Amy Driscoll.
Driscoll is starting her ninth year with King Arthur. She grew up with the flour in Massachusetts, where her mother bought 50-pound bags to bake for five kids. As a young person, Driscoll said, she took King Arthur flour for granted. But now, she admitted, "I have drunk the Kool-Aid."
She was referring to the fact that she won't bake with anything else, but it could just as easily apply to her appreciation for the employee-owned company, which has also been a B Corporation since 2007. B Corps are evaluated by an independent certifier to ensure that profit does not come at the expense of people, communities and the environment.
Driscoll sums it up as: "The company gets to decide what to do based on what is the right thing to do."
She rattled off a list that started with transparent, regular communication from management at all times, but especially during the pandemic. Since mid-March, every employee has been able to access four weeks of paid leave to care for kids, as well as free mental health and ergonomic consulting services. Driscoll emphasized that the company has avoided layoffs by redeploying workers to meet both business and community needs.*
It reflects back on something several longtime employees cited. "Frank used to have a plaque on his desk," PJ Hamel said. "It said something along the lines of 'Just do the right thing,' or 'Do the right thing always.'"
Speaking Up
King Arthur's management team is well aware that there is always room to do better. Last November, senior leadership started ongoing diversity, equity and inclusion training. The program was to be rolled out to the entire company, until the pandemic put it on pause.
"We've got to be more proactive and more forward-looking on how to make sure that we're actively getting all people to our table," said Tine.
While women are well represented in management at King Arthur, the company has very little racial diversity. "We live in a white state," said co-CEO Karen Colberg, quickly adding, "That doesn't absolve us from trying to talk about [race], to raise awareness, to make change and to be in it."
On June 1, King Arthur reacted to the protests sparked by the police killing of George Floyd with a social media post condemning "the devastating racial injustices that continue to plague our country" and announcing a $200,000 fund to support racial justice changemaking organizations.
This was a big step for a company whose potentially controversial statements had previously been limited to "Say no to raw dough" (due to the risk of E. coli in raw flour, not salmonella in raw eggs).
Only a few hundred of the 39,000-plus Facebook reactions to the racial justice post were negative. The social media team responded with a firm but empathic reiteration of the company's position.
Social advocacy, Colberg acknowledged, "is new for King Arthur, and it's the right thing to do for us." The company had been planning to launch a Pride Month campaign instead on June 1 but decided to postpone it. Although some have accused big consumer brands of jumping on the cause bandwagon, King Arthur felt compelled to take a clear stand, she continued, "not because of some expected payoff — though I do believe people value it."
To those who say King Arthur should stick to baking, Colberg responds, "If we can't speak to what is unfair ... then we are not being responsible leaders to our organization and our society as a whole. There are so many injustices out there and we have to do better."
New Normal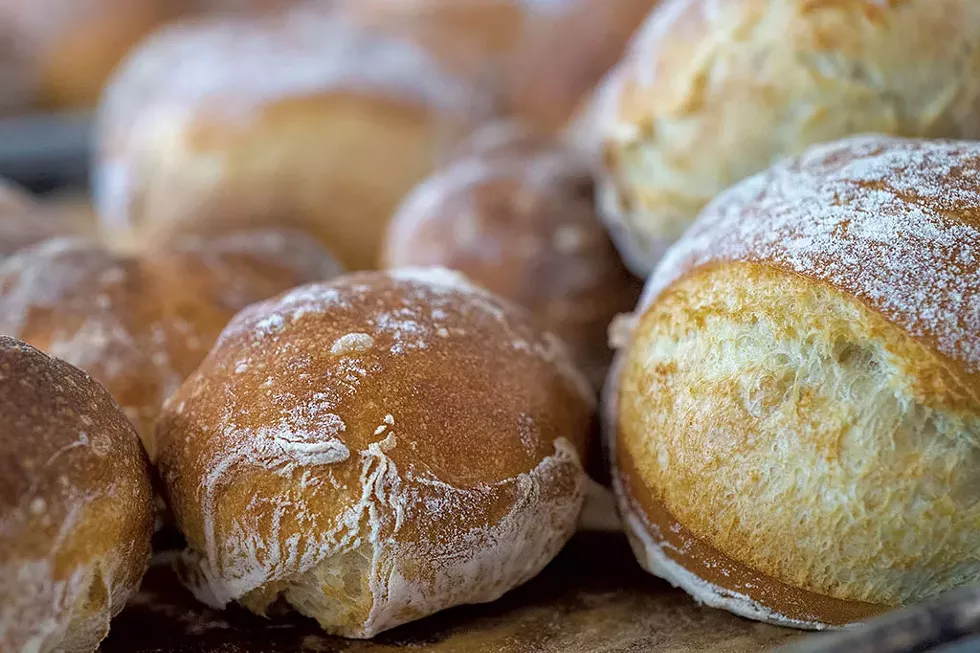 Jeb Wallace-brodeur
Bread
At about 9:30 a.m. on Friday, June 12, the bread bakers at King Arthur's Norwich headquarters were wrapping up their shift that had started at 3:30 a.m. Masked and well spaced, two bakers lifted rounds of dough, folding and shaping them deftly.
On the pastry side, the scent of cinnamon was so strong it seeped through the glass viewing windows and visitors' mandatory masks.
During Vermont's "Stay Home, Stay Safe" period, the King Arthur bakery continued to bake at reduced volume for local customers. The retail store had just reopened with strict safety guidelines. Jeanne Seymour had driven 70 miles from Guilford as soon as she heard the news. Her basket was soon full of baking tools and ingredients.
"I love that it's Vermont, that it's one of our companies," she said, "and that it's employee-owned."
In a classroom, a pair of education center employees were bagging loaves they'd baked for local community groups. The tally had just reached 10,000 loaves donated during the pandemic — 15,000 including those baked at King Arthur's Washington education center. Both locations are targeting late July or early August to restart classes — albeit with fewer students to ensure social distancing.
The Norwich complex fondly known as Camelot by King Arthur employees is slowly moving back toward normal.
The question for King Arthur is what "normal" will look like, at that facility and around the country. Baking usually slows in the summertime, Tine said, but as of mid-June, sales are up more than 50 percent compared to a year ago. "I would say that they're settling in, not settling down," he said. "We're settling in to a new normal."
The company feels confident it has developed systems to respond to any future spike in demand. The challenge, Colberg explained, is to figure out how to nurture the new interest in baking hatched by the pandemic. "How do we engage people that have shown some interest in baking and keep them baking?" she pondered.
The bigger question, perhaps, is whether baking during the pandemic has taught Americans anything.
"I think people like the tactile aspect of it: the touching, the smelling, the feeling. We don't always engage all of our senses in what we do," Furch of the Baker's Hotline said. "Baking also forces you to pay attention to somebody else's rhythm, which is the rhythm of the dough. I think people are learning patience."
*The company has since confirmed that due to ongoing reduced workload at its cafe, store and schools, it has been obliged to lay-off some employees.