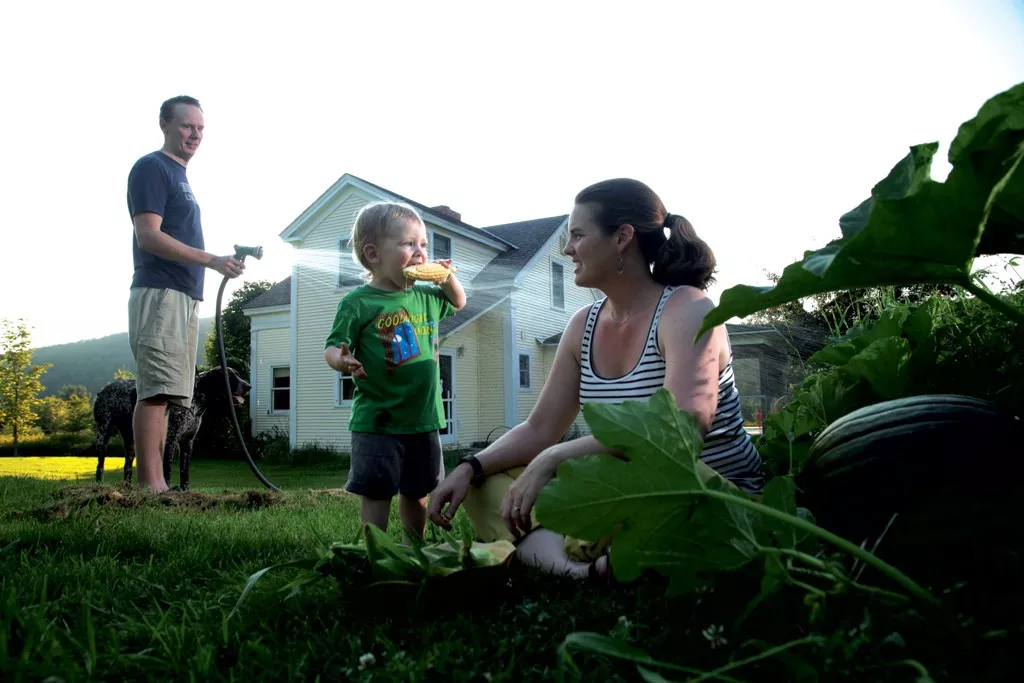 matthew thorsen
Lindholm's family at home in Monkton
Mom: Jane Lindholm, host of VPR's "Vermont Edition" Dad: Adrian Hicks, tool operator, GlobalFoundries, Essex Junction Kid: Dylan, 20 months
At Harvard, Jane Lindholm was probably the only undergraduate listening to National Public Radio's "A Prairie Home Companion" while getting ready to go out on Saturday night. A lifelong lover of public radio, the East Middlebury native says she "naively assumed" she could write to the president of NPR and ask for a job when she graduated in 2001.
It didn't happen quite like that. But by a stroke of luck, a producer of "Radio Expeditions" — a show done in partnership with National Geographic — saw Lindholm's cover letter and résumé and offered her a paid internship at NPR's Washington, D.C. offices. So began her career in public radio.
In 2002 Lindholm got a job at "Talk of the Nation," then left after a year to live in Australia, write a Let's Go travel guide and backpack through Southeast Asia. Upon her return in 2004, Lindholm landed a job in Los Angeles working for NPR's "Marketplace," first as an assistant producer, then as a director.
Lindholm and her husband, Adrian Hicks — a Welshman she met on a beach in Thailand — moved to Vermont in 2007 to be closer to her family. Vermont Public Radio was just launching a new hourlong news program, "Vermont Edition," and Lindholm, then just 28, landed the host position.
Each weekday at noon, she interviews Vermont newsmakers live, on-air, and fields calls from VPR listeners on topics ranging from the changing nature of TV narratives to the impact of algae blooms on Lake Champlain.
In 2014, Lindholm took a three-month leave following the birth of her son, Dylan. This year, the 36-year-old Monkton mom earned the title of Best Local Radio Host, and "Vermont Edition" was voted Best Talk-Radio Show, in Seven Days' annual Daysies awards.
Kids VT sat down with Lindholm at the VPR offices in Colchester and interviewed her for a change.
On being articulate while sleep deprived:
I think of doing the show as part performance. You have to get in the zone. No one wants to hear if you're tired or sound like you're unprepared, so you have to make yourself be interested. The really cool thing is that after doing it for an hour, at the end of the show I usually feel more jazzed than when I woke up!
How motherhood has changed her perspective as a journalist:
I've noticed it's harder to think about certain stories. Right when I came back from maternity leave, we were continuing to do stories on [Department for Children and Families] investigations about children who were allegedly abused by family members. My son was an infant, and I remember thinking, How could anybody ever hurt an innocent child, repeatedly and violently? On the other hand, I have a lot more sympathy for how hard it is to parent under the best circumstances and how incredibly difficult it is if your circumstances are not good.
On the morning routine:
Mornings are hellish! My son gets up anytime between 5 and 7. I am still breastfeeding, so I do that in the mornings and at night. If my husband has already left for work, then I'm eating breakfast and trying to get the dog outside to do his business while I am also trying to take a shower and get dressed and make some lunch — which is usually what doesn't happen — and I get Dylan in the car and drop him off at his daycare and then make the mad dash to the office in time for 9 a.m.
On finding time for herself:
I do wish there were more like 30 hours in a day! Such a cliché, I know. That's the biggest struggle right now for me. I don't have enough time to exercise or to be outside by myself. I like to go for a run or go to the coffee shop in Vergennes and have a latte and read a book ... but that never happens.
On the similarities between her job and parenting:
I love thinking about why [my son] is doing things. Is he just trying to manipulate me? What does he want that I am not able to give to him? You're trying to investigate in journalism why people behave the way they do, and that's a lot of parenting, too. Like, Why are you yelling at me right now?
On what she wishes were different:
I would like to change the stress level. It feels like a lot to be the primary wage earner and to feel like parenting is a huge priority. I should say that my husband is really great — he's a real partner in housework and parenting — but internally, the pressure to do a lot of hands-on parenting feels really strong. I'm trying to figure out how to do a job that I don't feel I can take a break from and do the job of parenting, which you don't get a break from. It's really hard to balance.
What she loves about being a parent:
Watching this little person change and develop and figure things out — so fun! He's at an age now where language is coming so fast, and seeing him understand new words and stringing new words into sentences, that's just amazing. I love kids, and I always knew I wanted to be a parent. It's such a relief to enjoy it as much as I thought I would.