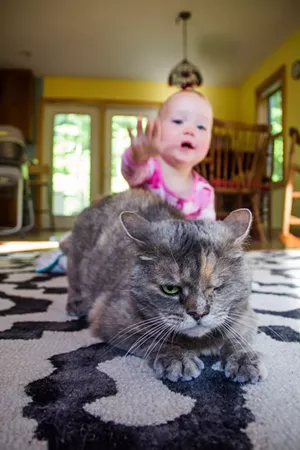 Daniel Houghton
14-month-old Joni and 14-year-old Haley
Before we became parents, my husband and I loved our cat like a child. She snuggled with me and Daniel when we watched movies. She slept in our bed every night. My phone was filled with photos of Haley, in all her runty glory.
Our cat is unique. We sometimes describe her as a goblin wearing a cheap cat suit. She's missing one eye, and the half of her tail that remains is stumpy and kinked. She's oddly boxy for a feline, her belly sags and her fur is a nondescript grey. She snores so loudly at night that sometimes she wakes me up.
In college, a friend and I used to visit Haley regularly at the humane society in Middlebury. A staffer there told me she was named after the 1950s rock band Bill Haley and the Comets, who penned the lyric, "I'm like a one-eyed cat, peeping in a seafood store."
Haley would cower in the corner of her cage, ears flat against her head, until we picked her up and she melted into our arms. I'd never met a more loving kitty, nor heard a more enthusiastic purr.
I was living in a dorm at the time, but I convinced my parents — whose own cat had recently died — to adopt her. The deal was that I'd take her as soon as I moved into a pet-friendly apartment. That didn't happen until two years later, when Daniel and I signed a lease on a roach-infested studio in Harlem.
Haley has lived with us ever since. She came along when we moved to Montpelier a few years later, and then to Winooski, where we built her an 8-foot-high, 12-foot-wide climbing palace that took up a good portion of our living room. In the warmer months, she'd wander out on our screened-in porch to watch the birds and squirrels. She had a good life.
Then our daughter, Joni, was born.
Amid the chaos of caring for a newborn, we sometimes forgot to feed our kitty. To add insult to injury, it was late April, and our landlords had begun a new project transforming our screened-in porch to an open deck. Haley, an indoor cat, had nowhere to go to look at squirrels. We'd come home from work at the end of the day to find her curled up in the same spot we'd left her, looking dejected and bored.
We rarely registered the cat's presence — except during the wee hours when we'd wake up in a panic thinking we'd smothered our child only to discover it was Haley, not Joni, at the bottom of our bed.
Early on, I worried that Haley might jump into the bassinet and scratch the baby. But I soon learned the kitty was as disinterested in Joni as Joni was in her. We'd hold Joni right in front of the cat, showing her how to stroke Haley's fur — but they looked right through each other.
Joni was a late bloomer on the joy front. We waited three agonizing months to see her first smile. But her enthusiasm was unequivocal the first time she noticed Haley.
We were playing on the floor when Haley sneezed. Four-month-old Joni looked up, located the beast responsible for the hilarious sound and burst into raucous laughter. We'd never heard our daughter laugh before.
Thus began Joni's obsession with Haley. Whenever she saw the cat, Joni thrust her arms toward her with zealous fervor. She crouched beside the kitty to watch her chomp on kibble bits. When Joni was upset, just the sight of Haley often stopped her crying. One of Joni's first words was "titi" for "kitty."
Last fall, we moved to a house in Middlebury. When spring arrived, we decided to let Haley outside during the day. Kitty has never been happier, and Joni loves to watch her prowl the yard. When Haley emerges from the woods, Joni loses her mind with joy, squealing and pointing and all but hurling herself at the cat.
Haley has been patient and gentle through it all. Even when Joni is at her most aggressive, grabbing fistfuls of the cat's fur and yanking them with all her might, Haley just stands up calmly and saunters off.
Joni's affection for the kitty isn't completely unrequited. Occasionally, I catch Haley happily swatting at Joni's toys. And the other day, the cat flopped onto the carpet and rolled onto her back so that Joni could rub her belly, though it was more of a loving whack.
Recently, while Joni was nursing, Haley leapt up beside us to nuzzle the baby's head. Joni looked up at me, giggling, as if to say, Are you seeing this!? Do you have any idea how amazing this is?
Haley is no longer the center of our universe, but she's even more integral to the family. She's the weird one-eyed creature who makes Joni laugh. And what a joy it is to watch.
Now if we could just find time to clean the litter box.