Xian Chiang-Waren
Tara Goreau (left), Terry Zigmund and Matt Gang
Outside the South End Arts and Business Association office on Pine Street, a "metered" bike rack is tucked against the brick wall. Both functional and free (the meters don't operate), it quietly represents what has been a sometimes-contentious public conversation over the past year. Tyler Vendituoli received a stipend from Burlington City Arts to create the sculpture, a wry commentary on the lack of parking in the South End. It was one of the projects funded through a $100,000 grant BCA received from the National Endowment for the Arts' Our Town program in 2014.
The grant bolstered the $327,892 budget for planBTV South End, the city-run initiative to create a framework for future changes to the postindustrial creative district centered on Pine Street. BCA's mission was to help engage the public in the planning process. It allocated $50,000 in grants to artists for the creation of public-art projects intended to pique interest and stimulate citizen input.
Vendituoli's bike rack was one of 18 such public works. Another that's still visible — at ECHO Leahy center for lake champlain — is John Brickels' clay sculpture depicting solutions to storm-water runoff such as rain gardens and permeable driveways. Others were more ephemeral, such as Kate Donnelly's "Crossing Pine" performance piece — in which the artist repeatedly crossed the busy street pulling a rack hung with colorful rain ponchos, donning a new one at each crossing.
According to BCA assistant director Sara Katz, the hope was that these artists' works would speak to South End residents, some of whom might not be able to attend planning meetings or otherwise be represented in the dialogue on the South End.
Arts educator Maggie Standley sought to engage an often-untapped audience: kids. Last winter and spring, the Wingspan Studio founder worked with youth from the Boys & Girls Club of Burlington, King Street Center and her own art classes to create a two-panel mural. It was displayed at the planBTV South End draft plan release party at ArtsRiot in June.
Standley prompted the kids to contemplate what they liked about their neighborhood and what they would like to see change. "They wanted homes for the homeless and tree houses," says the artist. But most of all, "they wanted an outdoor swimming pool."
If you look closely at the paper-plastered canvases now hanging outside ArtsRiot, miraculously intact after almost seven months of exposure to the elements, you can see notes written by the children who created them. One reads, "No swearing." Another: "Soft ice cream truck, different song."
Michelle Sayles and Jen Berger turned to low-income South End residents for their project. Through questionnaires and in-person interviews, the pair collected ideas regarding the future of the South End from residents of Decker Towers, Wharf Lane and Bobbin Mill Apartments. They represented the responses in a mural that was presented during a community workshop in February, also at ArtsRiot. Transportation was a key issue, Berger says, "specifically that the condition of the road and sidewalks makes it hard to get around."
In May, Sayles and Berger used the stories they collected in an evening of performance art featuring multiple artists at the Howard Space Center.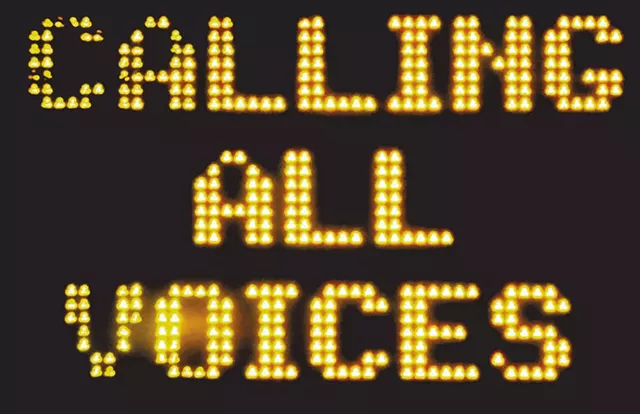 Courtesy Of Lee Krohn
A digital traffic sign programmed by Terry Zigmund
Other grant recipients attempted to engage an even broader audience. Glass artist Terry Zigmund received funding for three different projects, two of them collaborations with artists Tara Goreau and Matt Gang. The trio's first creation was a work in plywood and paint titled "Seeds for SEAD" (an acronym for the South End Arts District). Goreau, the muralist responsible for the colorful landscape that greets City Market shoppers, lent her signature brushstrokes to three wooden tree cutouts. These were placed along Pine Street during the South End Crawl in November 2014.
Wooden "seeds" scattered on the ground invited pedestrians to write responses to one of two prompts — "What is it about the South End that makes you smile?" and "What about the South End would you like to see change?" Participants could then return the seeds (with their answers) to one of the trees. Surveys asking similar questions were conducted at locations throughout the Crawl, according to Katz. "Combined, there were hundreds of responses," she says, "more of them on paper than on the wooden seeds."
Some artists actively collected opinions and ideas regarding the future of the South End. Standley and Zigmund say they were under the impression that this information would be incorporated in the planBTV South End draft plan. However, Katz says the goal was to build awareness and engagement, not to gather data. All of the artworks, she adds, were shared with the consulting team from Boston-based Goody Clancy, which the city hired in fall 2014 to facilitate public participation in the planBTV process.
BCA also funded a documentation of the artists' projects. Andrea Grayson has been compiling video footage this year and is building a website to showcase the work. "It'll be a good representation of all the pluralistic practices that happen here," says Katz.
Though the grant period ended in November, one last project is still in process. Urban designer Julie Campoli and architect Bren Alvarez will collaborate with other designers and artists "to develop a vision of a denser, multistory enterprise district whose form and public spaces express the idiosyncratic culture of the artists and businesses who inhabit it," according to Campoli.
The description is a mouthful, but reenvisioning an entire section of Burlington is no small task. Campoli and Alvarez will develop their design ideas over the winter and early spring. Meanwhile, interested citizens can find out more about the artists' projects and monitor the progress of planBTV on the city's website.