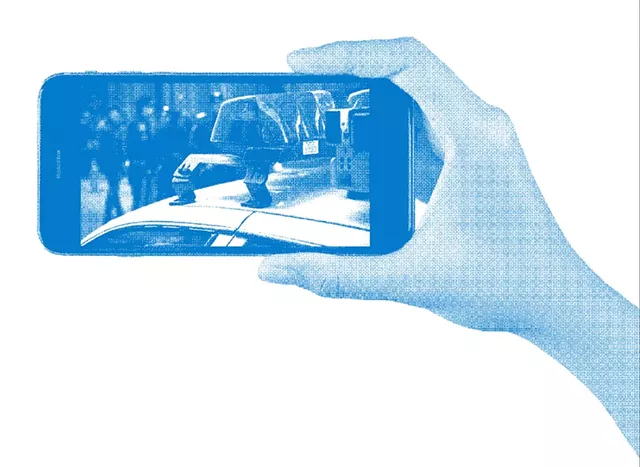 Four Burlington cops were gathered near the Whiskey Room last Friday, chatting casually during a calm moment before Church Street would swell with crowds celebrating the University of Vermont's impending commencement.
Five people, each young enough to be taken for a graduating UVM senior, approached the officers, cellphone cameras drawn. Jaz Mojica wielded a camcorder. Barely five feet tall, the 26-year-old woman walked straight into the group and asked firmly, "Can I have your name and badge number?"
The first officer said nothing but pulled open her windbreaker to reveal her badge and name tag, which read "O'LEARY" in bold white letters. Mojica turned next to Officer Connor Palmateer and repeated the question.
"No," he said, "You can look at my shirt, if you'd like."
"Is there a reason for this?" the third cop, Officer Oren Byrne, asked. The fourth cop repeated that question, but Mojica didn't respond and just kept filming, then walked away.
The officers appeared uncomfortable, and that was the point. Mojica was demonstrating the basics of a vigilante police accountability tactic called "copwatching," in which people follow and film officers on patrol.
"The hope is, when the camera is on them, they'll stand up a little straighter," Mojica explained earlier that evening.
And there's always the chance of catching an officer behaving badly. During the first week of May, police bodycam video surfaced showing Burlington officers using violent force against black men in two encounters downtown last September. The footage came from two attorneys who have filed separate lawsuits alleging police brutality against the department. It was already facing excessive-force allegations surrounding the death of a physically impaired man in March after an altercation with a cop.
The ensuing public outcry, including a demand by Black Lives Matter of Greater Burlington to fire the officers involved, has city leaders scrambling to find areas for reform. But some activists aren't waiting for the gears of government to turn.
Copwatch is a 29-year-old organization that began in Berkeley, Calif., whose practices have spread to other major U.S. cities. A Chittenden County native, Mojica started copwatching after she moved to Austin, Texas. She happened to be back in Vermont this month when news broke about the latest excessive-force allegations against Burlington police.
Mojica announced an initial training and Copwatch event via Facebook. It drew about 30 participants, and a video crew from the New York Times, to the community resource center building at South Winooski Avenue and King Street. Mojica showed slides of the group's Austin activities to prepare local vigilantes to monitor law enforcement in Burlington.
The four copwatchers who joined her on last Friday's "shift" declined to give their names to Seven Days. They said they were nervous about confronting the police in a relatively small town — a concern Mojica said she understood. "If I still lived here, I would feel like I was more of a target, because they do like to fuck with copwatchers," she said.
One participant said she's long felt "innate fear" toward local police because of her racial identity. The badge-identification exercise made her chest pound, she said. But she considers citizen countersurveillance a necessary, if small, component of pushing for change.
"I hope the good to come out of this is a more galvanized and catalyzed community," she said.
City officials would prefer to harness that public interest through more conventional channels. Earlier this month, Mayor Miro Weinberger said he would back a "public engagement process" to examine police policy, practice and oversight. At Monday's city council meeting, Councilor Adam Roof (I-Ward 8) outlined a proposal for a new "working committee" that he'd been brokering behind the scenes with fellow councilors and interest groups.
The committee would take a broad look at potential changes to the police department, including use-of-force policy, transparency, training, officer well-being, and civilian oversight. It would be composed of at least a dozen individuals, including people of color, selected from activist groups, the police union and city government.
Roof said he believed the proposal had support from a majority of councilors. But not Councilor Ali Dieng (D/P-Ward 7), the only African American, who immediately criticized it as "cosmetic justice." Dieng pointed out that it has taken almost a year for two of these incidents to come to light, and at a previous council meeting, he vowed to oppose Police Chief Brandon del Pozo's reappointment.
Roof hasn't given up on the chief and hopes his idea will get an official vote at the next city council meeting.
"When things like this happen, given the context of our times, the trust in government and police by the public, which is an absolutely essential thing to our society, will erode if you don't take it damn serious," Roof told Seven Days.
A serious reform effort may require city leaders to revisit old debates, especially on the question of oversight.
The Burlington Police Department is one of only three law enforcement agencies in Vermont overseen by an institutionalized form of "copwatching": a citizen police commission.
The Burlington Police Commission is still largely reliant on the department it's supposed to hold accountable, but the group has gained some new power over the past 18 months. In 2018, the seven council-appointed commissioners began reviewing every complaint of officer misconduct as part of a pilot program that still isn't formally codified.
Del Pozo showed commissioners the bodycam footage and other investigative materials from the September use-of-force incidents in closed-door meetings long before anyone else in Burlington knew about them. Those cases were the first allegations of excessive force to come before the commission under the new process, chair Michele Asch said. She said commissioners asked questions and discussed possible discipline with the chief. When del Pozo told them he planned to give Sgt. Jason Bellavance an unpaid suspension for pushing Jérémie Meli into a wall, but not punish Officer Joseph Corrow for his takedown of Mabior Jok, commissioners reached "consensus" that the chief's decisions were appropriate, she said.
"No one on the commission thought these officers should be fired," Asch said.
The commission's involvement in officer discipline has been a long time coming. It traces back to a citywide diversity and equity plan put forth in 2014. The plan recommended that Burlington's police commission adopt a model mirroring that of the State Police Advisory Commission, which reviews misconduct allegations against the Vermont State Police.
Some accountability hawks wanted to go further. The state's model is not as robust as citizen oversight boards in some major cities, where members play a central role in conducting investigations or recommending sanctions. Virtually all SPAC business is conducted in secret, and some of its members have close ties to law enforcement, critics have pointed out.
In 2017, Progressives on the city council proposed something akin to what Roof unveiled this week: a task force, composed primarily of representatives from marginalized groups, to consider other models for Burlington's police commission. Then-president of the police union David Clements spoke against the idea, saying that, unlike in larger cities, "I haven't actually seen anything regarding a problem with the way we do things now that would justify or even suggest a need for change."
Del Pozo and Weinberger also opposed the Progs' resolution, on the grounds that an oversight task force would actually deal a "setback," in the mayor's words, to departmental reforms that del Pozo was already pushing.
"It suggests to my cops ... that we weren't innovating quickly enough, that we weren't being forthcoming enough, that we weren't being transparent enough," del Pozo said at a February 6, 2017, council hearing. "I don't know what to say to them at that point, to say, 'We've done all this, and a task force needs to show us the way forward.'"
"I just think that erodes the bond of trust between me and my officers in what in every level has been leading the state and the region in reform," he said.
The task force initiative failed in 2017. Instead, the council instructed the Burlington Police Commission to explore the state police model, as the equity plan had recommended three years prior. A draft policy formalizing the resulting pilot was nearly ready for the council's sign-off this spring when the September bodycam footage surfaced publicly.
"If there is ever a time to revisit that, it's now," Councilor Max Tracy (P-Ward 2) said of the commission's role. "We absolutely need to look at a variety of different options and alternatives, because it's pretty clear to me that what we're doing is not working."
Asch, a businesswoman by day, said the recent police incidents indicate a need for more training, not more aggressive oversight. "Everyone wants heads to roll ... and it's not helpful, nor is it — based on what I know about leadership of the department — even remotely necessary," she said.
Asch said the pilot program has worked well and that del Pozo and his deputy chiefs have been cooperative during reviews of complaints. There's room for fine-tuning, but overhauling the commission to match some metropolitan models doesn't make sense in a city with only a few cases of serious officer misconduct per year, she said.
"I would rather spend the money on additional training for police officers," she said.
But the status quo didn't sit well with the copwatchers out on the streets.
"My take is that it's completely useless," one said of the Burlington Police Commission. "The people who sit on the commission don't represent the community."
By 10 p.m. Friday, the watchers had made a loop from Church Street to North Street, down Battery and back, but opportunities for filming the cops were scarce. Only once did Mojica spot flashing blue lights in the distance. She took off running, capturing what appeared to be a routine traffic stop on Battery Street. She and the others started filming. As the officer walked back to his cruiser, Mojica asked his name. He gave a curt reply.
Mojica said, "He was definitely not thrilled."