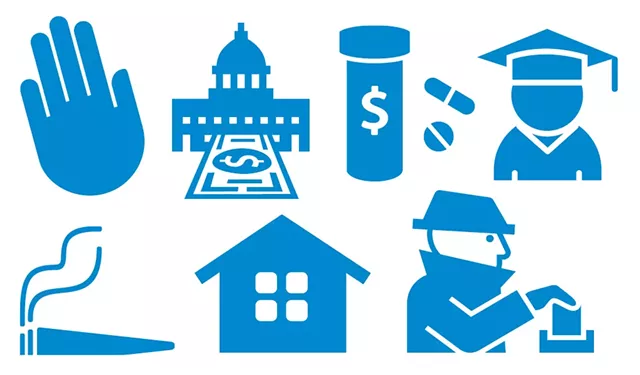 Gun control, marijuana legalization and school spending got most of the attention during Vermont's 2018 legislative session, but lawmakers did plenty of other work before they adjourned in the wee hours of Sunday morning.
As the clock ticked toward midnight, bills volleyed between the two chambers at a dizzying speed. The legislature passed 136 measures in total — including 67 during the final week and 20 on the final day.
Hundreds of other proposals perished, including a tax on opioid manufacturers, a ban on corporate campaign contributions, a revamp of the education funding system, and a tax increase at restaurants and hotels to pay for clean water. A handful — including a higher minimum wage and paid family leave — are stuck in legislative purgatory, awaiting potential vetoes by Gov. Phil Scott.
Along the way, lawmakers grappled with issues that received less notice but will nevertheless affect the lives or pocketbooks of many Vermonters. Lest they get lost in the shuffle, here's a look at the fate of seven such initiatives.
Passed
Workplace Harassment Protection
Motivated by the #MeToo movement, Rep. Sarah Copeland-Hanzas (D-Bradford) arrived at the Statehouse in January determined to strengthen the law dealing with sexual harassment in the workplace.
Her bill, H. 707 — which passed unanimously in both chambers and which Scott is expected to sign — extends legal protections against workplace harassment to independent contractors, volunteers, freelancers and interns.
"That's probably the biggest game changer in terms of the number of Vermonters that it will impact," Copeland-Hanzas said.
The bill also directs the Attorney General's Office to set up a harassment hotline, affording victims an easy way to report complaints. And it makes it illegal for employers to force workers to sign away certain rights in preemployment contracts and sexual harassment settlements. Employers will no longer be able to include so-called "don't darken my door" provisions, which permanently forbid the complainant from working for the employer.
Copeland-Hanzas said she's just getting started. For instance, she still wants the state to collect data about sexual harassment settlements in the public and private sectors — a provision that was stripped from this year's bill. Gathering that information is key to understanding the scope of the problem, she argued.
"We know there is fundamental culture change that has to happen ... so there will be a Round 2 to this," she said.
Social Security Tax Break
Vermont is one of only four states that tax Social Security benefits, according to AARP, an interest group representing people age 50 and older.
In his budget address, Scott proposed phasing out that tax over three years for individuals making $45,000 or less a year and couples making $60,000 or less. (People making $25,000 or less and couples making $32,000 or less are already exempt.)
AARP Vermont state director Greg Marchildon said the change would bring relief to nearly 50,000 people who "really are living on the margins." The cost to the state in foregone tax revenue would be $6 million.
Lawmakers decided to eliminate the tax right away, rather than phase it out.
There is one caveat: The change is part of a broader tax bill, H.911, which Scott has pledged to veto because it doesn't prevent an increase in property tax rates. Given the broad support it enjoys, the Social Security proposal is almost certain to be salvaged in whatever compromise is reached on H.911.
AARP hopes that the state will eventually eliminate the levy for Vermonters of all income levels. "We think it's an inherently unfair tax," Marchildon said. "This is money you and I and everybody else put into a system, and it's already taxed at the federal level, so it's like getting hit twice."
Cheap(er) Canadian Drugs
American drug companies have a well-documented practice of tweaking formulas slightly so they can hike prices on the same old drugs in order to boost profits. This year, Vermont lawmakers finally got sick of looking longingly at Canada's government-regulated drug prices and decided to bring those lower charges to Vermonters.
"Why do this? Because prescription drugs are about the fastest-growing part of health care right now," said Senate Health and Welfare Committee chair Claire Ayer (D-Addison). "It is crazy in terms of spending."
In response, lawmakers passed S.175. The bill directs Vermont's Agency of Human Services to work with a Canadian wholesaler to identify drugs Vermonters spend the most money on, then buy them on the Canadian market, where profits are capped by the federal government. The lower-cost drugs would be available through Vermont pharmacies that choose to participate in the program.
Vermont's plan requires a green light from the federal government before meds start coming over the border. If the feds approve and the importation plan works, lawmakers think it will save Vermonters millions of dollars.
Gov. Scott said he has some concerns about how the plan is carried out, but he likes the legislature's push toward affordability.
"I think that we should try it and see if we can get approval from the FDA and move forward," Scott said. "Anything we can do to reduce our costs in that regard I think is a good idea."
Fighting for Free Tuition
Adj. Gen. Steven Cray said it's becoming increasingly difficult to recruit members to the Vermont National Guard. Nearly 400 of 3,500 positions are unfilled.
"The No. 1 reason, by far, for young men and women to join the military today is for educational benefits," he said. But Vermont is the only state in the Northeast that doesn't provide tuition assistance to its National Guard members.
To remove that disadvantage, Scott proposed giving free tuition to National Guard members. The House included this benefit in its budget, H.924, but the Senate then removed it. The program became one of the final sticking points as the two chambers negotiated a budget compromise last week.
In the end, lawmakers agreed to provide National Guard members free tuition at any state college or at the University of Vermont. Members could also choose to use a voucher, equivalent to state college tuition rates, to attend a private college in Vermont. For each year of free school, guard members would owe two years of service to the National Guard.
The catch: Scott has pledged to veto the budget, which means the program will remain in limbo until the governor and legislature come to a compromise.
Protecting Voters' Data
Secretary of State Jim Condos said his office was inundated with calls and emails last summer after President Donald Trump's Advisory Commission on Election Integrity asked the state for sensitive voter information. Virtually all of those who called or wrote asked Condos not to release the data.
The commission's stated mandate was to investigate Trump's unsubstantiated claim that millions of illegal votes were cast in the 2016 election.
Vermont's publicly available voter list contains relatively little information: the voter's name and address, their party preference in presidential primaries, and a note of the elections in which they cast a ballot. The federal commission sought much more.
"The original request for data included nonpublic information: full dates of birth, driver's license numbers, Social Security numbers. Those are things that we just don't give out," Condos said.
Condos, along with dozens of his counterparts across the nation, refused to provide the data for fear that the federal commission's real motive was voter suppression. The situation spurred Condos to ask the legislature for specific protections that make it illegal for his office to release data to any government agency seeking to cross-check its own data with voter information. That legislation, H.624, passed the House and Senate, and a spokesperson for Scott said the governor expects to sign it.
"You can't give [voter data] to another agency or whatever that's going to use it to create a database to try to purge voters, essentially," Condos said of the legislation.
The bill also would make it illegal for any person or private group, including political parties, to share voter data that was legally acquired from the Secretary of State's Office. In other words, if you want the data, you have to get it from the secretary of state.
Failed
Sharing Economy Regs
Thousands of Vermonters are renting out houses on Airbnb and other short-term lodging sites. Thousands more are hailing or giving rides through Uber and Lyft apps.
Lawmakers failed yet again this year to regulate the so-called sharing economy, despite pleas from innkeepers, cabdrivers and others.
The Senate passed S.204, a bill that would have required all short-term rental hosts to register with the Department of Health, pay a $130 fee, and certify that their houses met safety and health codes. But the House stripped those requirements from the bill, and an attempt to reach a compromise between the two chambers failed on the last day of the session.
Both the House and Senate passed bills that would establish minimum insurance requirements and require background checks for drivers working at transportation network companies such as Uber and Lyft. This measure was hardly draconian; many states already have these requirements, and the major companies already meet them.
But the committee of senators and reps tasked with reconciling the two versions of H.143 made a seemingly small decision that appears to have sunk the whole thing.
Over Uber's objections, it added a requirement that drivers must have at least $5,000 of medical payment coverage — insurance that covers expenses for drivers and passengers in the event of an accident. The Senate passed the final version on May 11, but it never came up for a vote in the House.
Easing Weed Worries
The Green Mountain State made history this year as the first state to legalize pot by legislative action, but lawmakers failed to act on two other bills designed to address some of the implications of legal weed.
For one: the smell. Anticipating dank clouds floating on the summer breeze, Rep. Scott Beck (R-St. Johnsbury) introduced H.819, a bill that would allow local governments to fine residents for "any significant odor that emanates from a person's property due to marijuana consumption on the property."
But the legislature's mellow would not be harshed, and the bill died in the House Government Operations Committee.
Legalizing weed also presented the question of what to do about past convictions for possessing small amounts of marijuana, which the state has decided will not be a crime as of July 1. House Judiciary Committee chair Maxine Grad (D-Moretown) introduced H.865, which would have made it easier for a person to have a marijuana conviction expunged. The bill died in her committee.
Chittenden County State's Attorney Sarah George has launched an effort to use existing law to wipe out those past convictions. But unlike Grad's failed bill, which would have allowed immediate expungement, current law requires that a person stay out of trouble for years before becoming eligible.