Don Whipple
LeBlanc Family Dentistry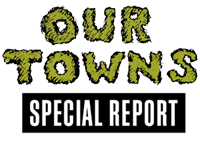 Dennis LeBlanc's dental practice hasn't changed much since he first hung a shingle 43 years ago. The 69-year-old Derby dentist has kept abreast of technological advances — dental implants, cosmetic dentistry, better filling and bonding materials, and so on — and his office has expanded to include four dental hygienists.
Out in the waiting room, though, LeBlanc's patients remain the mostly working-class people whose teeth he has been fixing since they were children. In some cases, LeBlanc treated their parents and grandparents. Some who've moved away from this Northeast Kingdom town of about 4,600 people on the Canadian border still return to him for routine dental care. On a snowy day last week, one of LeBlanc's patients had driven 38 miles from Lyndonville; another had trekked 60 miles from East Montpelier.
Why? LeBlanc declined to credit his skill as a dentist. "People around here are used to traveling," LeBlanc said. "And we've stayed open to everybody. We don't ask people if they're on Medicaid or things like that."
In short, LeBlanc's family practice is an invaluable community service in a county with few other dentists. So a few years ago, when the Newport native began thinking about his retirement, he knew he couldn't simply shut his doors.
Fortuitously, LeBlanc had a potential replacement in mind: Derby native Brandon Vanasse, a 2016 graduate of Boston University's Henry M. Goldman School of Dental Medicine and a lifelong patient of LeBlanc's. It didn't take much convincing to get Vanasse, an avid runner, skier and cyclist, to return to the area. In August 2016, LeBlanc hired Vanasse as his associate, with the goal of someday selling him the practice.
"There are a lot of opportunities when you graduate from dental school," the 28-year-old dentist said, but "for me, this is home."
LeBlanc was lucky to find a successor who already knew the community and could practice under his tutelage and get to know his patients for a few years before his own retirement. Indeed, Vanasse's gentle style and soft-spoken temperament are so akin to LeBlanc's that one might easily mistake them for father and son.
"They're really good dentists," noted Dave Smith, a 51-year-old patient who's been coming to the Derby practice since he was a child. "It's a good thing [Vanasse] is here, because it's less work on LeBlanc ... He's in his sixties and should be retired and enjoying himself in Puerto Rico or something."
That LeBlanc is still practicing in his late sixties isn't unusual in Vermont. Five of the eight active dentists in Orleans County are over the age of 65, according to a 2017 survey by the Vermont Department of Health.
Those figures are consistent with statewide averages. Of Vermont's 299 general dentists — as opposed to specialists such as pediatric dentists, oral surgeons and periodontists — nearly half are 55 or older, and one in four is over 65. Grand Isle County has no dentists under the age of 60.
Simply put, Vermont now has the oldest population of dentists in the country, according to the American Dental Association's Health Policy Institute. In small towns across the state, when the local dentist retires, often there's no one to take his or her place.
To address this problem, the state's dental community has come up with an ambitious approach to replace the dentists who leave or retire. The Vermont State Dental Society now has a full-time dental recruitment coordinator, Jenny Pitz, who travels New England trying to sell dental students and established dentists alike on the benefits of working in small towns.
Pitz's work, which is partially funded by a grant from the Vermont Department of Health, "plants the seeds" about setting up shop in Vermont with dental students while they're still in their first or second year of study. The tagline on her business card reflects her background in marketing: "We've got a chair for you."
Pitz has her work cut out for her. As Vaughn Collins, the dental society's executive director, explained, in some years Vermont has seen as many as 18 dentists retire or move elsewhere.
Vermont dentistry hasn't undergone the kind of changes that have occurred in other medical professions — notably, the consolidation of private practices under a large regional hospital. Nor has Vermont seen an influx of corporate dentistry chains, such as Aspen Dental and Gentle Dental, Pitz said. Nearly 90 percent of Vermont's dentists still work in small, privately owned offices; about a third are sole practitioners.
It's not difficult to attract new or established dentists to Vermont's urban centers, Pitz said. But convincing dentists to move to small communities in the Northeast Kingdom or central Vermont can be a tougher sell, especially when students routinely graduate from dental school with six-figure debts. For example, LeBlanc recalled that when he graduated from dental school, he owed about $40,000; Vanasse's debt is about 10 times that figure.
Don Whipple
Brandon Vanasse and Dennis LeBlanc
Pitz argued that many new dentists mistakenly assume they wouldn't have the same earning potential in rural communities as they would in big cities. As she often reminds them, their cost of living in more populous places will be much higher — and their earning potential in Vermont is, if not equal to large cities, still competitive. If loan repayment is a major consideration, Pitz will try to sell them on a loan-forgiveness program that's available to dentists who accept a job at one of Vermont's eight federally qualified health centers or private practices that accept Medicaid. As she put it, "It's something that really gets the eye of students."
How else does she sell dentists on working in a rural setting? Pitz, a New Jersey native and Saint Michael's College grad who's been visiting Vermont since she was a child, said the factors that attract new dentists to the state are typically the same ones that attract everyone else: Vermont's slower pace, easy access to the outdoors, dearth of crowds and traffic, and better overall quality of life.
Pitz's job also involves educating older dentists about the challenges they'll face when it's time to find someone to buy their practices. As she explained, many dentists are shocked when they learn how long it can take to find a new associate. Ideally, she said, a dentist who's looking to retire in the next five to 10 years should start looking now. And, unlike dental practice brokers, who may charge an established dentist $15,000 to find a suitable candidate, Pitz's services are provided at a small fraction of the cost, with all proceeds reinvested in the recruitment program.
Pitz described her job as both "a gatekeeper and a bridge builder." In May 2016, she got a call from Dr. Katie Piet, a West Virginia dentist who was considering a move to New England and wanted to know what positions were available in Vermont. Of all the states Piet researched, she said, Vermont had the best loan repayment program — and was the only one with a dental recruiter.
Though Piet initially considered moving to Chittenden County, she said Pitz "really gauged what we were looking for," including a small town close to mountain biking, snowshoeing and skiing, and a good school for her then-kindergarten-aged daughter. Pitz immediately connected her with St. Johnsbury Dental Associates, which was looking for another associate.
"Jenny was so personable and ... was super instrumental in bringing me up here," the 31-year-old dentist added. "To be honest, this was the only interview I did. After I came up here, I knew this was where we wanted to live."
How successful has the recruitment program been? Vermont has maintained level employment in general dentistry and the various specialties in the five years Pitz has been on the job, the dental society's Collins noted. Though Vermont had two fewer dentists in 2017 than it did in 2015, it also had 22 more dentists who were under the age of 45.
Pitz has directly recruited at least 14 new dentists to Vermont in the last three years, as well as several more who are still in negotiations, according to the Vermont State Dental Society. The number of dentist's licenses issued grew from 14 to 45 between 2014 and 2018.
"Are we ahead of the curve? We're getting there, but we're not there yet," Pitz said.
Pitz wasn't responsible for bringing Vanasse back to his hometown; he job-shadowed LeBlanc when he was still an undergraduate and mulling dental school. But she pointed to that practice as an example of the kind of "bridge building" that Vermont needs to invest in if it wants to maintain a stable dental workforce.
And some changes come faster than expected. During a reporter's visit to Derby last week, LeBlanc revealed his retirement plans, which some of his patients didn't even know: As of January 1, he will step down and Vanasse will take over the practice. The older dentist plans to stay on for an additional three months to help Vanasse with the transition, but he will significantly scale back his current 40-hour workweek. As LeBlanc put it, "There comes a time."
How does Vanasse feel about assuming that responsibility?
"There's a lot to it, but I've been here two and a half years and worked closely with Dr. LeBlanc," Vanasse said.
His mentor, LeBlanc, expressed relief that his patients will be in good hands. And he should know — LeBlanc is now one of Vanasse's patients. "I couldn't be happier," he said.
Mobile Dentistry: Something to Jaw About
It's hard to see a connection between teen pregnancy and poor dental health. But in rural central Vermont, hundreds of children, and some adults, now enjoy free dental care thanks to a school-based health clinic that was created in the 1990s to address the former problem and, in the process, took on the latter.
The nonprofit HealthHUB School Clinic was founded 25 years ago by Royalton residents who were concerned about a spike in teen pregnancy rates at their high school. At the time, Royalton pediatrician Dr. Rebecca Foulk — she's now HealthHUB's medical director — met with other community members to talk about creating a school-based clinic that could better serve teens' reproductive health needs. While conducting their community needs assessment, they discovered that about one in four students had no dentist or routine dental care.
Fast forward to 2008, when Sen. Bernie Sanders (I-Vt.) helped HealthHUB secure a $94,000 federal grant to purchase a mobile dental hygiene trailer. It features a dental chair, a digital X-ray machine, tools, supplies and a dental hygienist on staff. Today, the trailer routinely travels to about a dozen schools in Orange and Windsor counties, as well as to Gifford Medical Center and Chelsea Health Center, providing dental cleanings, screenings, fluoride treatments, digital diagnostic X-rays and sealants.
The mobile unit addresses the shortage of dental practitioners in central Vermont, as well as the inability of many people to afford preventive care, Foulk said. Though all Vermont children have routine dental care covered through Dr. Dynasaur and Medicaid, some dentists won't accept such patients.
"It's really frustrating when there's a very good [insurance] benefit for preventive dental care twice a year, but you can't find a dentist who's willing to take the insurance," Foulk lamented.
The reasons are complex, she said. Some dentists complain that Medicaid reimbursement rates are too low, while others say that Medicaid patients are unreliable and frequently miss or cancel appointments due to transportation or employment problems.
Foulk cited the example of a hypothetical parent who lives in Rochester and works in Rutland. To get his or her child to a daytime dental appointment means leaving work, picking up the child, driving to the dentist, then driving the child back to school.
"So the parent misses a day of work, and the child misses a day of school. It's just really difficult for some of these families," she added. "So bringing [dental] care to where the kids are makes a lot more sense."
Foulk noted that the mobile unit doesn't have a dentist on board. For that, HealthHUB's hygienist will refer patients to the Ronald McDonald House Charities' mobile dental van, which operates out of the Plainfield Health Center.
Is mobile dentistry a temporary fix or a permanent solution?
"I think it's a model well-suited to Vermont," Foulk said. Indeed, by the end of December, the HealthHUB mobile unit will have treated more than 600 patients this year.