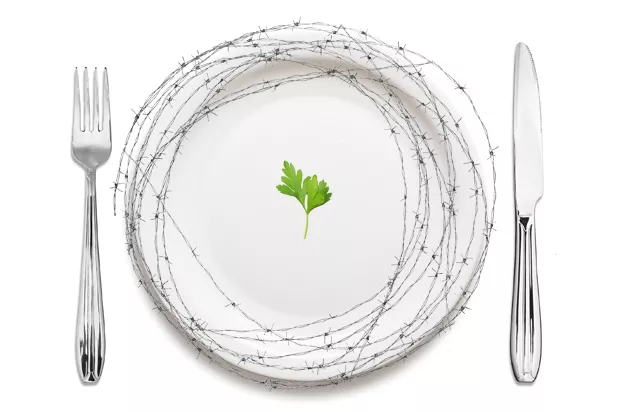 Dining in a London restaurant a few years ago, I received an order of penne bolognese drowning in sauce. When I asked if I might have a less slathered version, the server sneered, and my boyfriend slumped in his chair, mortified. In England, I learned at that moment, you eat what you are given — no complaints, no substitutions.
I thought of that incident recently when a Portland, Ore., restaurant named Ox posted to Instagram a photo of its kitchen plastered with bright-yellow Post-it notes. The notes displayed the dizzying range of apparent food allergies and restrictions at the restaurant's New Year's Day tables: 11: gluten allergy. B6: one vegetarian. 43: one lactose intolerance, one egg allergy. 17: one crab allergy. And so on.
The post went viral. Restaurant staff and media outlets around the country, including a few in Vermont, shared the photo on social media. One commenter on a Huffington Post story sniped, "It's out of control, at least in Portland."
According to Food Allergy Research & Education (FARE), 15 million Americans have food allergies, and the Centers for Disease Control and Prevention reports that food allergies among children increased by 50 percent between 1997 and 2011. Theories about the reasons abound; everything from antimicrobial soap to processed food is a possible culprit. As FARE writes, "The number of people who have a food allergy is growing, but there is no clear answer as to why."
With or without explanations, kitchens need to respond. "In the last year and a half, it's really gotten bad," reports Michael Werneke, executive chef at Prohibition Pig in Waterbury and a 20-year veteran of the restaurant biz. "And by bad, I mean it just seems like every ticket is a special order of some kind."
Werneke says gluten-free requests are the most common, but diners with restrictions run the gamut from meat-free eaters to those who insist they're allergic to alliums such as garlic, scallions or onions. "Sometimes I play a game with all of the tickets that I read, and try to figure out what the real motivation behind the order is," the chef says.
Still, Werneke and his staff work hard to please every guest. "It's not always easy. This is a really, really small and really busy kitchen. We're set up to crank out food, and anytime there's a special request, we have to try and say, 'All right, how do we do this?'" Werneke says. "That takes extra time that slows every other ticket, which is unfortunate. But at the same time, you can't alienate people for making special requests."
And the kitchen can't always please its diners, try as it may. For instance, Prohibition Pig is not an entirely gluten-free facility and cannot — as a patron once requested — keep a separate fryer and cooking surface for gluten-free food.
How "real" are all these reported allergies? Patty McKibben, a clinical dietician at Fletcher Allen Health Care, confirms that her department is seeing more patients with food allergies and celiac disease, in part because, she says, "A lot more people are aware of it."
The staff occasionally helps patients delineate between true allergies and intolerance. "An allergic reaction is one that is activated by the immune system and triggers things like anaphylaxis and hives," McKibben notes. "I think some people come in with a food intolerance that they think is an allergy."
The semantics and science of dietary restrictions are immaterial to Sue Bette, the owner of Bluebird Tavern and Bluebird Barbecue in Burlington. "It doesn't matter to us whether it's an 'allergy' or a 'preference.' It's important for us to take care of guests," she says. "If you're going to go out and spend money, you want to make sure your needs are met."
Just the day before our conversation, Bette held a meeting with staff to keep them on point with special requests. "It can be viewed as a burden, or it can be viewed as taking care of people," she says. She understands the stress that alterations can put on chefs "who have put a lot of time into composing a dish and then need to deconstruct it."
But, Bette adds, "This is going to be part of the industry, and I think that's OK."
Dawn Boucher, co-owner of Boucher Family Farm in Highgate Center, is a foodie who calls herself "severely allergic" to wheat and soy and sensitive to nightshade vegetables, which include tomatoes, potatoes, chiles, peppers and eggplant.
Once Boucher pinpointed the foods that were causing her distress — via a food diary — she curtailed her dining out from roughly six days a week to "only once a month, if that." She also instituted a new set of guidelines: "I never eat anywhere that I haven't had a take-away meal from at least twice — it's the old 'trust no one' idea," she writes in an email.
"But really, the commitment [at a restaurant] has to be more than printed on the menu," Boucher continues. "Everyone on staff has to be on board and live up to the declaration they can cater to allergies."
Boucher is a fan of the gluten-free menus at Leunig's Bistro and American Flatbread in Burlington, and she frequents Uno Pizzeria & Grill, Sarducci's in Montpelier and the My-T-Fine II diner in Swanton. However, she stops short of making special requests. "I consider it rude and unjustly entitled in attitude to make special requests off-menu, unless I have a relationship with the owner, or have called ahead to see if they can accommodate me," Boucher writes. "I would never do that, and would confront anyone in my dinner party who would dare do so, especially on a prix-fixe menu or a holiday."
The owners of Pizzeria Verità in Burlington had guests like Boucher in mind when they planned from the start to source gluten-free flour and to bake gluten-free crusts in a separate oven. "The product is more costly, from the ingredients to the prep to the gas oven that is fired up all night waiting for a few pies," writes co-owner Leslie Wells. "But our completely gluten-free customers tell us how much they appreciate the option and the effort, so it was the right decision."
Though Prohibition Pig stops short of providing a dedicated gluten-free menu, it tries to guide special-needs diners by indicating 'V' beside vegetarian items and 'G' beside gluten-free items on the menu. The practice is becoming more common — Crop Bistro & Brewery in Stowe does it, too. Other establishments, such as Simon Pearce Restaurant in Quechee, focus on training staff to guide guests through menu choices.
"I've been in the restaurant business a long time, and I don't ever remember it being like this," notes Keven Ring, the wine and beverage director at Simon Pearce. "Some people have deadly food allergies, and the staff needs to be informed."
Whenever the kitchen rolls out a new menu, Ring says, "Before we even go live with it, we offer very in-depth descriptions of all ingredients, as well as cooking terminology, to staff. They have to be very informed, because they have a bigger role than in the last few years." The restaurant has also made a commitment to sourcing wine that is produced sustainably, using fewer pesticides or additives that may cause allergic reactions.
Werneke has food allergies of his own, including sensitivities to a few fresh fruits and vegetables. He creates easily customizable versions of dishes, such as the chicken pot pie he thickens with a rice-flour roux — "and if you order it without the buttermilk biscuit [it] is gluten-free," he adds. (Werneke sometimes tests these recipes on a coworker with celiac, whom he calls "very brave.")
When he's besieged with special-request tickets, Werneke wonders if "it might be my karmic return. When I was 20, I went into a little Mexican place in Raleigh [N.C.] and ordered the steak quesadilla without mushrooms," he recalls, "and when it came with mushrooms, I said, 'I can't eat this. I'm allergic to mushrooms.'"
Was he? "No, I've never been allergic to mushrooms," Werneke admits. "I just didn't like them at the time."
The original print version of this article was headlined "Sensitivity Seige"