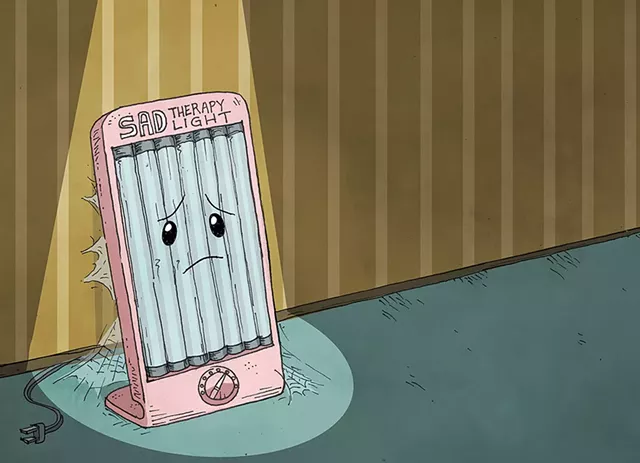 Lauren Bartlett was 14 or 15 when she first noticed what would become an annual affliction: the winter blues. Generally, it hits her starting in September, when the weather gets colder and the days get shorter. Bartlett grew up in Warren and recalled that her half-mile walk to and from her school bus stop helped ease some of her gloominess. Ultimately, though, it couldn't prevent full-blown seasonal depression from descending on her like nightfall.
"I actually feel like I need to hibernate in the winter," explained Bartlett, whose symptoms include fatigue, cravings for carbohydrate-rich food, difficulty in controlling her eating, hypersomnia (excessive sleeping) and a diminished interest in spending time with others. From September through March, Bartlett said, her natural inclination is to "just crawl into my house, curl up and go to sleep."
Like many people who are diagnosed with seasonal affective disorder, or SAD, Bartlett suffered through recurring cycles of seasonal despondency for years without treatment. Her inexplicable grumpiness and frustration with her children finally drove Bartlett to seek professional help.
Today, the 51-year-old middle school teacher from Grand Isle understands that her winter doldrums are sparked by something more than a dislike for the cold. Her body has a neurochemical response to the diminished hours of daylight and the changes they trigger in her circadian rhythms. She now takes sertraline, a prescription antidepressant, to alleviate the symptoms.
First observed in the early 19th century, SAD was officially identified and labeled in 1984 by psychiatrist Norman Rosenthal, who, after relocating from South Africa to Bethesda, Md., observed the mood change in himself and then others. Today, SAD is considered a subtype of clinical depression, one that affects about 6 percent of the U.S. population. About twice as many women as men experience SAD, and it's more common in northern latitudes.
For years, the gold standard for treating SAD has been light therapy: exposure to a full-spectrum light box, which mimics the luminous effects of the sun. But University of Vermont researcher Kelly Rohan, who's been studying SAD since the early 1990s, has just published a new study in the American Journal of Psychiatry showing that cognitive-behavioral therapy may be a more effective and long-lasting treatment in relieving SAD symptoms.
Rohan is a psychology professor and director of clinical training in UVM's department of psychological science. She spoke with Seven Days on the first Monday after daylight saving time ended, which she called the start of "prime SAD season." In fact, her office was flooded with phone calls that day from SAD sufferers. "This is when people who feel the symptoms are really vulnerable," Rohan said.
Researchers now know that winter's shorter "photo period," or hours of total daylight, is the single strongest indicator of when someone's seasonal depression will begin and how bad the symptoms will be, she explained. It's more predictive than any weather variable, including temperature, wind speed, precipitation and solar intensity, or how many minutes per day a shadow can be detected.
In the United States, there's a close correlation between the distance from the equator and the regional incidence of SAD, Rohan explained. So, in Florida the prevalence of SAD is about 1 percent, whereas in Washington, D.C., it's about 5 percent, and in Alaska, about 10 percent. The location nearest to Vermont that's been studied is Nashua, N.H., which has about a 9 percent incidence of SAD.
No one knows why women are more vulnerable to the disorder. One theory, Rohan suggested, is what she called "rumination," a cognitive style more common among women, in which people dwell on their depression and repeatedly ask themselves, Why do I feel this way? As she pointed out, it's an unproductive mental practice that only breeds more depression and makes existing symptoms worse.
The more SAD sufferers ruminate in early fall, the more severe their symptoms will be, a finding demonstrated in studies from two different labs.
Courtesy Of Uvm/Andy Duback
Kelly Rohan
Rohan, a Binghamton, N.Y., native, first got interested in studying SAD while she was working on her PhD, beginning in 1993. At the time, SAD was a new diagnosis and not yet widely understood.
"I was in the right place at the right time," she noted — that place being the University of Maine in Orono, which sits at about the same latitude as the Vermont/Québec border. While working in the depression lab, Rohan noticed a seasonal ebb and flow in her ability to recruit candidates for generalized depression studies.
"The phone would ring off the wall in the winter months," she observed, "and it would be crickets in the lab in the spring and summer."
When the National Institute of Mental Health first began exploring seasonal depression in the mid-1980s, light therapy was the first treatment tested, Rohan said. Since then, light-therapy trials have proliferated worldwide, generating compelling evidence of its strong antidepressant properties.
Basically, light therapy involves exposing the subject to a full-spectrum lamp of 10,000 lux (a unit for measuring light) set behind an ultraviolet shield, which protects against sunburn and eye damage. Typically, the person uses the light box for 30 minutes each morning upon waking, and the duration is dialed up or down depending upon its effectiveness or negative side effects, which can include headaches, eye strain and hyperactivity. Rare but serious side effects include mania or hypomania, an elevated state associated with bipolar disorder.
Light therapy has long been thought to be as good or better for treating SAD than antidepressants, which can produce other unintended side effects. For this reason, light therapy is considered the standard against which all other SAD treatments are gauged.
Because Rohan is a clinical psychologist trained in psychotherapy, though, she'd wondered: Might cognitive-behavioral therapy, which is effective in treating other forms of depression, also work with SAD patients?
In cognitive-behavioral therapy, she explained, patients learn to identify the negative thoughts that contribute to their bad moods and write them down in thought diaries. Then, using the Socratic method to evaluate the evidence for those negative thoughts, the patients try to identify more helpful and accurate ways of characterizing their thoughts. The patient then substitutes those negative thoughts with more rational and emotionally neutral or positive responses, which ultimately helps improve their mood.
That's the cognitive piece. The behavioral piece, Rohan explained, is identifying activities that give the patient joy, then scheduling them rather than avoiding them throughout the winter. For example, if a person enjoys dancing, he or she should schedule regular dance outings throughout the winter. But if a person hates dancing, an evening at a nightclub isn't likely to dispel their dour disposition. So Rohan would prescribe other activities aligning with that person's interests.
Unlike light therapy and antidepressant meds, cognitive-behavioral therapy has no downsides. And, as Rohan's new study has shown, a SAD-tailored version of cognitive-behavioral therapy can be significantly better than light therapy in preventing symptom relapses in future winters.
How has her research been received by the psychological establishment? Even though Rohan has postulated this approach since the 1990s, she said, "I was completely naïve to how much resistance my work would receive, to the point where it was difficult to publish."
As she explained, the field of SAD research has long been dominated by biological psychiatrists, who are "very into" explaining SAD using the circadian model. That is, the only way to tweak the biological clock is by mimicking the lost sunlight — for example, via light therapy.
"The idea of doing a cognitive-behavioral treatment," Rohan said, "where the person is assumed to have a sense of agency over their symptoms and can change their thinking and behavior to improve, doesn't mesh with that worldview."
In fact, Rohan recalled a comment made by a prominent researcher in her field, whom she declined to identify, who once called her theory of treating SAD with cognitive-behavioral therapy "cute." Even if she found it effective, he reportedly said, "No one will believe you."
He was right, to a point. According to Rohan, it took six applications to land her first major grant, despite strong and compelling data supporting her original hypothesis. She also approached "multiple journals," she said, before one would publish her findings.
That skepticism has lessened. Rohan's upcoming study this winter, funded by a $3.4 million grant last May from NIMH, will wade even further into neuroscience, because SAD is a condition that can be physiologically measured. Previous studies have shown that, during the six hours preceding bedtime, the body starts producing melatonin, a hormone that helps regulate the sleep/wake cycle. Those studies revealed that people with SAD produce melatonin for about 30 minutes longer, on average, in the winter than in summer, whereas those without SAD experience no such difference.
Rohan's next study will look for other biomarkers, such as pupil responses to different wavelengths of light, and different brainwave activity in summer versus winter in SAD sufferers.
Bartlett tried light therapy when she participated in a UVM study done by Rohan a few years ago but experienced no relief from her symptoms. She's now intrigued by the idea of trying cognitive-behavioral therapy. However, with her busy schedule and three school-age children at home, she said, "It would have to wait until they're all in college."
Generally speaking, SAD is considered a "milder" form of depression than nonseasonal forms and, hence, is easier to treat. And because it's literally as predicable as the seasons, it's also easier to study. Whereas generalized depression can often breed a feeling of hopelessness in patients, who have no idea when their symptoms will subside, Rohan said, "With SAD, there's a light at the end of the tunnel. And that light is spring."