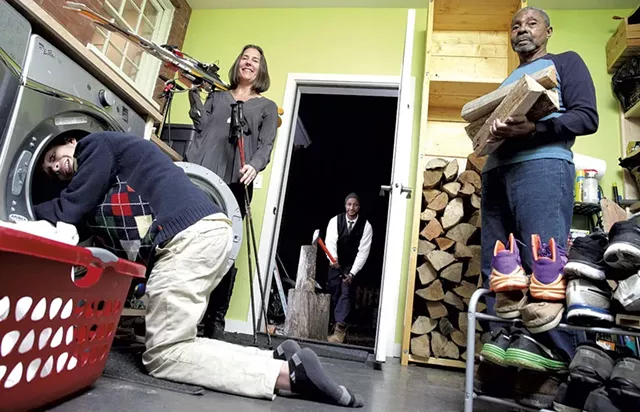 Matthew Thorsen
Dad: Kyle Dodson, 50, director of the Center for Service & Civic Engagement at Champlain College
Mom: Christine Dodson, 49, managing director at Solidarity of Unbridled Labour design studio and cofounder of Mamava
Kids: Sons Isaac, 16; Manny, 14; and Julius, 13 (pictured)
Grandpa: Charles Dodson, 78
New Jersey native Kyle Dodson spent the summer of 1986 waiting tables with college buddies on Cape Cod. There he struck up a summer romance with Christine, a girl from New Hampshire whose family had a house on the Cape.
After graduating — Kyle from Harvard and Christine from the University of New Hampshire — the pair drove cross-country together, then parted ways.
But they kept in touch, and, in 1994, Kyle convinced Christine to join him in Alaska, where they worked on an assembly line in a salmon processing plant. The following fall, the couple moved to Vermont, where they served food at the Mad River Barn Inn & Restaurant and skied every day. They got married in that barn in 1996, then moved to Burlington for work and to start a family.
In 2003, with three young boys, the couple faced a quandary. Kyle, who is black, and Christine, who is white, wanted to raise their sons in a more diverse community. So the family relocated to Boston, where Kyle entered a principal-training program and Christine worked as a contractor for Jager Di Paolo Kemp Design, the company she had worked for in Vermont.
Five years later, missing Vermont and encouraged by the increasing racial diversity within the Burlington School District, the Dodsons decided to return to Burlington.
Kyle now works at Champlain College and serves on the Burlington school board and the board of ECHO Leahy Center for Lake Champlain. Christine returned to JDK, which recently reinvented itself as Solidarity of Unbridled Labour. She also cofounded Mamava, a company that makes mobile lactation suites — Kids VT profiled the startup in the May 2015 issue. Their sons Isaac and Manny attend Burlington High School, and their youngest son, Julius, is an eighth grader at Edmunds Middle School.
On striking a work/life balance:
Christine: I think it fluctuates. For me, I feel more stress probably now than ever because I am trying to do this Mamava thing on top of my job. So I think the balance is more on me to carve out the time and prioritize.
On career choices and taking turns:
Kyle: At the macro level, one of the things that helps our relationship is that we have always been on the same page with the kids. We agree about our parenting styles and our values. Christine has been great about pushing us to create flexibility to be at home. She had a stay-at-home mom; I didn't. I had a single, working mom, so it wasn't as much a given for me. But Christine really valued what she had and pushed for us to figure out how to do that. We have been able to go back and forth from the time the boys were born. [At different points] each of us has taken a job that maybe was less demanding.
On the dinner plan:
Christine: We are lucky because Kyle's a good cook. I like to cook, but I just don't have time in the evenings. One of the things we did when we moved back to Vermont is we made sure that Kyle had a more flexible schedule. At that time, on Tuesday and Friday afternoons he would get off at 2:30 so he could be home after school. And now his office pretty much closes up at 5 so he can be home by 5:30. My schedule is less predictable, so that's a huge thing — the fact that we can have dinner together. Usually we talk in the morning: "So what are we going to have for dinner tonight?" And if he's running out of the house, I'll take something out of the freezer and he'll figure out what to do with it.
Kyle: I also have intra-day flexibility with my job, so that helps us a great deal in managing the boys.
On having older kids:
Christine: It's easy to get lulled into thinking, Oh, they're in high school, they're in eighth grade. Great, they are all good. We are on the easy trajectory now. I think this is the time where it's even more important to be there for their games, to be there after school, to go to their teacher meetings at school, because otherwise you don't find out what's going on.
Kyle: This period caught me a little bit by surprise. It's more challenging and time-consuming than when they were young. It's more intensive, hands-on when they're younger, but you control their world. Now they are autonomous at some level, but to stay involved and go to all their activities, drive them around, particularly before — our oldest now drives; that helped take a little bit of the heat off.
I think this time period is pretty demanding if you do it, I won't say "right," but do it the way we are doing it in terms of your involvement.
On spending time together as a couple:
Christine: I think the thing that is most out of balance is "our time," because in the evenings, when you have little kids, you put them to bed and then it's Ahh, we have this time. Now Isaac comes home sometimes at 11 p.m., or he's out doing homework until midnight.
Kyle: Later than us every night!
Christine: Yeah! And there's no privacy. No shutting down like, Everyone's safe in bed. And we have a small house. When you are upstairs, you might as well be in any of the bedrooms because it's that tiny! So you know when anyone is coming in or out of a bedroom, and I'm a light sleeper. I won't really go to sleep until everyone's in the house.
On living in a multigenerational home:
Kyle: The newest big thing is that my dad now lives with us. My dad is retired, so he is home all day. He is literally out of the house two hours a week maximum. So there's always someone home. The boys will never party when Christine and I are out!