Caleb Kenna
Tim Tuttle patrols the Northwest
The house at 50 Chestnut Avenue has sheets of plywood where the windows and doors once were. Its green paint has faded, one of its two chimneys has started to crumble and the screen on a second-floor porch flaps in the wind. A sign nailed to the front door warns that no one is allowed inside.
For all its dilapidation, Rutland officials point to this boarded-up house — in one of Vermont's most troubled neighborhoods — to illustrate a major success in their battle against drug addiction and related crime.
Vermont's "opiate epidemic" has attracted plenty of attention since Gov. Peter Shumlin sounded the alarm in his State of the State address last month in Montpelier: calls to action on the treatment front, laws drafted, the story of a rural state drug crisis trumpeted through the national media.
But in the neighborhood of Rutland known as the Northwest, that fight has been under way for two years. Perhaps nowhere in Vermont has the drug problem been more devastating than the area tucked between a tidy green park known as Pine Hill Park and a mildly resurgent downtown.
Distinguished by large, multifamily homes that suggest a more comfortable past, the Northwest has become the target of a campaign that may point the way for other Vermont communities. Rutland officials and activists have developed an approach that trains laser-like focus on individual properties where drug problems are inclined to take hold.
This time last year, the landlord of 50 Chestnut had all but abandoned his property, and drug addicts had moved in, police say. There was one bathroom and almost no furniture in a building that held as many as 30 people on any given day. Cars with out-of-state plates came and went at all hours. Neighbors complained of smashed windows, car thefts and visible drug use.
"There was more traffic there than the highway," said neighbor Michele Mailhiot, who began writing down visitors' license plate numbers and sending them to police. It was a one-house ghetto in an otherwise law-abiding neighborhood, sharing the block with well-kept homes, a school, a church and a doctor's office.
How did Rutland officials shut it down? Through the creative use of crime data in a communitywide effort that extends beyond law enforcement to include treatment providers, mental health counselors, even housing inspectors.
"If we're going to tackle the substance abuse problem, it's all hands on deck," said Rutland Police Chief Jim Baker.
"We have not been in denial, we can't arrest our way out of the problem," said Rutland Mayor Chris Louras. "Parcel by parcel we can turn the street around, and if we can turn a street around, we can turn a neighborhood around."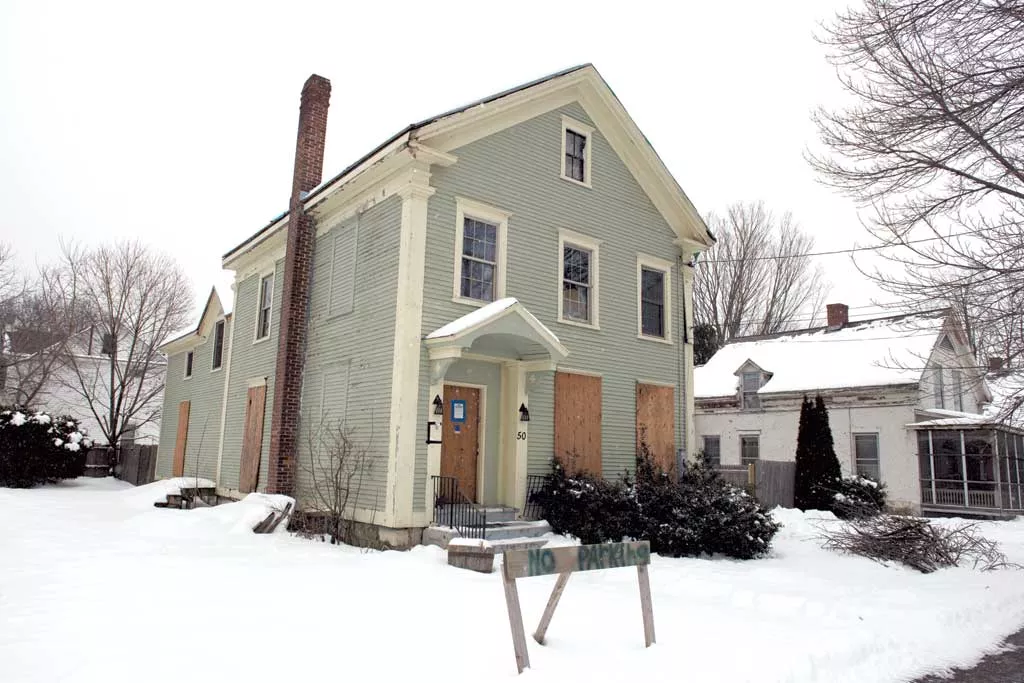 Caleb Kenna
50 Chestnut Avenue
Number Crunching, Problem Solving
A "bastardized land-use map," as Baker calls it, hangs prominently on the wall behind his desk. It divides Rutland into four quadrants, with a sergeant assigned to each. The Northwest leaps off Baker's map in bright orange.
In late May, Rutland began digitally mapping every crime and call for service in the city, in partnership with the Vermont Center for Justice Research. Officers log the location, time and nature of every law enforcement call, along with names of people they come across, into a system that generates maps of city "hot spots."
Everything — from arrests to family fights, noise disturbances to suspicious-person calls — gets entered into a computer system. Every two weeks, Baker and his colleagues, along with prosecutors, domestic violence and mental health counselors, even Rutland's building inspector, gather in the police station to discuss the hot spots and what they might mean.
Just before 9 p.m. on January 22, a call came in to the Rutland police station for an armed robbery at the downtown Granger Street Market & Deli. A man wielding a knife and obscuring his face inside a hoodie had made off with $100 cash.
The call came as police were searching for someone who had robbed four city convenience stores in recent weeks. Police received one encouraging lead that night: A witness said the robber had jumped into a silver Jeep Liberty with a spare tire on the back.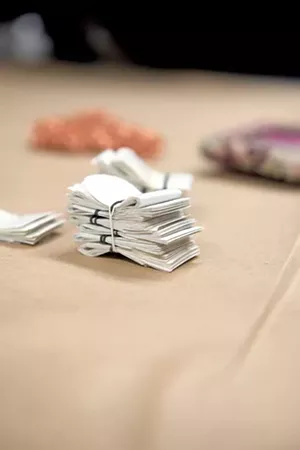 Caleb Kenna
Heroin packets
Most officers on duty that night streamed to the downtown store, but two officers decided to head in the opposite direction, to 24 1/2 Cottage Street in the Northwest neighborhood. Nobody had called 911 from the home, and there were no tips that the robbers might be there. But calls for service at that address had spiked of late, police said, mostly for nuisance or noise disturbances. Police suspected drug activity.
When officers arrived at the house, they found a man and a woman sitting inside their car — a silver Jeep Liberty with a spare tire on the back. According to court records, Patrick Blodgett, 26, confessed that he had been responsible for that night's robbery and the ones before it; his companion, Arabella Babcock, 21, said she was the getaway driver for most of them. After Blodgett robbed the market, the two had driven to the Cottage Street home, bought five bags of heroin and shot up inside the Jeep, they told police.
Blodgett told police he never would have used the knife against a person; he just needed money to support his heroin addiction. (Blodgett and Babcock, both residents of the neighborhood, have pleaded not guilty to nine charges of robbery with a weapon and are currently being held in Marble Valley Regional Correctional Facility in Rutland, according to court documents.)
"We don't necessarily look for crime," Baker said. "The first thing we look at is locations where we have been called for service."
Contacted by Seven Days, the owner of 24 1/2 Cottage Street said that he had installed security cameras at the property and saw last year that strangers were visiting it. Rudy Petruccelli of Valhalla, N.Y., said he spent a significant amount of money fixing the home and praised police for their work.
"We had this influx of people, I don't know where they are coming from," Petruccelli said. "I'm trying to get the place cleaned up. It's tough in Rutland, because people are struggling to pay rent, and then we have people come in and try to sell drugs."
Police Work
When Baker took over the Rutland Police Department in January 2012, it wasn't a data mapping kind of operation. Baker, who had retired as head of the Vermont State Police in 2009, said he inherited a department that was focused on racking up arrests. Meanwhile, crime in the city was getting worse, quality of life was deteriorating — and the relationship between cops and citizens was at an all-time low.
(In the years before Baker arrived, three officers had been accused of watching porn on the job. Another officer resigned after allegations surfaced that he had fired a pepperball launcher — similar to a paintball gun — at a drunken, handcuffed man who was inside a holding cell.)
"It was the football game where the goal was to score more points, make more arrests, drive your numbers up, ask for more cops — that will solve the problem," Baker said. "The problem is, it wasn't solving the problem."
The new chief, with backing from city hall and outside consultants, implemented a data-oriented approach. While common in major cities in other states, it was unusual for Vermont.
The shift yielded some surprising findings. The top calls for service in Rutland were not for drugs, or fights, or even thefts: In a city often stigmatized as crime ridden, the top three categories were citizen disputes, followed by animal complaints and family problems. One had to go far down the police department's call list to find criminal offenses.
Of the 13,000 annual calls for service, Rutland police learned that 73 percent — including 84 percent of the disorderly conducts and assaults and 80 percent of the city's thefts — came from the Northwest neighborhood.
The Northwest is home to about 6,000 of Rutland's 17,000 residents. Most of the houses are at least 2,000 square feet and three stories high, built for the large middle-class families that once dominated the neighborhood.
"It was Mayberry," said Chestnut Avenue resident Bob Holland, who returned seven years ago to the streets where he grew up. "This neighborhood was just stunning."
The problem, just about every official says, is that far too many of those large, proud homes have been converted from single-family residences into multiunit apartments. Only 32 percent of homes in the Northwest are owner occupied. Investors own the rest, and many of the landlords and property management companies are based elsewhere. Some have failed to invest in the buildings, officials said, or given up all together.
The median price for a house in the neighborhood now stands at about $115,000. At tax and foreclosure sales, some have gone for less than $25,000. The poverty rate at the neighborhood elementary school stands at 85 percent, according to police.
The transformation has given the area an odd, checkerboard feel. Decaying, rotting homes are surrounded on either side by well-maintained homes that would sell for three times their assessed value in other Vermont towns. Those abandoned, blighted homes have provided what Baker calls the "infrastructure just below the surface" for a network of local drug addicts and the dealers, many from out of state, who come to feed their habits.
Blighted Properties, Blighted Lives
In March 2013, a group of Rutland officials and volunteers applied for a three-year, $1 million federal grant to help finance a coordinated effort between government agencies and citizen groups to help police tackle the drug problem.
Project VISION, short for Viable Initiatives and Solutions through Involvement of Neighborhoods, attracted representatives from each of the stakeholder groups: police, the probation and parole office, domestic abuse groups, mental health advocates, housing agencies, and drug treatment providers.
The organizers didn't get the Department of Justice grant — Detroit did — but members of Project VISION continued to gather every two weeks in the Rutland police station to discuss the city's problem spots. Police Chief Baker turns away no one; the room is usually crowded with 30 or 40 people.
Officials celebrated in November when, after years of struggle with would-be neighbors, the Vermont Health Department finally managed to open a methadone clinic in Rutland. West Ridge Center for Addiction Recovery, run by Rutland Regional Medical Center, immediately took in 130 patients, many from the city, and expects its caseload to swell to 400.
At the clinic, addicts receive a daily dose of methadone, a drug designed to wean them off heroin and other opiates. They also receive counseling and support services.
"There's not a single person whose life in Rutland County has not been impacted by opiate addiction one way or the other," said Rutland Regional's director of psychiatric services Jeff McKee, himself a Rutland native and Northwest resident.
Many of West Ridge's initial patients were Rutland residents who had been traveling, via car or public transportation, every day to the nearest clinics in Brattleboro or West Lebanon, N.H. Others had given up on ever getting help.
"The desperation on the faces of the people who first came in was extreme," McKee said. "It was people saying, 'If we don't get in treatment, we're going to die.'"
Thirty-two-year-old "Tom" was among them. Before the clinic opened, the father of a young child spent three to four hours a day traveling to the methadone clinic in West Lebanon. His acceptance into the Rutland clinic, he said, has made it easier to spend time with his family and rebuild his life.
Tom recently moved to Castleton, though, to escape the heroin problem in Rutland, where he spent most of his adult life. "I can't live down here," he said in an interview outside the clinic.
"It's had a big impact on the community and anybody who needs help," Tom said of West Ridge. "It's 130 people that aren't committing crimes, buying drugs off the street."
Rutland police responded to 37 overdose calls last year. High on his chest, Cpl. Tim Tuttle wears a small bar with yellow, red and white stripes. He earned it in 2012 for saving a life.
On a recent patrol through the Northwest, the Rutland-born cop pointed to where it happened: a tanning salon. A young man had shot up heroin, entered the salon and climbed into a tanning bed, where the drug began shutting down his body.
Tuttle and another officer responded, pulled him out of the bed and managed to revive him. He hasn't seen the man since, Tuttle said, but heard that a few days later that the addict had overdosed again.
"The sad part of the situation is these people know they are slowly killing themselves," Tuttle said, adding, "if not quickly."
Tuttle spends much of his time driving through the Northwest, keeping an eye out for anything that seems out of place and trying to build a rapport with the residents he knows belong there.
"They're still good families here, there's still hardworking people," Tuttle said as he drove slowly up Library Avenue. He approached a neglected, two-story home with white fading paint. "And then, boom, that house, overdose in the bathroom."
Seconds later, he passed a blighted house on Maple Avenue. "Overdose, found a spoon, heroin bag, needle."
As he navigated the bumpy, cracked pavement on Cleveland Avenue, Tuttle saw a pickup truck with out-of-state license plates pull into the driveway of a house that, he said, officers have reason to believe is home to drug activity. He pulled out a scrap of paper and a pencil and scribbled down the plate number to later feed into a database.
"We're not violating anyone's rights; we're just writing down information. A lot of arrests have come from good intelligence," Tuttle said. "Being a police officer, most of our suspicions are correct. I'm sorry, but they are. I've seen overdoses. I've seen dead people. If we can stop that from happening, I'm going home feeling good.
"I've taken children away from families because of the drug problem," Tuttle added. "They're not selling Girl Scout cookies, I'm sorry to say."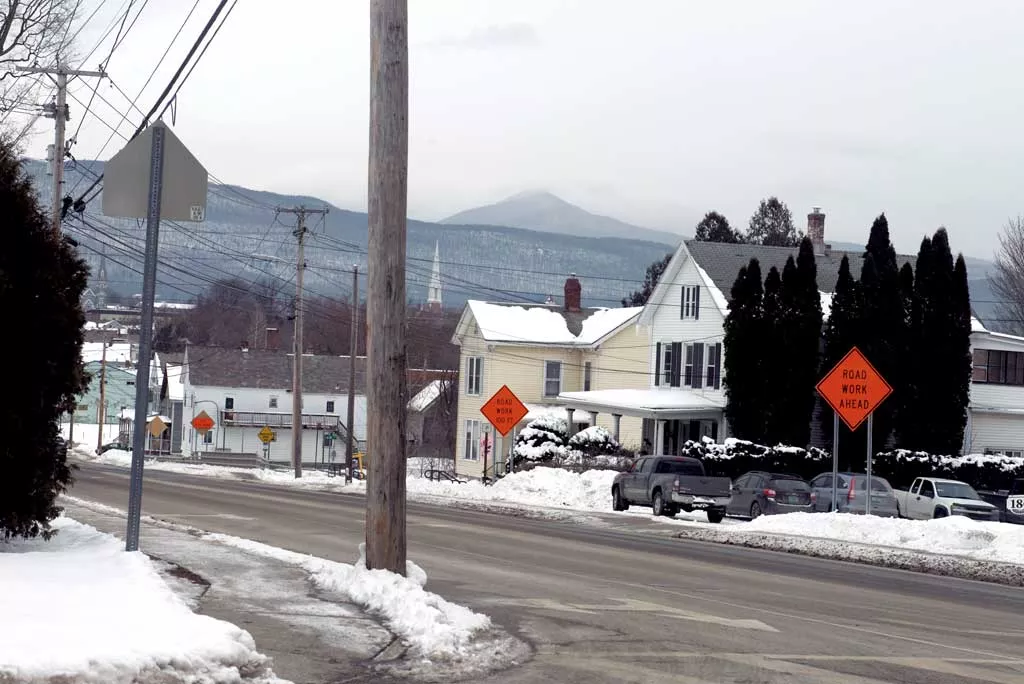 Safe Houses
Rutland's housing and planning agencies are also heavily involved in the fight to reclaim its neighborhoods. The city, along with the Rutland Redevelopment Authority, has created maps noting every blighted and abandoned home and is addressing them one by one.
The Northwest has 21 vacant homes, 34 that are delinquent in paying taxes, and 18 that are in the process of foreclosure. Police say nearly all of them have, at various points, popped up on their calls for service list.
The city hopes to eventually buy back properties, either through tax sale or foreclosure, or by purchasing them from owners who are struggling to keep up with mortgages and property taxes. Rutland then plans turn those properties over to nonprofit groups to fix up and resell to responsible owners, or knock them down to create more green space. There's talk of offering low-interest loans to owners who can't afford repairs but would work to keep up their properties.
Last year, Louras made the building inspector a full-time position and empowered inspector Bob Barrett to issue more citations for building code violations — in hopes of scaring off deadbeat landlords. The city last year acquired its first house, on Pine Street, through a tax sale. It spent six months in court evicting a tenant who wouldn't leave and is now trying to figure out what to do with the house.
The redevelopment authority last year prodded state lawmakers to pass a law allowing cities to create tax incentives for prospective owners who fix up blighted homes. The city can now freeze the assessed value of a property for up to five years, Rutland Redevelopment Authority executive director Brennan Duffy said, allowing owners to plow money into repairs without having to pay higher taxes for adding value to their properties.
In a state where many communities are desperate to build more affordable housing, Rutland's best bet lies in "de-densifying," Duffy said. The city needs fewer low-cost apartments that, especially in a struggling economy, attract a transient population. A return to more single-family homes, he said, is the key to restored stability.
How does that work? Last spring, when police determined that 50 Chestnut Avenue seemed to be generating problems, Barrett piped up at a biweekly VISION meeting: He had been documenting code violations at the house and leaving tickets that had gone unpaid. (The owner of the home listed in city records did not respond to messages left at the Vermont phone number listed on the front door of the house.)
Police didn't have evidence to justify any arrests, but the team settled on a new strategy: They would use city ordinances to simply shut the building down. Another regular VISION attendee, the fire chief, doubles as the city's fire marshal, and is empowered by law to close buildings and evict tenants if living conditions are unsafe.
And so on August 30, a team of representatives from the city's zoning, fire and police departments descended on the building, advised tenants of how they could secure emergency housing, and shut the place down.
Neighbors say calm has been restored, and even skeptics of the most recent effort to fix Rutland say they have become converts.
"I was that guy who said, 'Oh great, here we go again,'" said Matt Prouty, the sergeant in charge of Northwest Rutland and a resident of the neighborhood. "When you start to see the successes, you don't realize how much you miss having a plan until you have one."
The original print version of this article was headlined "All Hands on Deck"