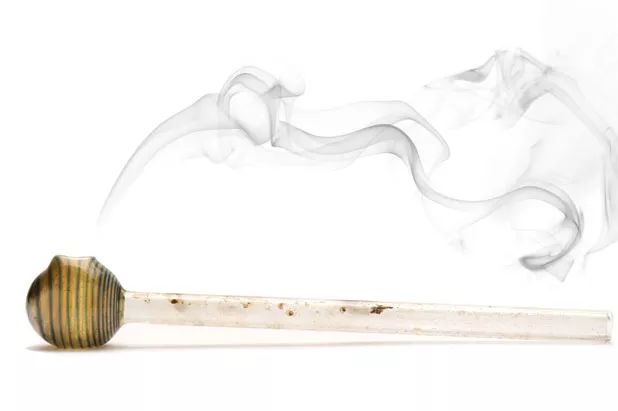 It's hard to go a week without seeing a story tied to Vermont's growing drug problem. Most of the state's burglaries, armed robberies, assaults and other violent crimes are directly linked to the opiate epidemic, which also takes a major toll on the courts, corrections, ER visits, psychiatric admissions and other emergency services.
Prescription pills have surpassed heroin as the most commonly abused opiates in Vermont, reflecting national trends. The U.S. Drug Enforcement Administration reports that two-and-a-half times as many Americans are now abusing prescription painkillers as are using heroin, cocaine, hallucinogens and inhalants combined. In 2012, it seems, America's biggest drug cartel is Big Pharma.
Yet, with Vermont's streets littered with powders, pills and rocks designed to dispel the pain, however fleetingly, the state has largely avoided the ravages of methamphetamine, aka crank or crystal meth. Unlike other rural areas, the Green Mountain State — indeed, most of New England — has managed to dodge the crystal bullet.
In 2010, according to DEA figures, drug agents in Indiana seized 599 meth labs and dump sites; in Tennessee, 1197; and in Missouri, 1624. In contrast, just three labs were reported in Vermont that year, and only 13 throughout New England. While the dearth of meth labs doesn't necessarily mean Vermonters aren't snorting or smoking the stuff — some arrives by mail — the DEA reported fewer than two kilograms seized in 2010. A national survey on drug use and health that measured state-level methamphetamine use ranked Vermont 45th, with only 0.17 percent of people admitting to using the drug.
Is it dumb luck? The vagaries of geography? Vermonters' natural aversion to a nasty, destructive and highly addictive substance that makes users paranoid, aggressive, violent and ugly, while also turning communities into hazardous waste dumps? Or have Vermont's preventive measures successfully buffered the state from one of the most costly illegal drugs out there?
Understandably, some in local law enforcement are reluctant to speculate publicly on why Vermont isn't breaking bad. Why draw the unwanted attention of meth dealers to a new, untapped market? Others suggest it's far more difficult to explain the absence of an illegal drug trade than the presence of one.
"I guess we're just thankful that it hasn't hit us the way it has in other states," says Capt. Glenn Hall, director of the Vermont State Police drug task force. "If we were inundated with these things, we'd have our hands full."
Still, theories abound. According to one, Vermont doesn't have a major meth problem because it doesn't have many outlaw motorcycle gangs, which have historically been linked to meth production and trafficking. In contrast, New Hampshire has more meth, so the theory goes, because it has more biker gangs. And bikers prefer riding in the Granite State over the Green Mountain State because New Hampshire doesn't have a helmet law.
Could Vermont's helmet law thus be keeping meth at bay? Anthony Pettigrew, an agent with the DEA's New England division in Boston, won't speculate.
"There's many, many variables, and a lot of it comes down to guesswork," Pettigrew says. "I'm not going to get into the guessing game."
A fellow agent in the DEA's Washington, DC, headquarters is more amenable to offering theories. Agent Todd Scott spent many years working in "meth states," including his boyhood home, Kentucky, where in 2010 the DEA seized 931 labs. Scott says the notion that Vermont's dearth of bikers has kept meth away sounds dubious.
"That might have been true in the '70s and '80s, but we don't see motorcycle gangs involved in meth labs and meth trafficking the way we used to. We just don't," he says.
Although the evidence is limited, Scott suggests that a more probable explanation has to do with a commonly used method of cooking meth, which requires anhydrous ammonia, a chemical fertilizer found on large farms. He says the meth problem grew more severe in states such as Missouri, Kentucky, Indiana and Tennessee because of the availability of large tanks of the chemical, which created a "perfect storm" for meth making.
On the West Coast, Scott says, biker meth networks have largely been replaced by Mexican "super labs," which crank out massive quantities of meth. Indeed, just weeks ago the DEA seized 750 pounds of methamphetamine, with a street value of $34 million, in San Jose, Calif., one of the largest meth busts in U.S. history.
On the East Coast, Scott notes, more common are the "mom-and-pop labs" that use a single-pot cooking method to produce smaller, user-quantity batches. What's worrisome, he adds, is that the higher-potency, higher-volume Mexican meth is starting to make inroads in the east, threatening to overtake the locavore crank.
One possible factor working in Vermont's favor, suggests VSP's Hall: The state was proactive early on in passing legislation to regulate the sale of over-the-counter products containing ephedrine, pseudoephedrine and phenylpropanolamine, all of which are precursors to meth production.
Today, "smurfing," or sending runners to many different pharmacies to buy up small quantities of these products, is less common in Vermont than elsewhere. That said, Vermont still lacks a searchable database to help police identify who's smurfing, or where. Some other states have passed laws requiring that the precursor products be sold by prescription only.
In the absence of other reliable theories to explain our good fortune, perhaps it's time Vermont considers a similar measure.
Outraged, or merely curious, about something? Send your burning question to wtf@sevendaysvt.com.