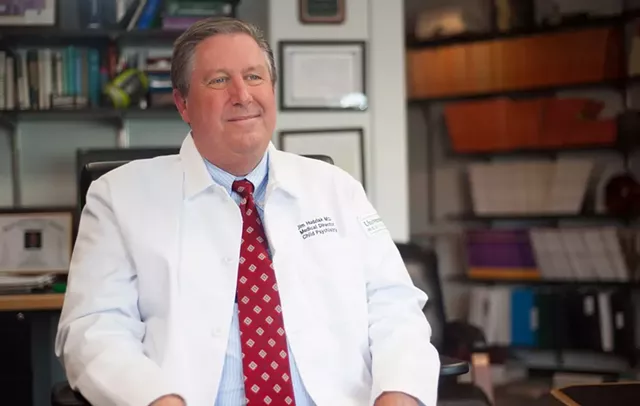 Courtesy
Dr. Jim Hudziak
Anyone who's learned to play a musical instrument knows that it helps to develop discipline, coordination and time-management skills. But research from the University of Vermont indicates it can also make kids smarter and more emotionally balanced.
Dr. Jim Hudziak is a professor of psychiatry, medicine, pediatrics, and communication sciences and disorders at UVM's Larner College of Medicine. He also directs the Vermont Center for Children, Youth and Families, which brings together medical experts to treat kids and adolescents with emotional and behavioral disorders.
In 2014, Hudziak and his colleagues published a study in the Journal of the American Academy of Child & Adolescent Psychiatry on the effects of learning a musical instrument on child brain development. As expected, researchers saw improvements in areas of the brain involved in muscle control and coordination in kids ages 6 to 18 who played an instrument. But Hudziak and his team also saw improvements in regions of the brain that regulate behavior, emotions, working memory, attention and future planning. We asked Hudziak what lessons parents can take from his work.
KIDS VT: What were some of the practical benefits that came out of your research?
JIM HUDZIAK: For me, it's an invitation not just for the field of psychiatry but for all medicine to be more brain-centered, and understand that the development of the human brain is a dynamic process that's influenced not only by our genes but also by the environment we exist in.
KVT: What, exactly, are the benefits of music lessons?
JH: The regions of the brain that we reported on that were most interesting are those involved in emotional regulation, executive processing and attention skills. Sure, if you learn to juggle, the parts of your brain that require you to be a good juggler will change. But in learning music, there's even more going on. My colleagues in other projects are looking at the effects of producing music on, for example, language arts. [Northwestern University researcher] Nina Kraus has done some incredible work involving a two-year dose of one-hour-a-day music training in children raised in disadvantaged populations. A child raised in poverty often grows up with a massive word gap. By age 5, that child may have heard 50 million fewer words in his or her life than a child not living in poverty. After two years of music lessons, those same kids' academic performance went through the roof.
KVT: Why does that happen?
JH: Happiness and success in life are often measured by our ability to regulate our emotions. Nowhere is that more true than in a child. A child's brain isn't fully developed until their twenties. But there are things we can do to help in the development of those frontal and prefrontal regions of the brain, which are involved with attention and emotional regulation. Musical practice is one such workout.
KVT: Years ago there was a trend of playing classical music for babies, purportedly to boost their brain activity. Was there real science behind it?
JH: You're referring to the Mozart effect, which was only defeated not because of any good evidence against it, but because it was hard to do good neuroimaging or outcome studies to prove it. There's no question that your environment influences your genomes and thus the structure and function of your brain. We know that if a pregnant woman is stressed out, her corticosteroid stress hormones have direct effects on her baby, which impacts the structure and function of the child's brain. Playing soothing classical music has impacts on heart rate variability of the mother and, indirectly, puts the child in a better environment for developing their little brain. In our OB/GYN program, we give instruction in yoga, mindfulness, nutrition and stress-reduction strategies to pregnant mothers from Medicaid and disadvantaged populations. Why are we doing all that? We're investing in their babies' brains.
KVT: What other environmental factors boost kids' brain development?
JH: There are things that humans have done for as long as humans have written things down — music, art, exercise, religion. Humans wouldn't do these things for thousands of years if there wasn't some benefit to our species. All of the kids in our clinic are taught breathing and mindfulness exercises, because that's where modern medicine is heading. It's not "crunchy Vermont thinking." I wouldn't have all these violin lessons going on here unless there was sound brain science to back it up. All families should be given the knowledge, skills and attitudes to help their children engage in these behaviors, for which there is no risk and high returns.