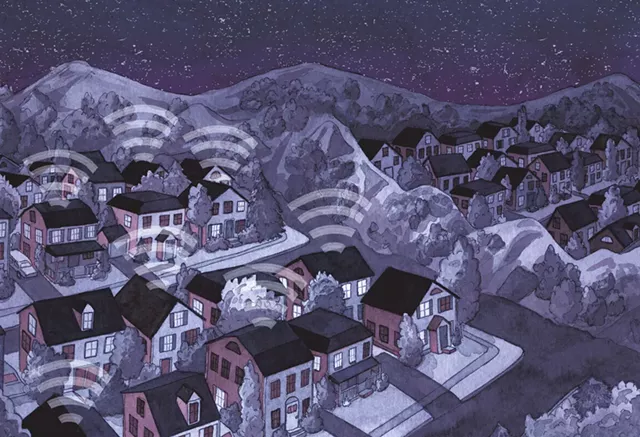 Meg Streeter of Wilmington is a lifelong Vermonter and real estate agent who works predominantly in Windham County's residential market. After 32 years in the business, she has a pretty good idea of what it takes to sell a home in her area. These days, that includes high-speed internet service.
"In the last five to eight years, it's become a must-have," says Streeter, whose territory includes Wilmington and Dover, where 90 percent of the real estate transactions involve vacation homes bought by out-of-state residents. "It's the rare person who's coming here to get away from it all," she adds. "They don't really want to be that away from it all."
Until about five years ago, many home appraisals and building inspections didn't even mention internet connectivity, says Isaac Chavez, CEO of Vermont Realtors, the 1,700-member real estate trade organization.
Today, Realtors routinely use a form called the Seller's Property Information Report. The six-page document asks sellers to disclose virtually every feature of the property, from the number of bathrooms and bedrooms to the type of foundation, roof, septic system and appliances. It also includes a "telephone/internet/television" section that asks whether internet service is available on the premises and, if so, what kind: dial-up, broadband, cable, satellite and/or DSL. That info gets entered in the broker's multiple listing system, or MLS, so buyers can weed out houses that lack the features they want.
Chavez says it's common for prospective buyers to tell their agent they're looking for, say, a three-bedroom home in Newport in the $150,000 to $200,000 price range, but for the agent then to only show them houses with broadband access. If a house doesn't have it, he says, the buyers never see it.
"Anecdotally, I hear all the time that people pass up houses [without broadband availability]," he says, "but I don't have any way to quantify that."
Vermonters have long bemoaned the digital divide that separates residents of the state's more populated areas — notably, Chittenden County, where broadband coverage is widely available from multiple providers — from their more remote counterparts. Those in the real estate business say that, depending on a property's location, broadband access can make or break the deal. Though Streeter can't put a dollar figure on the value of high-speed internet, she says, "Basically, if the house doesn't have it, in my opinion, it is unlikely to sell."
Streeter isn't alone in that observation. Rep. Laura Sibilia (I-West Dover) represents the towns of Dover, Wardsboro, Readsboro, Stamford, Searsburg, Somerset and part of Whitingham. A review of the Vermont Department of Public Service's most current statewide map of broadband availability, released in April, reveals that much of Sibilia's southern Vermont district is stuck on the wrong side of the digital divide.
VTel, the Springfield-based telecom company that received a $5 million state grant in 2012 to provide wireless broadband to underserved areas in Bennington, Rutland, Windham and Windsor counties, has yet to deliver on that promise, Sibilia says.
Consider Readsboro, she goes on, located along the Massachusetts border. It was once a thriving community that housed workers from a local chair factory, the Yankee Rowe nuclear power plant and Westfield Paper Company's glassine factory just across the state line. When all three employers closed in the 1980s and '90s, some 300 to 400 jobs disappeared.
Sibilia readily acknowledges that the lack of broadband in Readsboro isn't the only obstacle to economic recovery. But its absence makes it even more difficult to attract home buyers and new businesses.
"Kids can't do their homework, because the service has not been built up from the school," she says. "People are literally abandoning their homes that have been on the market for years and they can't sell."
The Federal Communications Commission now defines broadband as internet speeds of at least 25 megabits per second (Mbps) downstream and 3 Mpbs upstream — 25/3 for short.* According to Jim Porter, director of telecommunications and connectivity at the Department of Public Service, of the 300,000 addresses in Vermont, 71 percent have access to broadband speeds of 25/3 or higher. "Frankly, broadband is more important to people today than voice service," he says.
To date, no one has analyzed the relationship between Vermont real estate prices and broadband. Anecdotally, however, the differences are obvious to those who handle real estate deals in areas where one community has access and a neighboring one does not.
Sibilia cites the example of Wardsboro, which abuts two ski areas: Stratton Mountain and Mount Snow. It should have a bustling market for vacation homes. However, the combination of poor cellular coverage and low internet availability along Route 100 has made it difficult for people to sell homes there. Meanwhile, just nine miles away in Dover, a community that invested heavily in its broadband and cellular infrastructure, the real estate market is faring much better.
Chavez points out that real estate values are determined by a variety of factors, and other considerations can trump lack of broadband. A good example, he says, is Washington County, where the strength of the real estate market is due to the number of state workers who want to live there. Still, many homes outside of downtown Montpelier and Barre have poor internet service.
Chavez discovered as much himself when he moved to Vermont from New Mexico four years ago. He says he was shocked to find that his internet speeds were terrible in East Montpelier, where he had purchased a house.
"I don't even bother to try to work at home anymore. I just drive to the office," he says. "Luckily, I'm only seven minutes away."
According to Chavez, one common variable is the price point of the home itself. If it's a home in the $300,000 to $1 million range in, say, Manchester or Stowe, it's likely that the sellers have invested "whatever it takes" to get high-speed internet. Sellers who haven't done that are most likely to run into trouble with $300,000 to $500,000 homes between Newport and Jay Peak "in the middle of nowhere." Though rural buyers typically don't expect lightning-fast internet connections, higher-end homes can be challenging to sell if they have both poor internet and spotty cellphone coverage. (According to Porter, 55 percent of Americans now access the internet through mobile devices.)
"That's an even worse selling point than the broadband," Chavez asserts. "There are places that you just can't get a cellphone signal, and that can be a serious deal killer, because potential buyers see it as a safety issue."
For her part, Streeter hasn't had clients whose homes sat unsold for years because they couldn't pass the "Netflix test," i.e., streaming a movie online without constant buffering. But she does know of someone who had a house for sale off the grid in the Green Mountain National Forest, with no likelihood of ever having electricity, cable or wired internet.
"Their house was half a mile from the north face of Mount Snow," she says. "These people had the fastest cell and [internet] service. It was amazing! That's how I sold it."
*Correction, July 7, 2016: An earlier version of this story used an earlier FCC definition of broadband — as of January 2015, it's 25 Mbps downstream and 3 Mbps upstream.