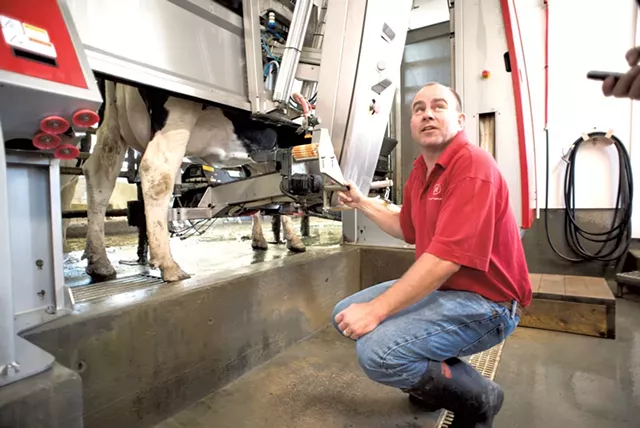 Caleb Kenna
Lely Astronaut robotic milking systems
Name: Chris Hill
Job: salesman and barn designer of robotic milking systems
Town: Enosburg Falls
Chris Hill crouches beside a Holstein on the Briggs Dairy Farm in Vergennes to explain exactly how a robot milks a cow.
Without any human prodding, the animal strolls into a barn chute and starts munching grain from an automated feeder. As she eats, a laser-guided robotic arm positions two spinning brushes, like small versions of the ones in a car wash, beneath her udders to clean and disinfect the teats. Within a minute, the brushes disengage, and the lasers guide milking valves onto all four teats, making micro-adjustments whenever the animal shifts position. Once the valves latch on, milk flows through clear plastic tubes.
For the next 10 minutes, the cow is relieved of her udder pressure — and the Briggs family is relieved of the arduous task of milking 170 dairy cows two or three times daily. The family now has more time to plant the corn crop after an unusually rainy spring.
Since 2014, Hill has been a salesman and barn designer for Lely Center Vermont in Enosburg Falls, which markets and services the Lely Astronaut robotic milking systems. About a year ago, Hill helped the Briggs family redesign and retrofit a 1968 barn to accommodate three such robots. Third-generation farmer Peter Briggs says they replaced two workers, eliminating the hassles and expenses of workers' comp, paid sick leave and "bad-attitude employees."
Evidently, the cows like them, too. The robots "recognize" each animal via computer chip and know when she was last milked, how much grain she ate, how much milk she produced — including its fat and protein content — and more than 100 other bovine data points. Behind one cow being milked, two others wait patiently, drawn by the promise of grain.
"It's kind of like giving a kid a cookie," says Hill. "You know they're gonna come."
Caleb Kenna
Chris Hill
Hill, 45, is a North Stonington, Conn., native who's been around dairy cows since he was in diapers. At 14, he got a job working on a friend's dairy farm. He earned an undergraduate degree in animal science from Cornell University with plans to become a veterinarian but ended up in the field of bovine nutrition.
At William H. Miner Agricultural Research Institute in Chazy, N.Y., where he got his master's, Hill learned the science of "cow comfort." The idea is that dairy cows perform better and live longer when they're happy. For example, for every extra hour cows lie down, farmers get an additional one-third of a gallon of milk. Hill is also a firm believer in the "bedded pack" barn, which sets aside a softer, roomier bedding area for injured and newly calved cows to have "a little extra attention," Hill says.
Robotic milking suits that philosophy, too, he adds, because it allows cows to provide milk at their own rate, as they would if a calf were feeding.
"It's funny. We're using this high-end technology to actually create a more natural experience for the cow," Hill adds. "It improves the farmers' lives, it improves the farmers' finances, and it improves the cows' lives."
SEVEN DAYS: How'd you get into robotic milking?
CHRIS HILL: I was fortunate to work for some really well-run farms. I realized there that if you spend more time and money on the cows and focus on bigger, roomier stalls with better bedding materials, as well as [improve] your farm management and design, your cows will perform better. It might cost a little more up front, but your return is going to be better.
SD: How do the robots hold up against such large animals?
CH: At the start-up, when the cows are just learning [the system], they can be a little jumpy. But our robots are [built with] stainless steel and carbon fiber, so we've literally had cows jump up on the arm with two feet and not hurt the robot one bit. Most of them are pretty calm, but you do get some that kick and beat on it. There's a 3D camera over the cow that shows if she's moving, and the [robotic] arm will move with the cow, forward and backward. It just amazes me how it's able to get attached [to the teats] with the cow prancing about.
SD: What's the most challenging aspect of this job?
CH: Some of it is just prioritizing my time, covering such a large area — and me having a family with two kids. But it's a good problem to have, because the business is exploding.
SD: What's the best part of your work?
CH: Just the reward for these families. There's a good financial reward for the larger farms, but, on these smaller family farms, it completely changes their lifestyle. I was talking to one of our farmers here in Addison County who started milking with robots two months ago. For one, they're up 10 pounds of milk, or more than a gallon [per cow], which is nice.
But, two, he said they were out haying the other day, and it occurred to him that he didn't have to send anyone back to [the] barn to start milking. Instead of being in the barn seven days a week tied to chores — if your kid has a ball game or your family is having Christmas dinner, you're not looking at your watch and thinking, I've got to bail out.