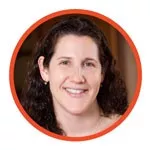 The arrival of a new baby brings on many emotions. For some moms, it can trigger overwhelming sadness, anxiety and stress. This month, Dr. Jennie Lowell, a board-certified physician in obstetrics and gynecology at Maitri Health Care for Women in South Burlington, offers new moms and mothers-to-be advice for recognizing and coping with normal "baby blues," as well as the more serious condition: postpartum depression.
KIDS VT: What is postpartum depression and what causes it?
Jennie Lowell: It's mood changes that can include depression and anxiety in the year following the birth of a child. One cause is normal hormonal changes associated with pregnancy, especially the major drop in progesterone. That can also drag down your levels of serotonin, a chemical that contributes to feelings of well-being and happiness.
KVT: How does postpartum depression differ from baby blues?
JL: It's a matter of severity. One mother I spoke to referred to the baby blues as "cupid's arrow." She said, "I'm not really sad. I'm not really depressed. I just look at my baby and burst out crying." With postpartum depression, a mother may not want to care for her baby at all. She may want to spend all day in bed and not feel any joy in life. She may even have thoughts of hurting herself or her baby.
KVT: How common is it?
JL: Between 9 and 16 percent of all new mothers experience postpartum depression. Women think they're supposed to immediately fall in love with their baby. If you're not head-over-heels in love with your baby, sometimes it's hard to admit that to yourself, your loved ones or your doctor.
KVT: Because women feel guilty?
JL: Yes, and sometimes there's a failure to recognize that those negative feelings aren't normal. Sometimes new moms get so anxious that they should be sleeping, but this postpartum anxiety kicks in and they just can't fall asleep. Imagine that going on for a few nights in a row, and their mood just unravels. If that's happening, we need to break that cycle quickly and get them some sleep.
KVT: What advice do you give to new moms?
JL: First, be really mindful of the sleep you're getting. And reach out to your support networks. We know that women who have better support networks do better — if somebody can come in and watch the baby for a couple of hours while you take a shower or a nap and you're not doing all the childcare yourself. Get outside, go for a walk or just do something without the baby on you.
KVT: Does medicine prescribed for postpartum depression affect breastfed babies?
JL: There are a number of drugs that we feel comfortable prescribing. If you really need the meds, the downside of not taking them far outweighs any harm they might do. Imagine a diaper change where you're engaged with your baby. It's continuous smiling and high-pitched talking in a happy tone. That's pretty normal, and we're biologically programmed to do it without anyone teaching us. Then, imagine a mom who's completely depressed. The diaper change might get done, but there's no engagement. There's no talking. There's no emotion. It's automated. So, a little of the medication going into the breast milk is not consequential when compared to the consequences for a baby with a mom who's completely despondent.
KVT: When do you check new mothers for postpartum depression?
JL: At Maitri, we see mothers two weeks postpartum. The industry standard is six weeks, but we feel that's just too long to go without checking in. We have moms fill out an Edinburgh Postnatal Depression Scale within the first few weeks and when they come in for their annual visit, as well.
KVT: Are drugs the only way you treat postpartum depression?
JL: No. We spend equal amounts of time referring people to therapists and suggesting lifestyle modifications, such as getting more sleep and more help around the house.
KVT: If a mom had depression with her first child, is she more likely to have it with subsequent pregnancies?
JL: Yes. Postpartum depression is also more likely if you have underlying depression or anxiety and certainly if you've been on meds for them before. But I do find that second-time moms generally do better. With the first baby, it's all such a shock. Everything is new and there's this complete loss of personal freedom. With the second baby, some of that shock has worn off.
Interview compiled and condensed by Ken Picard