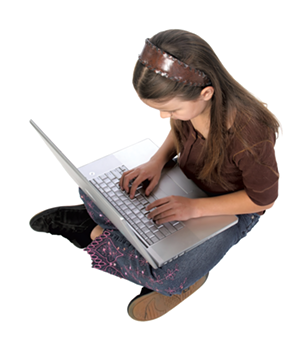 Managing email — a tough task to begin with — gets even more complicated when your child comes home from school with a Gmail account.
Many Vermont schools use Google Apps for Education, a free suite of communication and software tools. It's a great option for educators, allowing easy access to word processing, spreadsheets, presentations, calendars and email. Students use these applications to keep tabs on class work, collaborate on documents and communicate with peers and teachers.
But don't assume that your daughter will learn all she needs to know about using email at school. The day she gets her first email account, sit down with her to discuss how to write an email. This mode of communication is more formal than Facebook or texting; careful spelling is important.
And make sure she understands what is and isn't appropriate to send over email. Explain the difference between a message that relays helpful information, or asks good questions about homework, and one that might upset a friend, such as a chain email.
Show her the difference between the "to," "cc" and "bcc" fields. When sending an email to many people, it's a good idea to put everyone's addresses in the bcc field so they remain private. Talk with her about the important distinction between "reply" and "reply all."
Show her how to delete messages and make sure she knows about spam — where it might come from (signing up for websites) and how to recognize it. If the words "free," "meet" or "earn money" are in the subject line of an email, for example, it might be spam.
Google Apps for Education has built-in protections to keep your daughter from seeing content you don't want her to see. Still, remind her not to give her email address to just anyone.
As with any technology, watch how your daughter manages it, and don't be afraid to step in if necessary. Finally, ask your daughter's school about training sessions for children and parents.
Elaine Young is the author of Tuned-In Family: How to Cope, Communicate & Connect in a Digital World, and is a professor at Champlain College, where she specializes in digital marketing and social media. Got a question about navigating the digital world with your family? Send it to ideas@kidsvt.com.