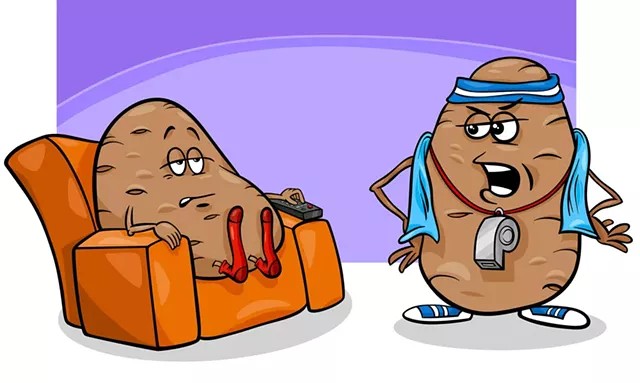 Dear Reverend,
I was laid off due to the coronavirus. Luckily, I should be OK financially for a while, but I haven't left my house in about three weeks. All I do is lay on the couch, watch the news and stress-eat. I thought I'd change out of my pajamas yesterday to maybe feel like a real person, but my pants are all tight. How can I get through this without turning into a big, fat couch potato?
Tubb O'Lard
(male, 35)
Dear Tubb O'Lard,
Sounds like you're in the same pants as a lot of people in the country. You've never had to live through a pandemic before, so cut yourself some slack. Now is not the time to worry about your weight. Although your physical health is important, you need to take care of your mental health first. As the great philosopher George Clinton once said: "Free your mind ... and your ass will follow."
First suggestion: Turn off the news. If you want to stay up to date, limit your time. Checking in the morning starts your day off wrong. Checking at night can disturb your all-important sleep. Pop in midday for an update. Better yet, google some good news about what's happening with the virus: stories of survivors, what's happening with work on a vaccine, people making and sharing masks. Find the good in the midst of the shitstorm. It's there. You just may have to look a little harder.
Limit your time on social media. Use Facebook to check in on friends and family, but stay away from articles from who-knows-where and posts from alarmists. So much false information is being spread. It's best to just scroll past.
To stay in shape, you don't have to work out like a maniac; just get moving. Wake up in the morning, turn on your favorite music and dance around the house. Go for a walk, even just around the block. Remember that Shake Weight you scored at a Yankee swap a few years back? Get it out and give it a go. There are loads of free workout videos on YouTube, but consider signing up for an online class from a local yoga studio or gym. If you can afford to spend a couple of bucks, they sure could use it right now.
If you're prone to stress-eating, try gnawing on some fresh fruits and vegetables. They'll satisfy your snacking and boost your immune system, to boot.
Good luck and God bless,
The Reverend