Last spring's Jon Favreau film Chef, about a restaurant chef-turned-food-truck-owner, was uncommonly adored by critics. Seven Days' own tough-to-please reviewer, Rick Kisonak, awarded it four-and-a-half out of five stars. Brian Stefan of real-life Burlington food truck Southern Smoke has a different view. He walked out of the "Disneyfied" flick before its feel-good narrative was over.
"The actual story of the struggle of food trucking is so much more interesting," Stefan says. To his mind, giving credence to the movie's depiction is the equivalent of assuming "the entire Vietnam War was summed up in the movie Operation Dumbo Drop."
You mean that the story of a past-his-prime diva chef who attacks a critic on Twitter, gains a massive following, becomes a national food-truck success, beds Sofía Vergara and Scarlett Johansson, and then opens a restaurant bankrolled by said critic isn't based in reality? Stefan worries that his customers may have missed the memo.
Since the movie debuted, he says, he's gotten more questions than ever from customers who have dreams of breaking into the food-truck biz. Stefan's advice: don't. It's a tough business anywhere, but in a state where seasonal vendors can serve for half the year at most, a food truck is far from a recipe for financial stability. As Stefan puts it, "You have to have it written into your business plan that there are lean times. If you're banking on four beautiful months, maybe you should go somewhere that has four beautiful months in a row."
Stefan isn't the only one struggling. We spoke to several of his food-truck brethren about how they survive the winter — or try to.
For his part, Stefan uses the cold season to refocus his business on office catering. Last year, he delivered lovingly prepared lunches — including his famous smoked-pork sandwiches and home-baked empanadas — to Burlington offices. This winter, he hopes to offer larger, buffet-style spreads to businesses, as well as cook for a few pop-ups at ArtsRiot.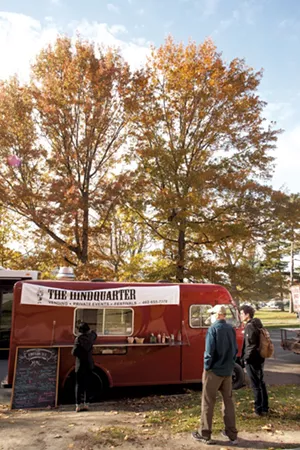 Matthew Thorsen
The Hindquarter at UVM
Last winter, Stefan had a regular gig at the South End event space, but that went the way of the dodo with the recent demise of the ArtsRiot Kitchen Collective (see more in Side Dishes, page 43). Without his regular Thursday dinner, the chef admits, he'll need to scrape by however he can. "Very shortly, I'll start hoarding cans," he says with humorous candor. "If I see you in my yard, I'm going to yell at you to stay away from my cans. When I see coins in the street, I pick them up."
Stefan has tried working elsewhere through the winter (including a stint cooking on the island of St. John), but he says the distraction makes him lose focus on his own business. Other mobile chefs say they don't have a choice about seeking other culinary gigs.
Diners at Tiny Thai Restaurant in Winooski, for instance, are likely to see Chris Simard of the Lazy Farmer serving up nam prik and pad Thai in the winter, when he's not playing bass with his band Radio Underground or hitting the slopes. Simard says he uses any free time he has in the off-season to perfect his culinary skills — and his exquisite kimchi pork and Peking chicken tacos present ample evidence. "I do a lot of recipe testing and development and work on marketing and business planning and stuff like that," he says.
Simard also has a solution in the pipeline to beat the winter doldrums. "I am trying to get a brick-and-mortar together," he reveals. The business plan is prepped, but appealing spaces get snapped up quickly, the chef says. He's still "looking for funding to make it happen" — perhaps by next season. If Simard gets his full-time restaurant, the truck will supplement it as a test kitchen and catering outlet.
Stefan, too, is working toward a stable, year-round space. "You're flying around the carrion looking for the carcass," he explains with his usual gonzo poeticism. "We're at a disadvantage to every other restaurant anywhere — even shitty ones — because we have no bathroom, no liquor license, no tables, no chairs." Like Simard, Stefan complains that affordable spaces have become increasingly difficult to snag. "I need to collect people behind me who really believe in the concept," he says of gathering funds.
For food-truck owners who aren't ready to commit to a restaurant, a regular, well-trafficked parking space can serve a similar purpose. Luke Stone, co-owner of the Hindquarter, lucked out last winter when he scored a sought-after spot for his truck at the University of Vermont's University Place.
File: Matthew Thorsen
Stefano Cicirello
The Hindquarter is the rare food truck that's more active in cold weather. Since Stone is also executive chef at Cloud 9 Caterers, his summers are filled with weddings and other warm-weather events. Last summer, he stopped making regular weekday stops in the South End and limited his Hindquarter engagements to events with guaranteed traffic, such as the South End Truck Stop and concerts at Shelburne Museum. "I would consider doing the pop-up lunches, but since I'm trying to run a catering company as well during the week, I need to be doing catering gigs," he explains.
Now that the heavy catering season is over, the Hindquarter, specially outfitted for winter service, will park at UVM four or five days a week. Stone says that, surprisingly, his adventurous menu has needed little adjustment to draw in students. (Remember the Indian spiced monkfish with pickled cauliflower and mushrooms, beluga lentils and cucumber raita? We sure do.) The only major tweak he made in his menu was the addition of breakfast sandwiches, served all day to bring in late risers with just a few bucks in their PJ pants. This year, Stone plans to add a few lower-priced snack items to replace the popular $1 slices from the now-departed Big Daddy's Pizza truck.
Admittedly, going outside to wait in line for lunch can be a hard sell in below-zero weather or an ice storm. Stone says he makes things easier for his UVM customers by allowing them to text in their orders and retrieve them without a wait.
While Stone may be thriving in the chill, Stefano Cicirello of Dolce VT isn't convinced the revenue is worth braving the increased operating costs and frigid days he dealt with last winter. The trained pastry chef began parking in front of ArtsRiot on Pine Street last January. Right now, he's paying the bills by "swinging a hammer" for his family's construction company — and hasn't decided whether he'll be serving his signature truffle fries and fried chicken sandwich before spring.
"It's the great debate," Cicirello says. "Everything goes up [in the winter]: food costs, fuel costs. All of your expenses are higher." He's considered going south for the cold months, but that would involve starting all over, he notes, finding locations and growing a fan base.
Other food truckers agree that moving isn't worth the effort: Unlike Favreau's fictional Carl Casper, real chefs need to wait for licenses before they can even think about vending in a new city. In Burlington, competition for a prime parking spot is fierce. In a bigger city, it can be even worse, especially for the new guy.
To keep his culinary chops sharp during the winter, Cicirello hopes to cook a few pop-up dinners around town. And he admits that there's always a chance he'll wake up one morning in January so hungry to get the business going again that he'll start up the truck.
While Cicirello worries that customers may not brave the inclement weather, safeguarding his equipment is his biggest concern. "It's risky; you're gambling because it gets so cold," he explains. "Something breaks on the truck and I'm barely making enough to survive, then I've gotta buy another part."
Still, for all the hardship food truckers experience, a touch of what Stefan calls their "whimsical, carefree persona" seems to keep them going. As in any business, the early years of going out on one's own in a food truck are a struggle. In the years to come, these young chef-entrepreneurs may find other ways to make their businesses successful year-round. Newbies inspired by Hollywood will have to start that process anew in an already crowded field.
Meanwhile, don't touch Stefan's cans.
The original print version of this article was headlined "Frigidly We Roll Along"