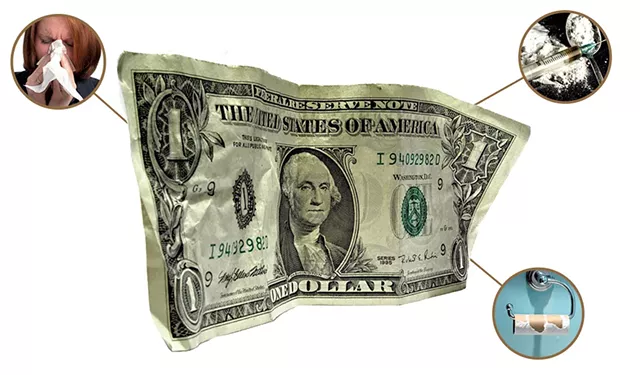 If cash is king, our ruler is easily corrupted. That's not a commentary on the influence of money on American politics but a statement about the physical contamination of U.S. currency. Nearly all paper and coin money we handle each day harbors an assortment of microscopic nastiness. After reading this story, you'll likely never again put a dollar bill in your mouth while counting your change.
Readers might know that the majority of U.S. Federal Reserve notes contains trace levels of cocaine, including 92 percent of all $1 bills, according to a study published in the October 2001 issue of Forensic Science International. The likeliest explanation, the article suggests, is that the bills are initially contaminated during drug transactions or by cocaine users who roll them up and use them for snorting. Next, the residual cocaine gets spread to other bills when financial institutions put them in cash-counting machines.
But what else is lurking on our legal tender? Initially, Seven Days planned to bring a random sample of bills obtained in Vermont to local laboratories and get them analyzed for surface contaminants. We were curious about whether Green Mountain greenbacks contained other drugs, too — notably opiates, a widely abused class of drug in the state. We also wondered whether local dough contains other substances abundant in Vermont, including cannabis, cheese, kale, maple syrup, cow manure, beets and craft beer.
Alas, a few conversations with experts at Burlington-area chemistry and microbiology labs quickly disabused us of the financial and logistical feasibility of taking such a scattershot research approach.
Paul Warden is vice president and director of operations at Analytical Services, a Williston-based commercial microbiology lab that performs mostly water-quality testing for public water suppliers around the country. "Testing paper currency is not really in our bailiwick," Warden noted. "It can be done, but you need to know what you're after."
As he explained, there are a gazillion different types of viruses, bacteria and protozoa for which we might search. A simple swab test to identify, say, which types of aerobic bacteria are dwelling on a dollar bill would probably run us no more than $150.
However, if that test yielded 15 different bacterial colonies, we'd then need to identify each one, at a cost of about $150 apiece. Next, we'd need to test the bacteria at different incubation temperatures, on different growth media and so on.
"It's kind of a rabbit hole to dive down," Warden concluded, "and you could spend quite a lot of money and not find anything all that interesting."
Plus, that's just the search for biological blights. If we wanted to find out what kinds of chemical compounds are littering our loot, another lab recommended running our cash through a GC-MS, or gas chromatography-mass spectrometry instrument, to look for heavy metals, organic compounds and other potentially toxic chemicals. But the result of those tests would likely take weeks, if not months, to get back. To paraphrase President Donald Trump, who knew that biology and chemistry were so complicated?
Fortunately, we're not the first ones to be curious about the filth that fouls our funds. Way back on May 23, 1910, the New York Times published a story titled "Perils That Travel in Paper Currency." Warning of "bacteria by the thousands" on U.S. paper currency, a Yale University professor named W.W. Hilditch discovered that some of the dirtiest bills he could find in New York City harbored bacilli known to cause tuberculosis and diphtheria. Though many of those germs had lost their virulence, Hilditch concluded that seriously soiled paper money still posed "an actual menace to the health of the community."
Today, it's fair to say that Federal Reserve notes travel farther and wider than they ever did in the early 20th century, accruing countless microscopic freeloaders along the way. And with $1.47 trillion worth of paper currency kicking around — including 11.7 billion $1 bills alone, according to the Federal Reserve System — there are exponentially more opportunities for pollutants to mess with our moola.
First, consider illegal intoxicants. That study in the 2001 issue of Forensic Science International analyzed 10 randomly collected $1 bills from five American cities. Of those 10 bills, seven contained traces of heroin, three contained morphine and methamphetamine, two had PCP, and one contained amphetamine. Talk about being awash in drug money.
Still, the mere presence of all those narcotics isn't likely to cause anyone harm. Researchers pointed out that it's virtually impossible for someone to fail a drug test or elicit a woof from a drug-sniffing dog simply because that person had recently counted a stack of bills.
Indeed, other forms of currency contamination pose greater risks to public health. In 2011, a study published by Environmental Science and Technology revealed that most U.S. paper currency also contains trace levels of the chemical bisphenol A, aka BPA. This organic compound, once commonly found in plastic bottles and food containers, has been shown to act like an endocrine disruptor and has been linked to increased risks of breast and prostate cancer, early-onset puberty, childhood obesity and hyperactivity. At least 11 states, including Vermont, have since banned BPA in all food and beverage containers.
So, how is all that BPA still invading our purses and wallets? Researchers found that much of the BPA on bills was coming from the thermal paper used to print cash register receipts. When consumers put those receipts into their wallets, the BPA transfers to the bills.
"The estimated daily intake of BPA through dermal [skin] absorption from handling paper currencies was on the order of a few nanograms per day," which, the study noted, is less than what we receive from other environmental sources and certainly not enough to kill us, at least not right away.
Needless to say, American bills come in contact with many other sources of pollution. Some are merely disgusting; others can potentially make us quite ill.
Until his retirement in December 2016, Dr. Gerald Stagg was senior vice president and medical director at the Federal Reserve Bank of New York. In October 2011, Stagg gave a presentation at a cash customer forum in which he discussed the health and safety concerns related to U.S. paper and coin currency. His slide presentation is still available online.
Stagg, an environmental health physician, outlined for his audience the litany of ickiness that will trigger the Federal Reserve to pull bills and coins out of general circulation. They include cash that's tainted with mold or mildew; those that have come in contact with floodwater, sewage or other liquids; those with exposure to chemicals such as dye packs; and currency that's touched blood, urine, feces or other bodily fluids, "including removal from any body cavity, corpse or animal." One shudders to think how many of those last few examples have escaped detection and are now folded up in some child's piggy bank.
As for biohazards, studies of viral contamination on currency were limited at the time of Stagg's presentation. However, one study of Swiss banknotes found that the influenza virus can survive on Swiss notes for as long as three days — or 17 days if mucus is present. Though Stagg knew of no comparable study of American currency, he pointed out that flu viruses can survive on nonporous surfaces (i.e., coins) for up to 72 hours. The virus' survival time on our hands is limited to about five minutes after contact — but that's more than enough time to scratch your nose or bite a fingernail.
Similarly, Stagg found limited research about the presence of bacteria on U.S. bills. However, he cited one study's finding that 42 percent of paper currency collected from hospital workers contained pathogenic (disease-causing) bacteria, the most common ones being Staphylococcus aureus and enterococcal organisms, including E. coli.
Bragg also touched upon additional common contaminants to the cash supply, including fertilizers, pesticides, gasoline and other petroleum products, but you get the gist of his presentation: If humans work with, play with, secrete or excrete it, it's almost certain to soil our shekels.
And, lest anyone thinks that American money is the dirtiest kind, another study, published in the October 2014 issue of the Journal of Biomedicine and Biotechnology, found that paper currency from other countries harbored equally high, if not higher, levels of pathogenic pestilence. This pattern was especially true in countries where large percentages of the population live in squalor and without access to clean running water to wash up after using the toilet. It gives new meaning to the expression "flush with cash."
That international study also found that the older the bill and the lower its denomination — say, a $1 note versus a $20 note — the higher its microbial load. Researchers found that 100 percent of India's rupees, Bangladesh's taka, and Iraq's and Ghana's banknotes harbored pathogenic or potentially pathogenic bacteria. Similarly, more than 90 percent of comparable bills in Saudi Arabia, Mexico and Colombia contained invisible infestations.
Of particular concern, the study concluded, was this: "Currency notes in circulation are contaminated with various microbial agents, of which most are resistant to commonly used antibiotics and therefore represent risks and public health hazards to the community and individuals handling currency notes."
In sum, here's a simple takeaway from all of this tainted tender: Wash your hands well immediately after handling cash. Money may not buy you happiness, but it could earn you a serious case of the flu.