Michael Wood-Lewis, Burlington, owner, Front Porch Forum
Sons Ben, 12, Henry, 8, and Isaac, 6; daughter Madeline, 9
Well, my wife, Valerie, gets a lot of the credit. And we have a cycling lifestyle; we bike where we need to go. At some point, the numbers were such that we needed the kids to pull their own weight — out of necessity.
We live in the Five Sisters neighborhood in the South End, and it's a place with a great sense of community, especially for families with young kids. Living on a level, relatively traffic-calm street helped a lot. They've been biking around town since they were 3 or 4 years old.
Our oldest son, Ben, has one of the more amazing bikes in Vermont. He has cerebral palsy and uses a wheelchair. So he has a Dutch-made bike that accommodates him in his wheelchair. That's a cool thing. And Henry and Madeline now ride unicycles. They got the bug at the Parks and Rec circus camp this year.
Jonathan Billings, St. Albans, Chief Planning Officer and Director of Community Relations, Northwestern Medical Center
Daughters Katelyn, 23, and Emily, 21
I remember sitting in the grass with the girls and trying to talk theory to them about pedaling and momentum, and they're sitting there, looking at a brand-new sparkly bike, thinking, I want to get on this. It's just not a good match, age and stage, for true philosophical, theoretical conversation.
Emily didn't benefit from my teaching Kate. We taught Kate to ride out in our street. We thought there would be a better way because the street is just regular width, and they were making such wide turns, it was hard to stay off the grass. My great thought from learning with Kate was: I need a wide-open space.
With Emily, the first thing that occurred to me was the town school's parking lot. The problem was it's actually on the side of a hill. Because we were already there, we went ahead and tried it. Emily got to live the adventure of trying to learn to ride her bike either shooting downhill, Dad trying to keep up, or having to go uphill, pedaling.
We've always been strong proponents of bike helmets. With the hardness of pavement and the dangers of traffic, my hope for everybody trying to teach youngsters to ride is to put them in a helmet — and that parents will be role models and wear their own.
Jason Van Driesche, Burlington, Director of Advocacy and Education, Local Motion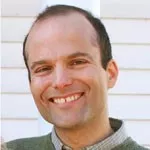 Daughter, Amelia, 6
We're still in the middle of it. My daughter has technically ridden her bike, in the sense that she's pedaled on her own and not crashed into anything. But starting, stopping and, to a certain degree, turning are still unfamiliar territory. One of the things that really helped was that she's been riding one of those scoot bikes, the ones without pedals.
Probably the most important thing that anybody can do to make learning to ride a bike easier is to dispense with the training wheels and do a scoot bike instead. With training wheels, kids learn how to pedal first, but they don't learn how to balance. Adding in the balance is tricky.
We do all kinds of skills camps and trainings here at Local Motion. You see a wide range of abilities and interests, but one thing that's pretty consistent across all kids is this: When they finally nail it, they get this fire in their eyes.
It's certainly different with your own kid. Helping Amelia learn, I had to pay more attention to staying relaxed and detached from the whole thing than I did when it was someone else's child. It does not help if you get personally, emotionally invested in your kid learning to ride a bike. If you get all wrapped up in it, they can tell; then they get tense and crash!
Harjit Dhaliwal, Milton, Information Technology, UVM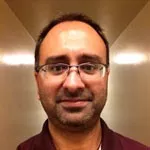 Daughters Sabrina, 14, and Hannah, 11
We started with training wheels and the initial challenge was the pedaling. We have a little slope in the backyard, and we let them roll down slowly so they got the feeling of moving. Our driveway is a little steeper; once they got the hang of it, we'd use the driveway. Eventually we moved over to the elementary school parking lot.
It didn't take them long once they were done with the training wheels. We said, "Once you get in motion, your balance is going to be there." We'd hold the bike in the back, and it was a mind-over-matter thing. If they thought we were actually holding the bike they'd balance better when, in reality, we weren't really touching it.
You can raise the training wheels up so when the bike leans to the side, it takes a little bit longer before the training wheels hit the ground. It's not like they're really going to fall off, but that way they can feel the tilt and adjust their balance. That's what we did and then, eventually, they just didn't need the training wheels anymore.