James Buck
Church Street in Burlington
The Church Street Marketplace in Burlington showed promising signs of life on a recent drizzly afternoon. Business wasn't booming, but given the weather and the paucity of foot traffic in the last six months, retailers took what they could get.
Ordinarily on a late August day BC (before COVID-19) the brick-lined pedestrian mall would have teemed with people: college students and parents shopping for dorm room supplies, Canadian tourists dining al fresco, downtown office workers catching some fresh air.
But as the rain subsided and clusters of diners filled amply spaced outdoor tables, signs of the times were impossible to miss along the marketplace — and not just the ones reminding shoppers to wear a mask and socially distance.
"For lease" signs hung in windows once occupied by retailers Eddie Bauer, the Gap and Hydrangea Too. Uncommon Grounds coffeehouse, Half Lounge speakeasy, David's Tea, Sweet Thing,and Scuffer Tap & Table were shuttered. The Five Guys burger restaurant, normally serving lunch midday, was inexplicably closed. Church Street, the crown jewel of Vermont's retail sector, looked a little rough around the edges.
While not all the empty storefronts were caused by the pandemic, COVID-19 has reduced demand for downtown retail and office space. Tony Blake, cofounder of V/T Commercial in Burlington, a real estate and business brokerage firm, said he has lowered rents on two Church Street properties by 30 percent since March as he tries to retain tenants hit hard by the pandemic.
"Retail is obvious. You can walk up and down Church Street and see some carnage already," Blake said. As he's been telling landlords who call him with new vacancies, "It really doesn't matter what you're asking for in terms of rent. What we need to do is get activity. If it's a reasonably good tenant, then you need to be creative and flexible." That might mean the landlord contributes to setup costs and offers shorter leases and options to terminate.
Like much of life during COVID-19, Burlington's — and Vermont's — commercial real estate industry is in a period of profound uncertainty that may presage permanent changes. The retail, office, hospitality, rental housing and industrial sectors aren't necessarily all in the same boat, but they're in the same storm.
The changes in office work, for example, have delivered another blow to Burlington's economic core. Stores and restaurants have lost revenue from all the workers who, until March, spent their weekdays in downtown office buildings and their midday hours eating or shopping on the marketplace. With thousands now working from home, companies and organizations are downsizing their physical office space.
And that change isn't unique to Burlington. Yves Bradley, vice president of commercial brokerage at Pomerleau Real Estate in Burlington, described Chittenden County's office sector as "paralyzed." One tenant, the American Cancer Society, informed him that it's vacating the Williston offices it has occupied for years.
At V/T Commercial, Blake said that two national firms he declined to identify — one with 15,000 square feet of offices in Burlington, the other with 30,000 square feet — have notified him they plan to shed half that space even before their leases expire.
Though Blake cautioned it's too soon to predict whether such changes will become the new normal, he added, "I don't think we'll see the need or the demand for four walls and a door anywhere near as much as we did before the pandemic."
Not every business and sector is suffering from the pandemic. Supermarkets, convenience stores, lumberyards, outdoor gear suppliers and garden centers are faring better, even thriving. Industrial real estate, which includes manufacturing and warehouses used for storage, shipping and distribution, is as strong as ever, owners and brokers say.
Even in hard-hit retail, the picture is mixed. While some national chains have closed Church Street stores, some smaller independent and locally owned businesses are weathering COVID-19 by staying creative and nimble. Retailers Common Deer, Homeport and Outdoor Gear Exchange have begun offering home delivery and curbside pickups. Dear Lucy, Whim Boutique and Ecco have stepped up their online commerce and social media presence.
"These are unprecedented, extraordinary times. There will be closures. That's to be expected," said Kara Alnasrawi, executive director of the Church Street Marketplace. "But we're seeing amazing entrepreneurial spirit on the street, as well as tenacity."
In some cases, COVID-19 was merely the final straw for struggling stores. The Gap never drew the business it had hoped for on upper Church Street, Bradley noted.
"That doesn't necessarily mean the Burlington market was bad," he said. "It means the brand itself is suffering."
In normal times, commercial real estate professionals try to forecast market conditions 12 to 18 months down the road. But with so many uncertainties — a possible COVID-19 resurgence or vaccine, a possible second round of federal stimulus checks, the federal election — it's daunting to predict what's to come even three months from now.
"Talk about cloudy crystal balls," said Blake. "Are there going to be opportunities? Yes. I just don't know what they are right now."
Piercing the Fog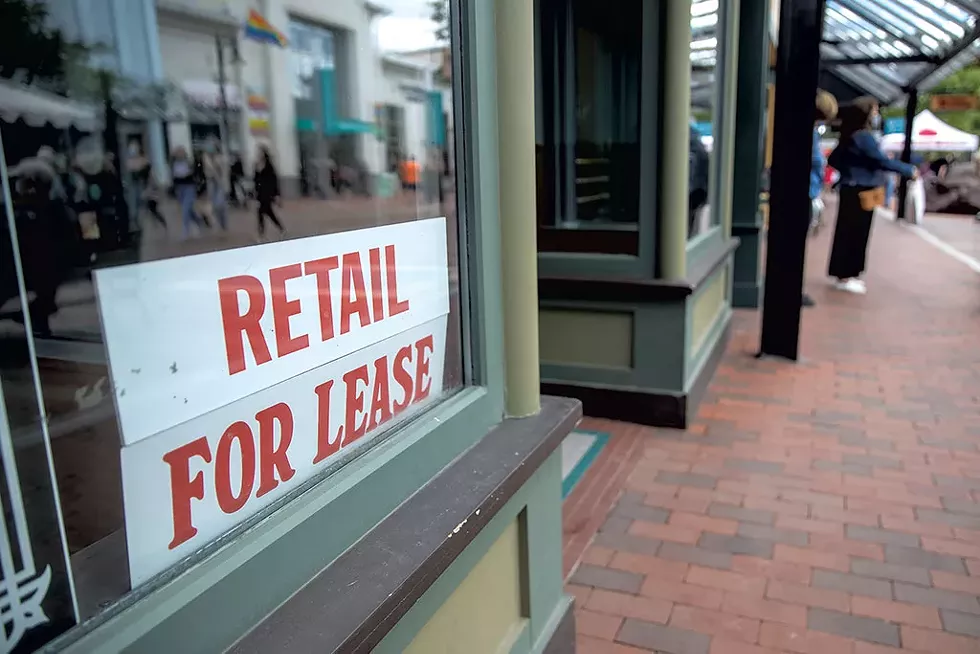 James Buck
Church Street in Burlington
Brad Minor, a partner at real estate firm Allen, Brooks & Minor in South Burlington, appraises commercial properties before they change hands. Doing one amid a pandemic, he said, is like determining its value blindfolded.
Twice a year his firm publishes a report on commercial market conditions in Chittenden County by surveying brokers and others and by tracking transactions, vacancies and rental rates in five categories: commercial and industrial land, office, retail, industrial, and apartment space.
According to the June report, demand for office space in Chittenden County has taken a big hit since March. Vacancies were 11 percent higher than in the six-month period pre-COVID-19. Of the 8.7 million square feet of total inventory, 817,500 square feet — or 9.3 percent — sat empty. The report described demand as "stagnant" and predicted that the full extent of the pandemic's impact wouldn't be apparent for another nine to 24 months.
The data on Chittenden County retail were equally dismal. The report cited "extremely limited leasing activity," with vacancies at their highest level since 2006 — although that spike was attributable in part to the closure of Sears in South Burlington.
The report predicted that no new retail or office space would be built in Burlington's downtown next year. Statewide, the Vermont Natural Resources Board reports a 35 percent decline this year in the Act 250 land-use permit applications required for new developments such as shopping centers, office parks and large subdivisions.
Back in March, as commercial activity ground to a virtual halt, Minor set out to assess how commercial real estate professionals felt about the future. In March, and again in May, he sent surveys to about 150 of them and received about 70 responses.
"In the first survey, the responses were all over the board. There was no consensus," Minor said. "As an appraiser, that tells you that you have a confused and uncertain market. Nobody knows what the impact [of the pandemic] will be."
By May, more respondents said they believed COVID-19's negative impact would last longer than a year. Unsurprisingly, the gloomiest forecasts were in the office and retail sectors. The areas viewed most optimistically were industrial space and rental apartments, both of which have maintained low vacancy rates despite the pandemic.
When Minor surveyed landlords in the rental housing market, "The two sets of words I heard more than anything else were 'pleasantly surprised' and 'cautiously optimistic.'" Though some tenants initially couldn't pay their rents due to furloughs or job losses, landlords reported that they didn't have difficulty collecting rents or maintaining full occupancy.
In the industrial sector, respondents also appeared upbeat, perhaps because of that sector's low vacancy numbers. In June, for example, the vacancy rate for industrial properties was 3.1 percent, up only slightly from December, when it hit an all-time low of 2.5 percent.
Evan Langfeldt is CEO of O'Brien Brothers in South Burlington, which has a diverse portfolio of about 200,000 square feet of light industrial properties in Williston and South Burlington. Tenants range from mom-and-pop businesses to large national firms and the federal government.
"We went into the pandemic with 100 percent occupancy on the commercial side, so we went in as strongly as we could have," he said. So how many tenants has Langfeldt lost since the start of the pandemic? Just one.
In fact, Langfeldt said he expects that business opportunities will emerge in the next 12 to 18 months as young people in the prime of their careers move to Vermont and bring businesses with them or start new ones.
"Honestly, I can't think of a better place to be living during this current situation than where we are," he added.
The South Rises Again
Christine Glade
Main Street in Manchester
If COVID-19 is a forest fire, leaving scars that will be felt for a generation, new growth has begun to sprout already. As people flee more densely populated places in New York, New Jersey, Massachusetts and Connecticut, some regions of Vermont could experience the largest in-migration of new residents since the back-to-the-land movement of the 1960s and '70s.
Paul Carroccio isn't ashamed to say it: He and his wife, Chrissy, co-owners of TPW Real Estate headquartered in Manchester, are "just killing it" this year.
"I'd say I'm up 100 percent, year over year, on activity," said Carroccio, whose firm employs 80 people, including 25 real estate agents, in Bennington and Windham counties. TPW handles both commercial and residential properties, including management of about 2,000 golf and ski resort homes at Okemo, Stratton and Bromley. But it's not just residential properties that are changing hands.
"Land is hot. Industrial is hot. And believe it or not, hospitality, like food and beverage, is hot," Carroccio said. While the pandemic has some retailers in his region "stuck in the mud," others, including delis and convenience stores, are "printing money right now," he said, as second-home owners move in and phone in their meal and grocery orders.
Bennington County's influx of out-of-state residents doesn't appear to be a short-term phenomenon. With interest rates at a record low, Carroccio said, he's seen a rush of new investors flush with cash. They are buying mom-and-pop hotels and motels, some with plans to convert them to apartments or condos.
Diners, fast-food restaurants and convenience stores are also attracting investors. "I sold seven gas stations in the last two weeks," Carroccio boasted.
His pandemic windfall is no aberration, according to Manchester town manager John O'Keefe. Many second-home owners are moving to the area full time and bringing their families with them. Burr and Burton Academy, which serves as the town's high school, will add 50 students this fall, for a total of about 770, despite losing 35 international students, according to headmaster Mark Tashjian. He likened the influx to the post-9/11 era, when the school experienced a similar boost in enrollment.
While the town's local sales tax receipts declined only modestly — May to August revenues dropped to $169,000 this year from $183,000 in the same period last year — not all businesses are prospering. In early August, the Vermont Community Foundation announced a partnership with local philanthropists to donate nearly $1 million to 55 hard-hit small businesses in Manchester, Arlington and Dorset.
One encouraging sign, observers said, has been the number of national retail outlets — Ann Taylor, Brooks Brothers, J.Crew, Eastern Mountain Sports — that have been replaced by locally owned, independent businesses. While those national retailers didn't all close due to the pandemic, O'Keefe said he expects to see a bump in local entrepreneurship as Manchester experiences an influx of new residents and investment capital.
"I can see a market where retail space is becoming more affordable and a spouse [of a telecommuter] says, 'Hey, I'm going to open up a yogurt shop or a yoga studio," O'Keefe added. "So, there's definitely some lemonade being made in Manchester."
Repurpose That Office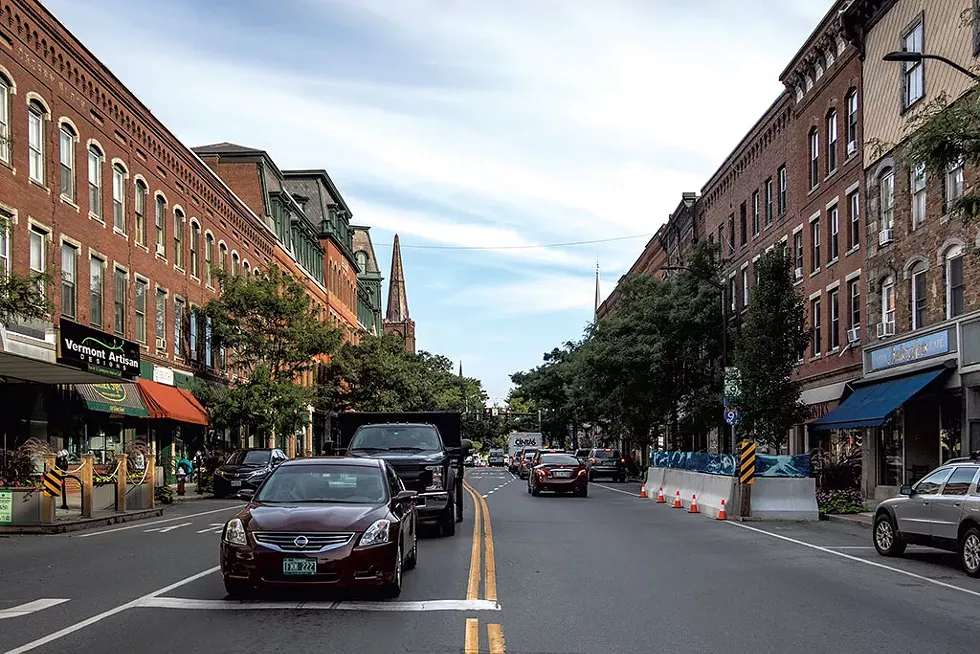 Zach Stephens
Downtown Brattleboro
The town of Berlin has a population of about 2,800 residents, which swells to more than 14,000 during the workday. Many of the commuters work at the Central Vermont Medical Center or the Berlin Mall. For the last three years, planners have been trying to create a town center with spaces for community gatherings.
The master plan calls for shops, cafés, retail, office space and a 98-student childcare center. Also included: 160 apartments and 98 senior housing units; the latter are already under construction. Assistant town administrator Tom Badowski explained that a shortage of workforce housing has made it difficult for the medical center to fill dozens of mostly lower-wage positions.
Since the pandemic hit, Badowski said, planners have begun questioning the need for more retail space, given the presence of the sprawling mall and this year's announcement that JCPenney will close its 40,000-square-foot store there. Apartments may supplant at least some of that proposed retail and office space. For the foreseeable future, Badowski said, market conditions favor residential construction.
Others agree. Bob Stevens of Brattleboro is cofounder of two companies: Stevens & Associates, an engineering, architectural and landscape design firm; and M&S Development, which does small industrial and community-led revitalization projects.
One immediate consequence of COVID-19, Stevens observed, has been a shift away from projects that prominently feature retail and office space. Stevens had been designing a 4,000- to 6,000-square-foot coworking space in downtown Brattleboro. That project likely won't open until next summer.
"The conventional wisdom is that anyone who was working on an office needs about a third less now than they did four months ago," he said. "Where appropriate, that space is going to convert to housing."
Zach Stephens
Bob Stevens
Stevens isn't suggesting that vacant office buildings in industrial parks will convert to residential neighborhoods; nobody would want to live there. But in downtown Brattleboro, which has walkable streets and historic, mixed-use buildings, it's far easier to convert upper-floor office space to apartments; in fact, Stevens is considering doing so in a building he owns, in part because it's more profitable. Residential spaces in downtown Brattleboro rent for $30 or more per square foot; office space, for $15 to $18 a square foot.
That trend, already under way in other regions of the country, is likely to accelerate in Vermont due to the pandemic, according to Josh Hanford, commissioner of the Vermont Department of Housing and Community Development. Former offices, schools and banks could be repurposed as apartments or condos, especially in tighter housing markets such as Burlington's.
Hanford noted that the developers of the former People's United Bank building at 77 Pine Street in Burlington just received a $200,000 state tax credit to convert former office space to 50 market-rate apartments. A similar project is under way in Bellows Falls, where the former Bellows Falls Garage is being renovated into 26 apartments for low-income and workforce housing, including five units for the homeless.
One advantage of such projects, Hanford explained, is that they usually have the necessary infrastructure in place — sewer, water, gas, electric, parking — which can be the most cost-prohibitive and deal-killing components of new construction. And they bring people into downtowns that have lost office workers.
Though both the Burlington and Bellows Falls projects were in development pre-COVID-19, "It's proof that maybe everyone doesn't need a huge office building, but people always need housing," Hanford said. "I'm guessing that we'll see more of this trend."
Don't Head for the Border
Such optimism does not exist in the industrial sector in the Northeast Kingdom, where much of the commercial real estate market relies on goods flowing across the now-closed Canadian border.
"The Northeast Kingdom is a whole different world," said Ryan Pronto, a Realtor with Jim Campbell Real Estate in Newport. "We're always two years behind everywhere else in the state of Vermont."
In Pronto's region, there's never enough real estate work to specialize in just one sector, so he does it all: residential, commercial, office, retail and industrial properties. Since COVID-19, he said, the residential side of his business has been "off the charts." For years, lakefront property moved slowly. This spring and summer, Pronto was doing as many as five closings in one day.
"It's now the hottest thing we have," he said. "We've never been able to say we have a shortage of inventory, ever. We do now."
But Pronto can't say the same for industrial properties. A large percentage of his commercial work comes from Québec-based firms. But even Canadians who are deemed essential workers and have permission to cross into the U.S. have told him they are nervous about the risk.
Cycling apparel company Garneau's U.S. distribution center is headquartered in Derby. The company's upper management team has been unable to head south into Vermont, making it hard for them to oversee day-to-day operations.
Pronto said he's spoken to other companies' executives who would like to invest in or expand their businesses in the NEK but are hesitant to pull the trigger. As he put it, "It's a waiting game right now, with the virus and the election."
Nick Maclure, a real estate agent at Century 21 Farm & Forest in Derby, has faced similar obstacles.
"It's a difficult time to do national business, not to mention international business," Maclure said. Canadian firms are "standing on the sidelines until they can get their feet on the ground and get a better handle on what's available and what suits them."
Future Tense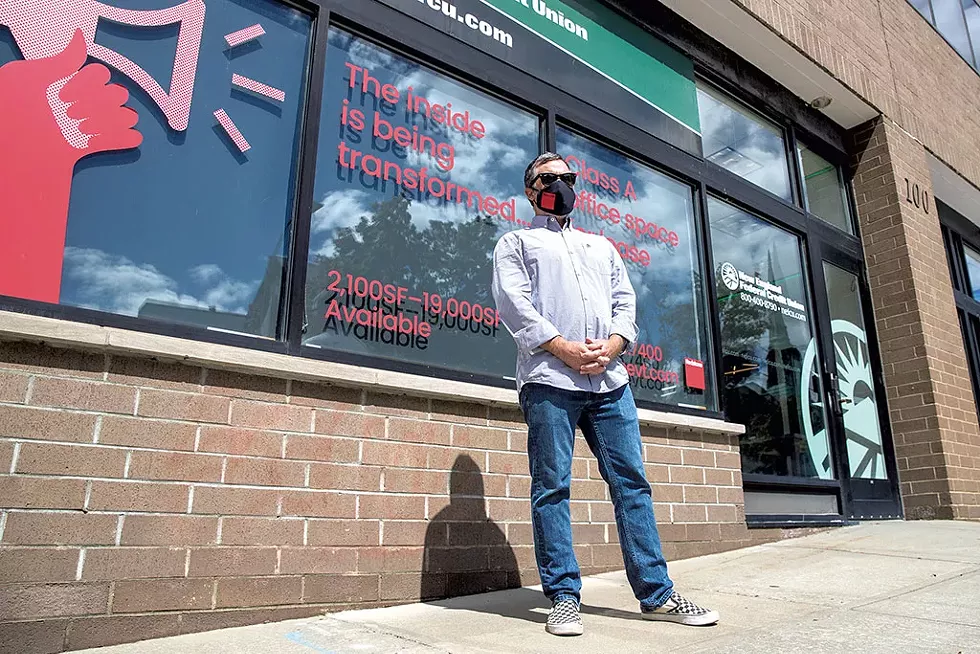 James Buck
Erik Hoekstra
Despite all the uncertainties, eventually the pandemic will end, and Vermonters will return to restaurants, stores and office buildings. But how those places look may be very different.
"This is a situation that's going to take months or years to unfold," said Minor, the commercial appraiser. "The commercial real estate market is more like a cruise ship. It doesn't turn on a dime."
Consider the uncertainties in co-working offices, which exemplify Vermont's values of collaboration, entrepreneurship and shared creative spaces. Now that employees know it's possible to work remotely full time, the state could see more of them popping up as people seek work spaces more suitable than, say, a Ping-Pong table in their basement.
At the same time, constraints around social distancing and the discomfort of workers sharing desks in close quarters could hinder their desirability in the COVID-19 age. At least two co-working spaces — Hinge Studio and Study Hall, both in Burlington — have closed permanently due to COVID-19; and a third, which has not yet announced its plans publicly, told Seven Days that it, too, will close.
Other co-working spaces are retooling to survive. Faith Schumacher is co-working manager of BTV Works, a Burlington co-working space. According to Schumacher, all three of its rooms are now being marketed as private office space for small companies. COVID-19 has forced BTV Works to reduce its total occupancy, so the business is now requiring tenants to rent for at least one month rather than by the hour or day.
"At first, everything was completely dead, of course. But we are receiving a lot of inquiries now," she said. "With all this vacant real estate and companies working from home, this does provide opportunities for people who want to start their own business."
At least one co-working entrepreneur agrees. Gretchen Tarrant is cofounder of MyCube, which plans to offer six private offices and four conference rooms, rentable by the hour or day, in the Champlain Mill starting September 8. The business has space to expand but is abiding by Vermont Department of Health guidelines of no more than one person for every 100 square feet.
MyCube's ribbon cutting this week may seem ill-timed, but Tarrant believes that, with so many offices closed and students learning from home, people want space where they can close a door and get things done.
"Our model is tweaked somewhat toward the privacy people want, whether COVID is part of our reality or not," Tarrant said. "Obviously, Vermonters have a lot to worry about right now without adding 'Where do I work?' to the list."
As for the fate of traditional offices, many experts predict they'll never go back to the days before Zoom meetings and Microsoft Teams.
One of Chittenden County's largest office tenants is the University of Vermont Medical Center. When the pandemic hit, the hospital sent a significant portion of its workforce home to work remotely. As president Dr. Stephen Leffler noted back in May, the hospital was bursting at the seams pre-COVID-19 and didn't have enough office space to accommodate all of its staff.
With the rapid adoption of telemedicine — remote, internet-based medical visits — which advanced by years in a matter of weeks, Leffler predicted that staffers working remotely will become "the new normal, and probably in significant numbers."
But not everyone expects that trend to continue across the board.
"My belief is that people are going to get sick and tired of working from home," said Bradley at Pomerleau Real Estate. "They'll be like, 'Thank God we're back in the office! Let me close the door and have some peace and quiet!'"
Frank Cioffi, president of the Greater Burlington Industrial Corporation, agrees. Cioffi suggested that, if COVID-19 lasts longer than expected, it's possible that some companies will need more office space in order to accommodate social-distancing guidelines.
"We've all been Zooming our brains out and Microsoft Teaming it,and there are certain efficiencies in that," he said. "But eventually we all have to get back out there again and work face-to-face."
At the commercial real estate firm Redstone, which manages about 1.5 million square feet of commercial properties, managing partner Erik Hoekstra said his commercial tenants are paying their rents and appear to be staying put, at least for now.
"Big picture, I'm not freaking out," Hoekstra said. "I'm optimistic about the future and that we're going to find a vaccine and get through this health care crisis ... But I think this is going to be a long, cold winter."