Marriage, as many a spouse will tell you, is a series of negotiations — not just about who does the dishes, but about how two individuals can become part of a two-person, mutually dependent team. It can be a difficult dance, even for the most lovey-dovey of lovers. To sustain a marriage, partners have to work together.
The six Vermont couples profiled here have taken that maxim farther by literally working together. They co-own their respective businesses, thereby bringing the definition of "partner" to a whole other level. In their conversations with Seven Days, these partnered partners shared their strategies for running successful businesses while maintaining their personal relationships.
Bob Heffernan and Allen Zeiner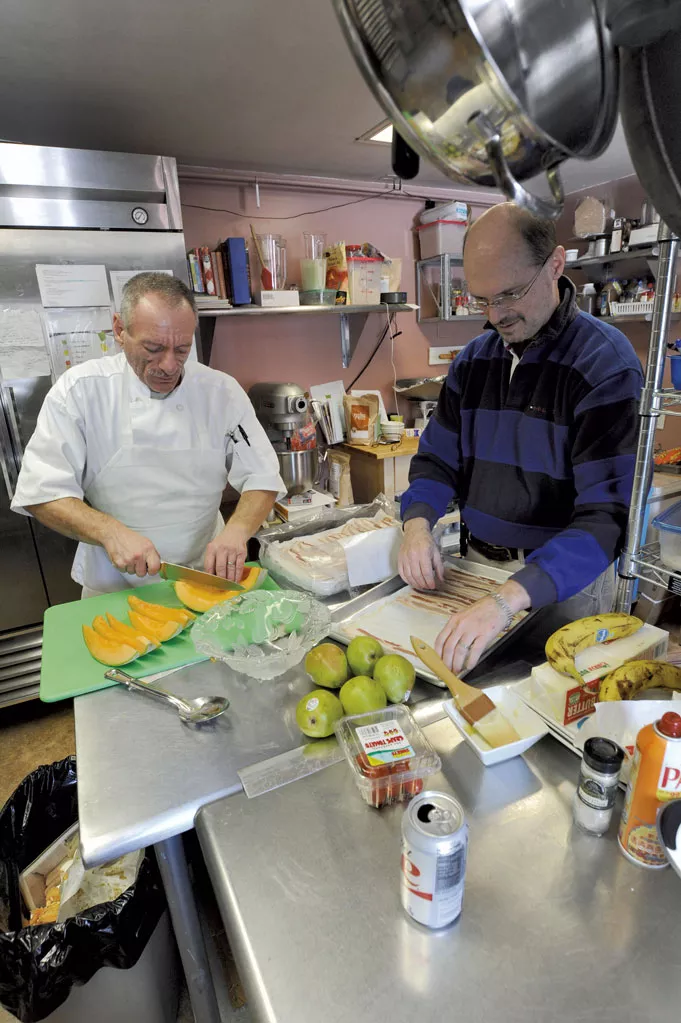 JEb Wallace-Brodeur
Allen Zeiner and Bob Heffernan
White Horse Inn, Waitsfield
The old carousel horse in the lobby lets visitors know they've arrived in the right place. White Horse Inn sits at the base of Sugarbush's Mount Ellen ski area, its 26 rooms hosting skiers and other tourists year-round. When Bob Heffernan and Allen Zeiner purchased it in October 2013, the inn had been vacant for two years — and they'd been married for eight.
Technically, they'd started with a civil union granted by the State of Connecticut in 2005; in 2008, with the passage of that state's same-sex-marriage legislation, the union became a full-fledged marriage. Just as their partnership was "upgraded," as Heffernan jokingly puts it, the couple upgraded the inn that now provides their livelihood.
Given the two men's skill sets, innkeeping was a natural career choice. Zeiner, 52, has a culinary degree from Johnson & Wales University, where he specialized in baking; at White Horse, "Chef Allen's pastries" beckon from glass cases on a sideboard in the lodge. Heffernan, 59, spent seven years helping his godmother run the Red Inn in Provincetown, Mass. At White Horse, Zeiner prepares guests' breakfasts every morning; Heffernan performs more of the managerial tasks.
"Before we signed papers [to buy the inn]," Heffernan says, "we had long talks: Would our marriage survive the test? Can we do this without strangling each other?" Ultimately, they realized that their skills were complementary, and that having two discrete domains was a blessing.
Still, Heffernan says, neither of them will "make a move without consulting the other." Their joint business decisions seem to have been good ones, as White Horse hosted 5,378 guests last year: Heffernan knows the number by heart.
Finding time to nurture their personal relationship can be tricky, he says, especially in a 24-7 business like innkeeping. On busy workdays, they make a point of having lunch together, when Heffernan will often read aloud to Zeiner from the newspaper. Throughout the day, they keep in touch via text message. "We can't find each other half the time!" Zeiner says.
Heffernan sums up their formula for making the partnership work: "If your love for each other overpowers everything else, it'll stand the test of even the most stressful business."
Keeping those day-to-day stressors in perspective is important, too. "Nobody owns a business forever," as Heffernan puts it. "There is life after your business."
Kelly and Ricky Klein
Courtesy of ricky klein
Ricky and Kelly Klein
Groennfell Meadery, Colchester
Vermont imbibers know their state as one of the centers of the craft-beer revolution; hard cider, too, has made major libational inroads here. Following on the heels of those trends is the local artisanal mead industry. The husband-and-wife team of Ricky and Kelly Klein, who own and operate Groennfell Meadery in Colchester, is leading the charge.
"The easiest way to think about [our division of labor]," says Ricky, "is that she can fire me, but nobody can fire her." That's because Kelly, 27, is the CEO of both Groennfell and its parent company, Vermont Craft Mead. Ricky, 29, is Groennfell's head mead maker and undertakes most of the hands-on tasks of brewing. He does not appear to be in jeopardy of termination by his spouse.
The couple, who have been married for three and a half years, first discussed the idea of a co-owned business at an unlikely juncture: on their honeymoon. How did their post-nuptial conversation turn to the operation of a meadery? "We were in Norway!" Ricky answers easily — the land of the midnight sun and of fermented honey drinks. Thus was hatched a new Vermont business based on an old Viking beverage.
For most of Groennfell's two-year existence (one year of prep, one of operation), it's been a two-person show. Though it's "all hands on deck" on bottling and brewing days, Ricky spends most of his time with the brewing equipment, while Kelly spends hers in the office. As the business has grown, in fact, they've found that their jobs have overlapped to a smaller extent. And that's fine with them. Ricky credits the success of their marriage to precisely that separation of tasks.
Last October, the couple took on two employees and an intern, a step that Kelly says has further delineated the personal and the professional. "I think having other people work here is really good, because finally there is a difference between who we are at work and who we are at home," she says. Still, she admits, it's sometimes difficult not to talk about work after hours.
"We get along better than almost any other couples we know," Kelly says, in large part because each partner trusts the other with his or her respective area of expertise. Asked if they worry about spending too much time together, Ricky turns to Kelly. "I never get sick of you!" he declares.
Kelly laughs and replies, "That's weird, isn't it?"
Louisa Conrad and Luke Farrell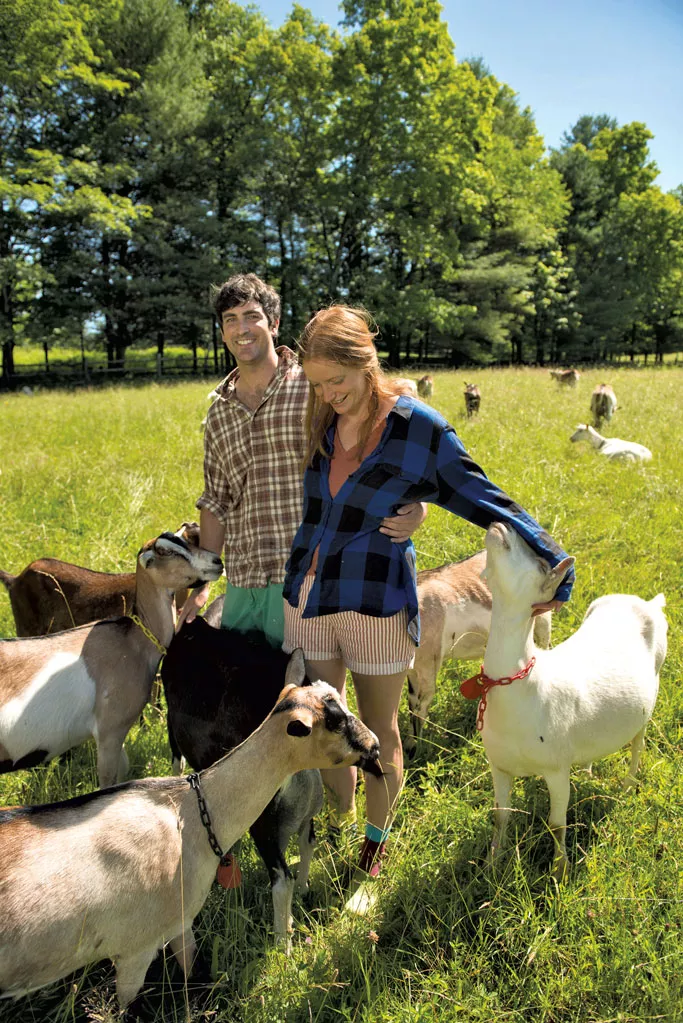 Courtesy of ALISSA HESSLER
Luke Farrell and Louisa Conrad
Big Picture Farm, Townshend
Louisa Conrad and Luke Farrell have been life partners for almost exactly as long — four years — as they've been business partners. Only for the first month of their marriage did they not co-own Big Picture Farm, a dairy goat enterprise on a hill just north of Brattleboro.
Farrell calls it "the glory month," but he's kidding. This couple revels in living and working together. He jokes that, because he and his wife probably spend twice as much time together as other married couples do, their upcoming fifth anniversary will be more like their 10th.
Their enjoyment of joint labor has extended to all kinds of projects. Conrad, 32, is a visual artist; Farrell, 33, a poet. "We've always collaborated," Conrad says, interrupting her preparation for last week's snowstorm to speak to Seven Days by phone. "That's something that has always drawn us together." The pair never set out to run a farm together, but their preference for collaboration drew them toward dairy farming. That and a love for goats.
"Our real interest was cheese making," says Farrell. "We had hung out with sheep before and knew a little bit about it. But goats are so dang expressive and playful, and their default nature is to engage you, whether in mischief or affection or anger or frustration. They're just such loving creatures, so easy and fun to be around. Once you're around them, you want to stay near."
Even for a couple who loves to work together — they describe themselves as co-supervisors, each tending to particular workplace domains — the establishment of "work-life balance" has been important, Farrell and Conrad say. "You're constantly negotiating, constantly taking on the perspective of the other," Farrell says. "Over time, you've identified the differences so many times that you use them to become closer together, and manage those differences more easily."
When problems arise on the farm, Conrad says, "It's really nice to have the support of someone who knows you so well, to know that it was just a bad day, and that we can get through this."
Bill and Christine Snell
Courtesy Of Bill And Christine Snell
Christine and Bill Snell
Tourterelle, New Haven
Co-managing a restaurant initially presented unique challenges to the marriage of Bill and Christine Snell, who own and operate Tourterelle, a restaurant and three-room inn in New Haven. The restaurant business, says Bill, "is super high stress; you're just not used to saying, 'please' and 'thank you.' But that just doesn't work when you're working with your spouse. There were some major fights about that."
Now, two restaurants, three kids and 16 years into their marriage, the couple has worked out ways to maintain a respectful, loving relationship while running a taxing business. Like other couples interviewed for this story, Bill and Christine make top-level decisions together, but each maintains a distinct principality in their restaurant's kingdom. Bill, 44, cooks and carries out any construction projects; Christine, 43, designed the restaurant, manages finances and oversees front-of-house operations.
"We respect each other and don't step on each other's toes," says Bill. "I don't think it would work if we were both chefs." Christine adds, "It's important that we have that good connection. If we don't have that, then everything falls apart."
Residing at their place of business can make it hard to separate work and home. "It's all in here, all the time," Christine says between sips of café au lait at Tourterelle's bar. "We can never really detach ourselves from the business." She says her husband is better at establishing boundaries, while she still finds it challenging.
Another restaurant-specific challenge: Bill readily admits that Christine "is the boss, absolutely," but he acknowledges that, as the chef's wife, she does not always get the credit she deserves. "I get to hide in the kitchen," he says, while Christine does the hard work of running the business. Both say they've been careful not to allow that disparity to affect their personal relationship.
"Marriage is work, and everybody knows that," Bill says. "I don't care if you have the best marriage in the world — you still have to work at it to make it great. And to actually work with the person you're working on the marriage with, that brings it to a whole different level."
Tessa and Torrey Valyou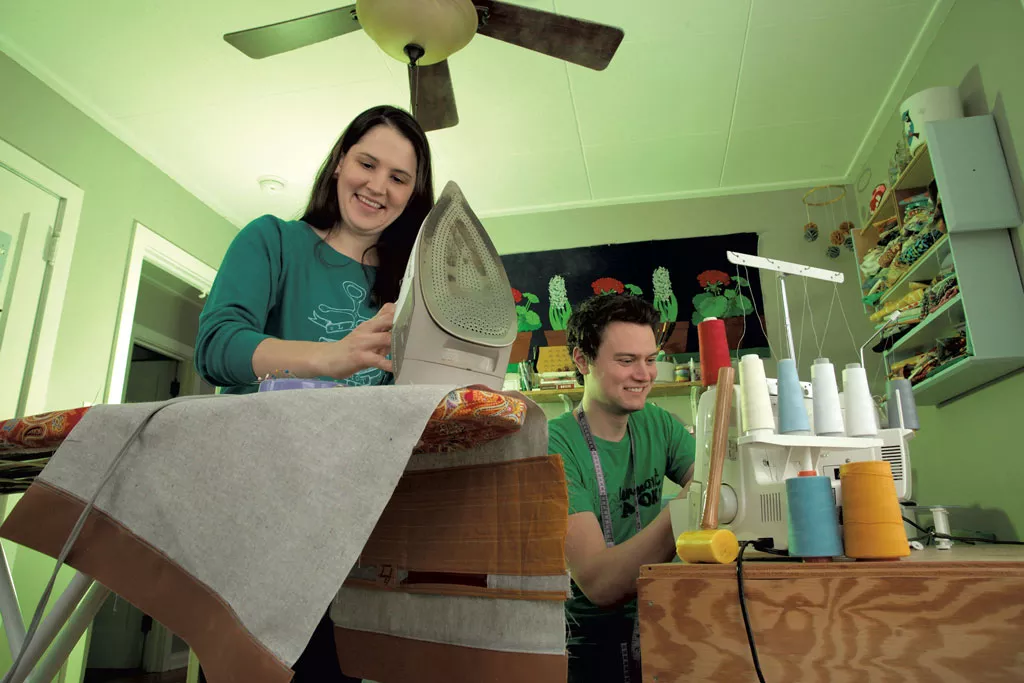 Matthew Thorsen
Tessa and Torrey Valyou
New Duds Screen Printing & Illustration, Winooski
Though they're just 31 and 30, respectively, Tessa and Torrey Valyou, the married co-owners of New Duds Screen Printing & Illustration, have been together for more than a decade. That's nearly as long as they've had the idea of going into business together.
The couple met at the University of Vermont in 2003; around that time, Torrey took a class in screen-printing and knew it was something he wanted to do professionally, he recalls. The pair launched New Duds in 2008, during their engagement; they married the next year.
Husband and wife collaborate on their products' designs, but the overlap tends to stop there. "I think we've learned that, for a smooth business relationship, we should both have roles and to stay out of each other's business," says Tessa. "Because whenever we're doing the same task, we tend to butt heads a little more." Tessa handles the sewing and various managerial tasks; Torrey does the screen-printing.
But personal matters have arisen to blur those professional distinctions. "It's kind of fluid at the moment because we have two small children," Torrey says. He's often in the shop while Tessa is home with the kids. The birth of each child has coincided with New Duds taking on a new employee — no coincidence. Says Tessa, "I think having kids made us realize that we had to bite the bullet and..." Torrey finishes her sentence: "...not work 12-hour days."
That's not the only way the couple has found home life and work life overlapping. "The more the business grows, the more our life goals are achieved," Torrey says. "We never wanted to be a big business, but we did want to get to the point where we have a comfortable home life."
For that reason, New Duds has begun taking on more custom printing jobs: They mean higher rates and profit margins, which translate into more comfortable lives for the business owners. Which is a big reason why anyone, married or otherwise, goes into business in the first place.