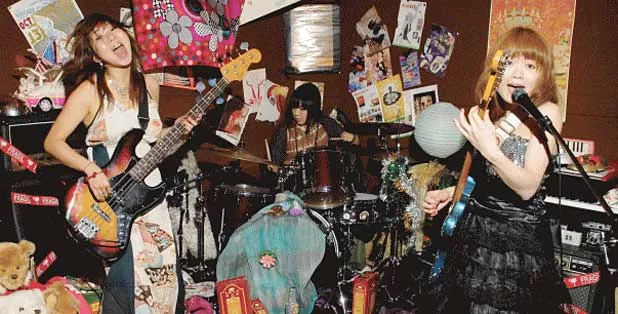 Konichiwa, folks. This week, the Onion City will be turning Japanese - I really think so - as Tokyo's all-girl avant-punk outfit Tsu Shi Ma Mi Re (pronounced sushi-mah-mee-ray) storms Winooski's Monkey House for an evening of pure, unbridled rock, Far East style. Far out.
The band's current U.S. tour marks at least the sixth time they've been stateside. And the Tuesday, September 30, show will actually be their second Vermont visit. Last year, TSMMR reportedly played an impromptu gig at Radio Bean. Unfortunately, I wasn't there - and, given the Bean's cozy confines, I'm guessing most of you weren't, either. But the Cave Bees' Rebekah Whitehurst was. Here's what she had to say on the matter: "Honestly, I've never been rocked so hard in this town." Well said, Rebekah.
The high-octane power-punk trio - who appear to have some sort of mysterious connection to The Powerpuff Girls beyond merely resembling them - is chronicling their current journey with - what else? - a blog diary. I'm guessing they're having a good time. Check it out: "今ホテルのフリー朝ご飯をみずえと食べてます。
ブライアンに、何で早起きしてまでホテルの朝ご飯を食べに行くのかわからないぜ!なんて言われるのも無視してます"
So, yeah . . . there you have it. Ahem.
In all seriousness, this is one badass band and puts much of what passes for "punk" these days to shame. Looking at you, Vans Warped Tour. Furthermore, they'll be joined by two of Vermont's most rockin' offerings, the aforementioned Cave Bees and the enigmatic James Kochalka Superstar.
I LOVE A PARADE
Actually, I've never really liked parades - I'm not a big fan of slow-moving processions or being pelted with candy. I do, as regular readers know, love a spectacle. And few folks in Vermont throw one quite like our good friends at Montpeculiar's Langdon Street Café.
This Saturday, Ed DuFresne and Co. are unleashing the weekend-long "Army of Fun Street Festival" in and around the kooky coffee house. Things get under way with a parade starting from the Farmers' Market at 1 p.m. I'll likely skip that and just make my way to the Street Stage to catch jazz-folk outfit Paris Bathtub and Jenny the Juggler - the latter bills herself as "Boston's only professional female juggler." It's good to find your niche.
The slate of performers is eclectic and full, pretty much straight on through Sunday evening, and includes - among many, many others - Afro-popsters New Nile Orchestra, local Latin-folk outfit Amapola, Session Americana, Montpelier's own Sara Grace and The Suits, Amherst's Rusty Belle and a local punk-grass outfit called the Prodigal String Band.
(Funny story about that last group. A few weeks back, I received a voice mail from - I am not kidding - Grace Potter's mother. As I listened, I squeamishly wracked my brains trying to think if I had recently written anything unseemly about her starlet offspring. As it turned out, she was calling to implore me to check out Prodigal String Band that night at Club Metronome - or Nectar's, I forget which. I couldn't go. But I did peruse the band's MySpace page. And you know what? She was right. They rock.
So, the lesson of the story is this: If you want me to check out your band, have Grace Potter's mom call me.)
Back to the topic at hand. In addition to those bands - and many others! - there is also an embarrassment of quirky theatrical riches, including puppet shows, dancers, street performers visual artists and, of course, a beer garden - and maybe Grace Potter's mom. For a full schedule of events, visit www.langdonstreetcafe.com.
I WAS SOOOO WASTED
That's a fairly common refrain heard 'round these parts as college is back in session and Burlington's favorite fall sport is once again in season: binge drinking. Gotta love college towns. Or not.
Anyway, those looking to get away from the din of obscenely drunk students downtown should head to Colchester this Saturday and experience the all-ages - i.e., no booze - post-rock blowout at Wasted City Studios . . . ironic, no? Actually, no.
The lineup features Purchase, New York, emo/post-whatever up-and-comers Moving Mountains, local post-rock Cancer Conspiracy acolytes Vitals, New Jersey's ambient rock outfit Delft, Westchester indie electro-pop kids Supersuit and reggae-rock-hip-hop-funk group - wait a minute . . . no, that's right - Elephant Ghost.
OVEREXPOSED
WRUV's long-running live local-music show, "Exposure," will be back in action this week, reclaiming its Wednesday, 8 p.m., time slot on 90.1 FM. But the format will be a little different this year. Rather than broadcasting live from the station's now much smaller studio, bands will record sets at Egan Media, which will then be rebroadcast and interspersed with on-air interviews.
The vaunted series begins anew on Wednesday, September 24, with psychedelic-rock auteurs The Cush, who will apparently unveil new tunes from their long-awaited forthcoming album. In the coming weeks, you can also tune in for appearances by The Villanelles, Red Hot Juba and Pretty & Nice.
SWEET RELEASE
When you spend hours combing through band press releases every week, you find that honesty proves to be an elusive quality - I hereby submit that the word "unique" should be stricken forevermore from PR lexicon. But every now and then I receive one like this from Jamestown, New York's Christopher Bell and Emily Rose: Armed only with a tour poster (featuring adorable cartoon renderings of us), my trusty '97 corolla, our voices and instruments, we will weather long drives, high gas prices, bad food, braving incoherent bar flies and lack of sleep to bring our music to the masses and answer those deep burning questions in our souls. Ahhhh . . . thank you. In addition to writing snappy blurbs, this duo can really play - really! Find out for yourself this Sunday, September 28, at Radio Bean or the following night at The Monkey House.
ONCE BITTEN
I've really got to come up with an official name for this rapid-fire section of the column. Mostly, because I'm running out of "bite" puns: "Once bitten" . . . really, Dan? Anyway . . .
Neutral Milk Hotel fans should head to The Skinny Pancake on Saturday, September 27, and check out excellent indie-folk outfit The Accident That Led Me to the World. And no, they're not just a catchy name.
This just in: Legendary folk songwriter Richie Havens will be doing a free in-store performance at Borders in Burlington this Sunday in advance of his Higher Ground Ballroom show later that night. Sweet.
Greg Davis is at it again. This time, he's bringing a trio of improvised music artists to Burlington's Green Door Studio on Wednesday, September 24, including Baltimore's Audrey Chen, Providence duo Eli Keszler & Ashley Paul and Troy, New York's Rise Set Twilight.
I'm happy to report that the Vermont Youth Orchestra is back in action and kicks off its fall series, "Vive la France," this weekend with two performances: Friday at Harwood Union High School, and Sunday at Burlington's Flynn MainStage. And if you need a reason to get out and see some classical music, I'd suggest you turn to page 15B.
And finally, I am delighted to report that last Thursday's "Bands of Burlington" showcase - did you know there are only nine bands in Burlington? Kidding! - was a smash and raised $2400 for The Radiator and Big Heavy World. A hearty thank-you to everyone who was involved, especially the hundreds of people who turned out to support a night of great local music. And for those who couldn't attend, a podcast of the event will be made available online soon. More details to come . . .