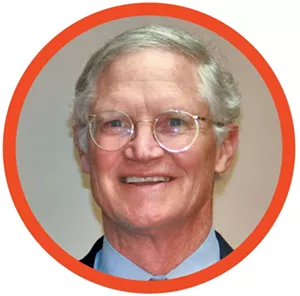 Many families set limits on their kids' candy intake. But on Halloween, all bets are off. Should parents worry about what all that sugar will do to their kids' teeth?
Dr. Charles Bookwalter, aka "Dr. Chuck," a pediatric dentist with Timberlane Dental Group in Burlington, loves the spooky holiday. His advice to parents? Don't sweat the sweets much — provided kids eat the candy in moderation. A bigger problem, Bookwalter says, is kids' year-round consumption of juices and sugary soft drinks, which may explain the results of a recent national survey of dentists showing an increase in tooth decay among preschoolers. This month, Dr. Chuck offers advice for keeping those cavities at bay.
KIDS VT: When should kids first see a dentist?
CHARLES BOOKWALTER: For a number of years the Academy of Pediatric Dentistry, the American Academy of Pediatrics and the American Dental Association have all recognized age 1, or 6 months after the first tooth erupts, as the time to start regular dental visits.
KVT: What do dentists look for at that age?
CB: Believe it or not, some kids are already starting to get some tooth decay, so we want to recognize that early on and halt its progress. Most of the first visit is a conversation with parents regarding proper hygiene, how much toothpaste to use and reviewing kids' fluoride exposure to make sure they're getting the right amount.
KVT: Typically, how old are kids when they start regular teeth cleanings?
CB: That really depends on their coping skills and their ability to sit calmly in a chair and have dental instruments in their mouth. For a rare child, it can be as early as 3 years old. Some are 8 before they're doing that. There's quite a range.
KVT: Many Vermonters get their drinking water from wells, which often don't contain sufficient levels of fluoride. If kids use fluoride toothpaste, is that sufficient, or should they take supplements?
CB: Before taking any fluoride supplements, we have to check to see what their total fluoride exposure is like: Do they go to daycare where there's fluoride in the water? Do they go to Grandma's house where there's fluoride in the water? The State of Vermont does a well-water test to confirm how much fluoride is in the water. Kids who are at a higher risk for tooth decay due to lack of exposure to fluoridated water can be prescribed chewable fluoride pills.
KVT: Are some kids genetically more prone to tooth decay than others?
CB: There are some genetic situations, which are very rare anomalies, in which the teeth and the enamel don't form properly. However, the vast majority of decay we see in this state is associated with perfectly good enamel and is due to diet and dental hygiene.
KVT: Is the sugar from fruits and vegetables less problematic than the processed sugar typically found in sweets and junk food?
CB: No. Sugar is sugar, and the germs that cause cavities can really thrive on a very small amount of sugar. However, chewing an apple stimulates our saliva, which has proteins and minerals that protect tooth enamel and prevent tooth decay and gum disease. A fruit drink, which kids just sip on, has a much more cariogenic, or cavity-causing, effect because it delivers a constant supply of sugar that coats the teeth.
KVT: Are there certain candies parents should not let their kids eat?
CB: Tooth decay is all about how often we have sweet snacks, drinks and treats. Halloween is a once-a-year event that kids should enjoy. On the other hand, it's certainly advisable to limit kids' access to those treats throughout the day and serve that treat as a dessert rather than let them graze on it all day. Tooth decay is an infection process, and the germs that cause cavities thrive on carbohydrates. The moment you eat carbohydrates of any kind, those germs are producing an acid for about 20 minutes, and then it goes away. So, grazing on sweets maintains this high acid level in the mouth, which removes minerals from the teeth. Saliva has reparative factors that can halt that damage.
KVT: What are the benefits of tooth sealants?
CB: Sealants are typically applied into the deep grooves of permanent molars. If you look at large groups of kids who have not had sealants, about 80 percent of them have had one or more cavities in those chewing surfaces. Whereas if you look at a large group of kids who have had sealants, it's almost the exact opposite statistic: 80 percent or more are decay-free in those teeth. The insurance companies realized in the early to mid-1980s that it was far cheaper for them to pay for four sealants than one filling. When I was a kid, everybody had cavities. We all went to the dentist every six months and we all had more fillings. That doesn't have to be the case anymore.
Interview compiled and condensed by Ken Picard