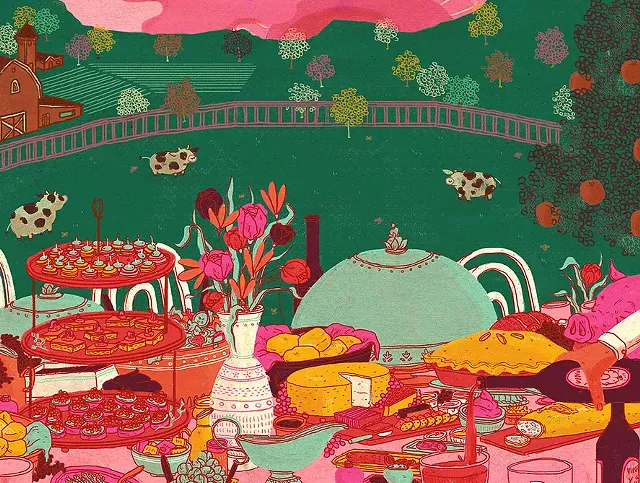 It's October in Dorset. Against a steep ridge in the hills above town, Eben Proft kills pheasants at Someday Farm. He plucks their feathers but leaves their bodies intact, entrails and all.
From here, some of the birds journey 20-odd miles to SoLo Farm & Table in South Londonderry. Others travel north to Winooski, where Misery Loves Co. chef Aaron Josinsky meets Proft at the back door and pays the farmer $22 per bird.
The chef hangs the pheasants in a walk-in cooler. He visits them occasionally and mists their bodies with brandy — "To let them know I love them," he says facetiously — until they're ready to serve.
In December, Josinsky harvests the pheasants' hearts and livers; he lops off their heads but leaves the breast meat on the rib cage. In some cases he'll open the neck, rip out the airway and stuff the esophagus like a sausage. Thigh meat goes into a terrine for a charcuterie plate; some is ground and blended with pork and wrapped in fatty membrane, then roasted as little crépinettes. Most of the birds' bones, legs and backbones simmer in stocks and sauces. The feet will make a jarring presentation.
By midwinter, Misery has pheasant on the menu — plated with preserved July currants from Adam's Berry Farm and softened local grains. The price to the diner? $22. Between sourcing, stewarding and storing the food, the dish took seven months to go from farm to plate.
This intensive, slow-food labor is just one of many challenges of running a modern farm-to-table restaurant.
Since Josinsky gets two $22 plates from every bird, each plate costs roughly twice as much as its component ingredients. While that's less than the traditional restaurant profit margin of 1:3 (buy a tomato for $1, sell for $3), it looks like reasonable food-cost math for a restaurant like Misery.
What that equation hides, however, is that the dish's real equity rests on the back of the chef: By making it himself, he avoids paying a cook — or himself — for every hour of work that went into it.
The price per plate doesn't include a line item for the restaurant's overhead, either. At Misery, operations expenses average $3,883 per day, according to numbers compiled by Laura Wade, who co-owns the restaurant with Josinsky and her brother, Nathaniel Wade. Of that sum, $2,315 covers rent, utilities, payroll and other administrative costs. According to reports from the restaurant's point-of-sale system, Misery sees about 133 guests per day, each of whom spends an average of $28 for lunch or dinner.
Simple math suggests that, on many days, the restaurant's daily income is just shy of, or perilously close to, the break-even point. Some days are better. Some days, worse.
'Harder and Harder'
James Buck
Aaron Josinsky
Misery has plenty of company. Every restaurateur interviewed for this story reported surging costs. And, for restaurants that bill themselves as farm-to-table, those aren't merely the costs of rent, food and beverages — all of which are increasing, particularly in Chittenden County.
Other expenses are dictated by moral imperatives including composting food waste and offering employees benefits such as health insurance, paid leave and livable wages. Some expenditures, including composting and paid leave, will soon be mandated by law.
While the costs keep mounting, menu prices have remained relatively flat since farm-to-table captured the public imagination. Eating out has always been a luxury. How can guests be expected to pay more now, just because the food is local?
Eventually, local chefs suggest, current conditions won't be sustainable. Something has to give.
"It's getting harder and harder," says Hen of the Wood chef Eric Warnstedt, seated in his Waterbury restaurant. "Labor is too high. The cost of doing business is too high."
But like Misery's owners, Warnstedt says it's important to pay employees well and conduct business in a way that will serve the community. "I believe we need a workable space," the chef says, "even if it's not in my best interest." Still, he adds, "That can only go so far, unless we can start charging what we're supposed to charge." That is, something closer to the traditional 3:1 model.
Warnstedt is candid about the account ledger at the Waterbury location: "It rides at zero all the time."
Sure, money comes in. "We'll go up $100,000 at the end of the week," he says. But when payday rolls around, the ledger is back to zero. "It's never like, Oh, we made $5, oh, now there's $6, and we just keep building, building, building.
"I feel like I want my restaurant friends to know that," Warnstedt goes on. "If they're struggling, they're not alone."
With just three years under their belt — compared with Warnstedt's 10 — Misery's owners are working through their growing pains. Each business decision, including their recent choice to stop lunch service after May 8 (Sunday brunches will continue), is weighted with obligation: to their employees and guests, and to their own creative ambitions and finances.
"It's hard because this is our livelihood," Laura Wade says. "A lot of this is guarded information. We're scared, and we have this sheen that, Oh, yeah, everything's great. You don't want to admit that you're in trouble."
During service, Wade is the image of the perfect host. With easy smiles, her team throws a lovely, lively dinner party each night. Inside the restaurant's airy, homespun dining room, guests are treated to everything they've come to expect from a farm-to-table restaurant. The food is fascinating, fresh and sourced from farms that diners can believe in. Ask, and your server will tell you each dish's story. It's food with history and a sense of place.
"The story [of the food] is important," Wade tells Seven Days, sipping a cocktail at McKee's Pub & Grill. "It's a big part of what we do."
The tale begins with high-quality local ingredients, but it takes compelling form in the details: A gnarled pheasant foot pierces a butter-basted crépinette. Crackers made in-house with hand-milled, dehydrated grain taste of a brisk and sunny September afternoon.
Those ingredients come to Misery from farmers, who call to offer extra-sweet turnips or a new variety of tomato. The price is often twice what a national commodity grower would charge, or more. But the farmers rely on chefs to buy their produce, and the chefs need farmers to keep sending it. Each relationship is charged with a constant give-and-take.
What if a farmer wants to sell a box of veal organs and the chef doesn't want them? "As a chef, I don't know how to say no," Josinsky admits. "There's always a tremendous amount of guilt."
Those relationships are part of what farm-to-table diners pay for. Yet, as a well-circulated Tampa Bay Times story revealed last week, many "farm-to-table" chefs lie point-blank about how much local product they buy.
That's not a big problem in Vermont, where agriculture has formed the backbone of many communities for centuries. What's more, the Vermont Fresh Network holds many restaurants accountable for their sourcing claims.
With a mission of getting more local food on plates statewide, the nonprofit organization requires its 220 member restaurants to source at least 15 percent of their food from member farms. Chefs within VFN's network — who include some but not all of this story's interviewees — must report how much local produce they buy. VFN confirms those numbers with the farmers, so when guests enter a member restaurant, they know they're getting the real deal.
The difficulties of local sourcing aren't lost on VFN executive director Meghan Sheradin. "People expect that the chef is so much more connected to their food and their food source," she says. "It's added this whole layer of difficulty to the industry. It adds so many more steps to the process."
Planning and Purchasing
James Buck
Laura Wade
Can chefs continue to negotiate all these steep, sometimes conflicting demands and expectations? Warnstedt offers a dark forecast for the small, neighborhood farm-to-table restaurant. "Over the next 20 or 30 years," he says, "[restaurants such as] Hen of the Wood are going to go away. There's just not money to be made, so why would people invest in that?"
But in Montpelier, Kismet chef Crystal Maderia has a rosier view. "[Our seats are] full, and we're doing really well," she says via phone.
Maderia says meticulous planning is key to her success. She spends most of a day each week tracking every cost, from ingredients to dry goods to labor, and projecting the week ahead.
"A lot of work goes into preparation," the chef says. "My sous chef and I spend about eight hours just planning the next week. We review every employee every week. We go over all of our profits and losses — every week."
If the numbers aren't jiving, Maderia works more — often 100 hours weekly — performing tasks from prepping food to serving to accounting. "I am really the engine that will moderate the stability of the restaurant," she says.
When Maderia's regular source doesn't have a particular ingredient, she might turn to another farmer, who may demand a different price. "Sometimes we'll modify a recipe. Basically it's just sitting at a table with notebooks and computers and combing through everything," she says. Whether it's on the books or on the plate, the chef accounts for every fluctuation.
At larger operations, economies of scale streamline these processes.
"As we've gotten bigger and stronger as an organization," says Skinny Pancake co-owner Benjy Adler, "we have more resources to dig deeper to solve problems."
Adler and his brother, Jonny, opened their first restaurant in 2007; now they have five in northern and central Vermont. When Adler started building his next location in Hanover, N.H., he promoted longtime employee Brittany Sperber to the role of local food coordinator.
Sperber was tasked with finding farmers to service the new location, which is about an hour and a half from the company's base in Burlington. "As we move into the Upper Valley," Adler says, "she's been helping us source foods specific to the area. We have specific relationships with new farmers for products like mesclun mix, because we like to keep it local."
The Burlington-based Farmhouse Group is four restaurants strong and represents a major market for several local farms. Company president Jed Davis created a purchaser role about a year ago. "As we grew, we needed to get out of the herding-cats game plan with purchasing," he says.
In addition to keeping up with the farmers, Farmhouse's purchaser works to project the group's needs. The benefit is twofold: Restaurants ensure their walk-ins are stocked, and farmers can plan to fill those orders. "Hopefully that makes the [farmer's] life a little more predictable," Davis says. When it comes to managing the logistics for a farm-to-table restaurant, "that's the kind of effort I've seen that it takes," he adds. "It's a full-time, salaried person."
Right now, the Skinny Pancake has an egg problem. "There is nobody local that can supply enough organic, cage-free eggs," Adler says. "So we've been exploring this idea of putting it out there to some local farmers: 'Do you want to grow your egg operation or expand your egg operation?' We can employ 3,000 chickens for years." Such a commitment could yield mutual benefits: The farmer grows, and the Pancake gets its eggs.
Similarly, when the Farmhouse Group needed improved access to produce, it helped finance new greenhouses at Jericho Settlers Farm. The farm got new, season-extending infrastructure, while the restaurants got fresh produce for more months out of the year. "They rely on us, and we rely on them," Davis says of the relationship.
Larger restaurant groups have more money to invest in such arrangements, of course, but Sheradin of VFN says the vested partnership is increasingly common, even at smaller operations: "Restaurants are investing with their farm-partners in ways we've never seen before."
At Kismet, Maderia pays farmers a premium to grow special ingredients just for her. "We don't pay them wholesale prices," the chef says. "We pay them retail prices, and everybody wins. I get ingredients that no one else has, and the [farmers] get a fair price. And my customers get an experience they won't find anywhere else."
Elsewhere in Montpelier, Suzanne Podhaizer (a regular Seven Days food contributor) closed her restaurant, Salt, last fall after five years in business. Midway through her tenure, Podhaizer realized her restaurant could have a greater impact if she concentrated sourcing to a few producers.
"I went from wanting to support a ton of tiny farms to supporting fewer farms," she recalls. Instead of spending $50 at seven farms per week, she'd spend $350 at one that offered the best product, price and ethical value for her dollar.
During that time, the chef-owner and her then-partner raised geese at Provender Farm in Cabot. Podhaizer served the fowl at her restaurant, to much acclaim. "It was exciting," she recalls. "People came to Salt because there was goose on the menu and they knew I raised it and cooked it. It made the story better."
That story helped sell the food — and enriched the experience of eating it. "When you have a really good story and intense relationship with the farm, that translates," Podhaizer says. "It kind of unravels the mystique in a way that's pleasing."
But not necessarily viable, financially. Having purchased the geese from her own farm, Podhaizer personally cooked and prepared them — and didn't bill that time to the restaurant. "Those dinners did do well in part because my goose-farming partner and I donated our time," she says. "We were willing to hang out in the kitchen and make six goose courses. So that was a little bit false, in that it looked like we were doing well."
Even when a meal breaks even on costs, the balance sheet doesn't tell the whole story. When the chef can't pay herself, the restaurant's survival becomes a question of, How long can I keep this up?
And therein lies a big piece of the problem. At Hen of the Wood, Warnstedt says he "took home $30,000 per year for longer than I care to say." Even now, with three restaurants, "My salary is not that much more than the highest-paid person here," the chef reveals.
In Winooski, Misery's owners make do with whatever's left after they pay their employees and bills. "I'm obviously not in the business of making money," Josinsky says, looking exhausted over cocktails at Juniper. "So what am I in the business of doing?"
Farm-to-Table Futures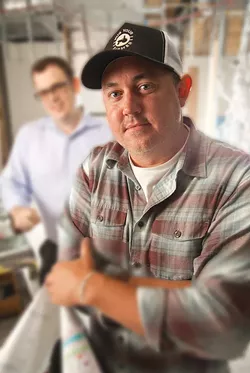 Matthew Thorsen
Eric Warnstedt
Local-food sourcing makes better business sense at the highest echelons of fine dining, where guests pay $120 or more per plate. But most of Vermont's farm-to-table restaurants offer a more casual, neighborhood-joint experience. And diners expect a casual price point.
Warnstedt wonders what the future of Vermont farm-to-table might look like.
Maybe, he muses, the answer lies with large restaurant groups such as Farmhouse and the Skinny Pancake, which can staff up to manage the bottom line. Another solution might be a smaller, community-driven model in which friends support each other.
"Maybe it's, The bakery is there, that farmer and fermenter is there, the vegetable guy is here," Warnstedt says. When the buck passes from hand to hand in a closed, circular system, margins remain low — and so do costs. A single dollar can service many needs.
Or maybe, he continues, long-term sustainability lies in restaurants concentrating their hours to fewer days per week. That would reduce overhead such as food inventory and labor costs. It would also allow more day-to-day flexibility with menu planning, and chef owners could cut back on the number of hours they personally work.
At Misery, Josinsky wonders if even tighter farm-restaurant partnerships might help, enhancing the individuality of each restaurant and the diversity of the food community. "Maybe we need to have a restaurant tied to every farm," he suggests. "Like Shelburne Farms or Blue Hill at Stone Barns."
Podhaizer agrees. "If restaurants can start to look more different than one another — and farms can start looking different from one another — we can all be more successful," she says.
But even a wealth of restaurant-and-farm models would require consumers to open their minds to varied ideas of what a dining experience might look like — and what a menu can be. Your favorite tomato-basil salad might only be available in late summer. Maybe your reliable Friday-night date spot will adapt its hours or menu to the season, shifting to a tasting menu in winter when fresh produce is scarce.
"This all goes back to consumer flexibility," Podhaizer says. "If consumers are willing to let the restaurants change their menus every time the fun produce changes, we can be adaptable. But when people are mad that you can't make the same thing [they ate] last time, it's asking farmers for something that's less in-season. You [end up] buying cilantro that doesn't taste as good as it did a couple weeks ago, before it started to bolt."
Consumer readiness is on Josinsky's mind, too. For local sourcing to work, he says, people need to let go of "this idea that we need to have the [Rough Francis chicken] sandwich every day."
Why? "There needs to be a chicken season and a lamb season," the chef says. "Pastured chickens are only available during three months of the year [in Vermont]. That's the real truth of farm-to-table."
At VFN, Sheradin wonders if consumers are ready to forgo the consistency they've come to expect when eating out. "We as a society care more about where our food comes from than we did 20 years ago," she says. "We've built this professional rapport between these farmers and these chefs. But does the general public value that in the food system?"
While farmers can draw support from entities such as the federal and state departments of agriculture, university extension programs and dozens of nonprofits, restaurants depend entirely on their patrons to stay alive.
"We need consumers to really prioritize and engage with this," Sheradin says. For her part, she adds, "I'm the person who wants to go to the restaurant and hear from the waitress where it was grown and where it's from. But does everybody?"