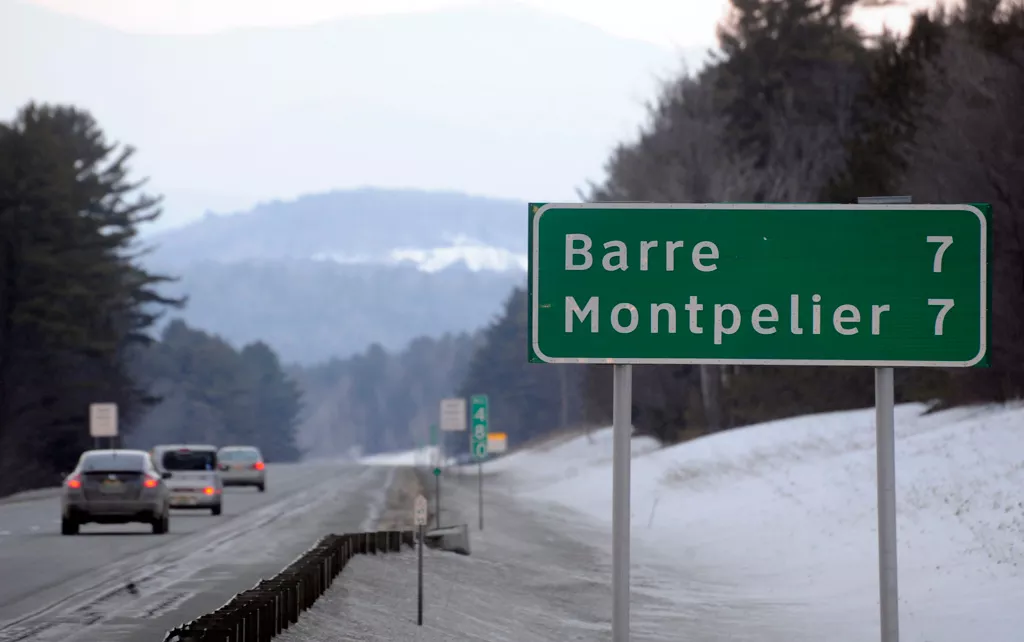 I'm intimately familiar with Interstate 89 — or at least I like to think so. A few days a week, I drive from my home in Lebanon, N.H., to Burlington, a 195-mile round trip that takes me through the highway's varied ecosystems. There's the scary drop-off near mile marker 19; the lonely and often snow-whipped wilds between Exit 4 (Randolph) and Exit 5 (Northfield); the straightaway near Bolton where everyone races; and the two quasi-hidden pull-throughs near Williston where the state police hang out with speed guns.
During my dozens of hours on I-89, I've pondered a few enduring mysteries — questions that appear to have irked some Seven Days readers and staffers, too. For instance: A road sign near Quechee lists Barre as 51 miles away and Montpelier as 53 miles. Yet, near mile marker 47, a sign informs us they are each seven miles distant. WTF?
When we discussed this conundrum during a recent editorial meeting, it opened up an interstate-inspired can of worms. Colleagues called out more questions:
Why do some towns far from I-89 — such as Vergennes — appear on exit signs, while other towns of similar sizes and distances don't? Speaking of Vergennes, why are northbound drivers told to exit for that town not at what seems like the logical place — Exit 11 in Richmond — but instead at 189? Why are there mile markers every 0.2 miles? Which stretch of I-89 has the most accidents?
To answer these burning questions, I emailed folks at the Vermont Agency of Transportation. Erik Filkorn, VTrans' public outreach manager, replied quickly and was eager to unearth answers from the various corners of his agency.
First, some CliffsNotes: Construction of this highway where I spend so much of my life began in the late 1950s, as part of President Dwight D. Eisenhower's push to build a system of interstates across the country. I-89 was blasted and paved in 39 sections over the course of 24 years. The first stretch, between Montpelier and Middlesex, opened in 1960; the last, between Swanton and Highgate, in 1965. Over those decades, I-89 gobbled up scores of homes, farms and wetlands. (Its sister road, Interstate 91, also claimed a human life: Ascutney farmer Romaine Tenney killed himself in 1964 as the highway was blasted through his land.)
In light of the drama of I-89's construction — and the way it reshaped sections of the state — some of our logistical questions may seem insignificant. Yet our curiosity remains: Why does a sign list Barre and Montpelier as equidistant from northbound mile marker 47, when we would expect to find Barre closer at that point?
The answer came from Mary Spicer, the highway research manager at VTrans. "There are two exits a driver might use to get to Barre, Exit 6 and Exit 7," she wrote. "South of Exit 6, the distance to Barre [via Exit 6] is two miles shorter than the distance to Montpelier [via Exit 8]. North of Exit 6, the distance to Barre [via Exit 7] is the same distance as the distance to Montpelier [via Exit 8]."
Around the mile marker, then, the road curves in such a way as to be equidistant from the two towns. So it's all about geometry. Yet when we inquired why some far-from-the-highway towns show up on certain exit signs — such as Bristol at Exit 12 and Vergennes at Exit 13 — the answer was all about logic.
Spicer explained in slightly bureaucratic terms: "The towns selected to be on the primary guide signs ('Exit 1 mile,' 'Exit 1/2 mile,' 'Exit Next Right,' etc.) are typically the major destinations on the state highway accessed by that exit. Most exits also have a supplementary guide sign, which might list other towns accessed from other routes that intersect the primary route, or any of several types of destinations allowed under state sign statute (10 VSA 494(6)), such as colleges or airports. Signing for Vergennes, for example, helps drivers who are headed for VT 22A understand that Exit 13 is the correct exit for this major truck route."
Equally logical was Spicer's explanation for the 0.2-mile interval markers: The signs help emergency responders find accidents and other mishaps, such as roadkill. Spicer also pointed out something I'd never noticed: "There are smaller, delineator-size markers at 0.05 mile intervals, but these are difficult to read at highway speeds."
All of this heavy signage can get expensive: The 2011 cost of installing mile-marker signs along the entirety of I-89 was roughly $190,000, or about $110 per sign, according to VTrans.
Those road signs help responders find accidents — but where do most of the accidents occur? Again according to VTrans, the segment of I-89 between Exits 10 and 11 (Richmond to Waterbury) notched up 76 crashes in 2013 — a truckload for a 12-mile stretch. The runner-up was the passage between Exits 4 and 5 — Randolph to Northfield — with 67 crashes. (These two locales tend to see some of the worst winter weather.) In third place? The stretch of road between Colchester and Georgia, with 44 bang-ups.
Some of my colleagues' other queries — where can drivers gas up after midnight on I-89? Where can they take a pee break between the Sharon and Williston rest stops? — were no less pressing, but not quite of a caliber to be fielded by VTrans. As a frequent traveler, I have the answer to question No. 1: Randolph or Waterbury. As for No. 2: You're talkin' a 65-mile stretch. If nature calls, you'll have to get creative.
Outraged, or merely curious, about something? Send your burning question to wtf@sevendaysvt.com.