Matthew Thorsen
Gabe Cohn
May 28 is the start of birthday season in the Cohn family. This was the date, in 1992, when Samuel Mariano Cohn, the family's middle son, was born. "Birthday season" is what his mother, Diane Mariano, calls this time of year.
Next up is the birthday of Gabe Cohn, who will turn 22 on June 9. The oldest Cohn son, Max, was born on June 17, 1988. He's almost 29.
When each Cohn baby was born, their father, John Cohn, made a big banner from sailcloth to announce the birth. He hung each celebratory sign from the 65-foot-high bell tower of the family's home in Jonesville, a big converted schoolhouse. The signs read, in turn: Meet Max. See Sam. Greet Gabe.
Matthew Thorsen
John Cohn at his home in Jonesville
This past Sunday, family and friends gathered to honor and remember Sam, who died at age 14 in a traffic accident. He would have been 25. Twice a year since his death — on Sam's birthday and on the November day when he died — the Cohns hike up Bolton Mountain.
"I think we connect with Sam outside more," Mariano said. "And we needed to go climb the mountain he loved."
Sixteen people and eight dogs took that Sunday hike. The group included Sam's brother Gabe and childhood friends who are now young men. Sam's grandmother, 83-year-old Judy Cohn, traveled from the Boston suburbs for the occasion.
"Since Sam died, John and Diane have done everything they possibly can to keep his spirit alive," Judy said. "And they have. They took a lovely little 14-year-old and kept his spirit going."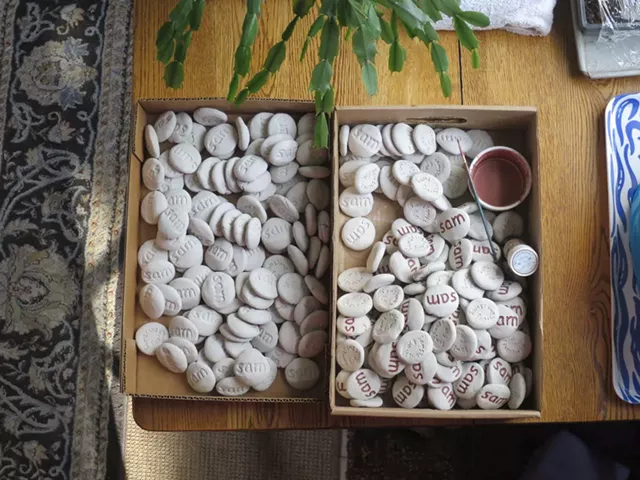 Matthew Thorsen
SamStones
This was the 19th hike for Sam on Bolton Mountain, where the family has trekked in deep snow in November and in May's warm spring sunshine. Though it was Memorial Day weekend, Gabe spotted a patch of snow on the mountain and scooped up a handful to make a snowball. He remembered the time Sam kept him company, and made him laugh, when he broke his wrist snowboarding at Bolton Valley. Gabe shrugged off the mishap, noting that he got his first stitches at age 2 — the result of going down a slide headfirst.
"I think I'm at 68 stitches," he said. "It's only been that style since."
Gabe and Silas Wells, who was a friend of Sam's, talked on the hike about the band in which Sam played drums, Black Night Vengeance. Sam, who looks like a rock star in photographs, also played guitar — an instrument he loved. As part of their son's legacy, the Cohns established the Sam Cohn Musical Soul Annual Guitar Giveaway, which presents a guitar or bass each year to a student at Mount Mansfield Union High School. Kids and teachers at MMU nominate students to win the instrument.
"We pick at random," John said. "So Sam can choose."
Walking up Bolton Mountain, John wore his son's childhood backpack, a yellow L.L.Bean model with "SAM" stitched on it. In the pack were totems for Sam: a couple of cans of Red Bull and a mortar firework.
After taking a sip of the energy drink on the mountaintop, John and Gabe walked a few hundred yards past the summit to a rickety fire tower in the woods. They climbed the structure and set off the firework, lighting up the cloudy afternoon sky in a quick burst of sparks.
The birthday commemoration continued into the evening at the Cohns' home, where about 40 people gathered. John purchased the converted schoolhouse in 1982, not long after he moved to Vermont for his work as an electrical engineer at IBM. He and Diane, also an engineer, met at the tech company and have been married for 30 years.
For the party, Diane baked two carrot cakes — Sam's favorite — and decorated them with flowers from her garden. The family grilled hot dogs and burgers. Friends brought salads, guacamole and cookies.
Adults congregated in the kitchen. Kids played on a trampoline. Young adults, some of them friends since childhood, sat outside and caught up. Kevin Cafferky, a friend of Sam's who grew up a mile away, said he used to go to the Cohns' house after school.
Matthew Thorsen
Friends making SamStones from clay beneath a glass emblem bearing Sam's name
"I don't knock on the door," Cafferky said. "I just show up. And every time, it's home." The annual gathering for Sam, in his view, is about consistency and connection.
"The freshness of Sam's death isn't always present," Cafferky said. "But the connections endure. They keep going."
On the annual occasion, he said, he thinks about the boyhood he shared with Sam and the cool things kids do when they're given the freedom to explore and make their own fun.
"Sam was a kid who was allowed to grow up and be a kid," Cafferky noted.
John and Diane showed visitors their SamStones — smooth, flattish rocks about two inches across engraved with Sam's name. The Cohns shape them from clay, stamp them with Sam's name and samstones.org, and fire them in a friend's kiln. Diane estimated the family has made and distributed about 8,000 SamStones. They have been placed and found around the world.
Matthew Thorsen
Judy Cohn and her grandson Gabe drinking a Red Bull toast
She keeps a basketful to send to people who request them using an online form — strangers to the family who have heard about the Cohns' custom. Envelopes with SamStones are waiting to be mailed to Louisiana, Texas and England.
People might find a SamStone "randomly" in the Winooski River, Wells said. "Or you can just come here and load up."
For Diane, SamStones signify "a moment [that says] life is pretty precious."
Before darkness fell, the Cohns opened more cans of Red Bull, poured the drink into paper cups and passed them around for a toast to Sam. They thanked people for being with them.
"Happy birthday, Sam," John said. Family and friends raised their cups and echoed: "Happy birthday, Sam."