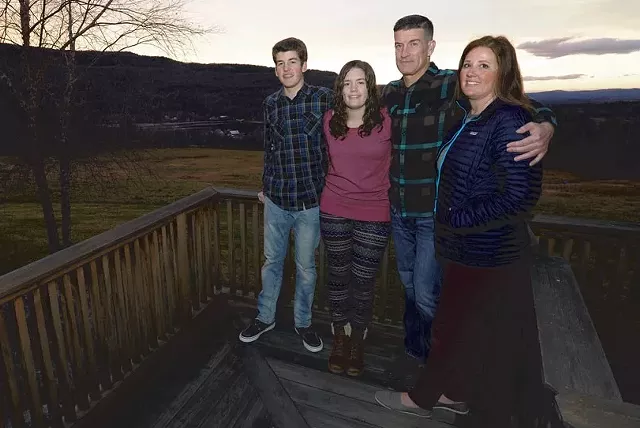 Dad: Art Mathisen, 44, chief operating officer, Copley Hospital
Mom: Jenni Mathisen, 43, stay-at-home mom
Kids: sons Blair, 20 (not pictured), and Sam, 15; daughter, Emma, 17
The Mathisen family are no strangers to transition. Dad Art was in the military for over two decades, and the family of five has moved approximately 10 times since 1992.
In September, the Mathisens relocated once again from southeastern Virginia to Wolcott, Vt., when Art was hired as the chief operating officer of Copley Hospital in Morrisville. Mom Jennie runs the household. Daughter Emma and son Sam are students at Stowe High School and work at the Elmore Store. (The Mathisen's oldest son, Blair, is a student at Husson University in Bangor, Maine.)
Art and Jennie met in Bangor as high school students. Soon after, Art's family moved to Alaska. Art was determined to be with Jennie and gain his independence, so he promptly joined the army and asked Jennie to marry him — over the phone. Art was just 21 years old and Jennie was 20.
Blair was born several years later, while the couple were students at the University of Maine. Art had left the army by then; he rejoined after college as a Medical Service Corps officer. The army sent him to graduate school at Baylor University in Waco, Texas, where he completed his degree in health care administration. That launched Art's career running hospitals — he's been a senior executive at army hospitals in California, Kansas, Maryland and Seoul, South Korea.
Jennie stayed at home to raise their three children, settling them into each new place as they moved. In 2013, Art retired from the army and the family returned to civilian status.
Before coming to Copley, Art led a medical group at Bon Secours Health System in Suffolk, Va. He saw the opening for a COO at Copley online and had to look on a map to find Morrisville. The couple are New Englanders at heart, Jennie says, and are happy to be back in the region where they grew up.
On the division of labor:
Jennie: It's pretty easy because we have traditional roles. Having been a military family, there are two reasons I chose not to pursue a career. One: I did really want to stay home with my kids. And two: I know my personality and I'm not a superwoman type. I can't be juggling a lot mentally and emotionally. Being a military wife, it's pretty hard to have a consistent career because you pick up and move every couple of years. So, I cook, I clean, I do laundry. Our kids are in high school now, so they can get around on their own for the most part.
Art: We had kids young, so we've been doing this for 20 years and it comes very natural for us. I would say we are a traditional family. Jennie is, has been and continues to be the stereotypical, or at least what I picture to be stereotypical, mom. I'm the dad that goes to work. The kids really bring most of their issues to Mom.
Jennie: It's really just typical of who's around more. I don't know if "traditional" is a kind word. It describes how things were done a while back and, you know, a lot of people are changing ways. But that role just felt comfortable for us.
Art: If Jennie had wanted to work full time then we would have just adjusted down that path.
On keeping regular hours as a COO:
Art: The problem is — well it's not a problem, just the dynamic that we're dealing with — I'm, for the most part, a workaholic. I get into work between 7 and 8:30 a.m. I come home and try to be in the house and present around 5 or 6 p.m. So I'll come home pretty much on time, but usually I am doing something work-related after dinner. My goal, because I've been doing this a long time, as a leader you show your family and the people you work with that [you're trying to have balance]. If I'm not trying to have balance then other people feel they need to be at work, too.
Jennie: He has pretty good hours!
Art: I have pretty good hours because I have a seven-minute drive!
On making it to the kids' events and school meetings:
Jennie: If there are things where a parent needs to be, I'll go unless we both feel like we should go together. There are those times when I can't be there and Art will go — you can get out of something in your job if you know ahead of time, right? Then he will go. We try to communicate that weekend before to find out what we might know is coming ahead.
On managing the transitions:
Jennie: This is the time where — for me, every time we've moved in the military — the funk kind of hits. You're on a high, preoccupied with the move, getting everyone settled in. And now it's like, things are on the wall, what am I going to do with myself? [Jennie is currently volunteering at Copley Hospital.]
On parenting teenagers:
Art: We both had strict parents who went overboard. Especially when the kids are teenagers, you have to give them a fair bit of free agency to make decisions and learn from them. It's like the workplace: You delegate that decision-making authority to your staff and to your children. You say, "I trust you to do the right thing."