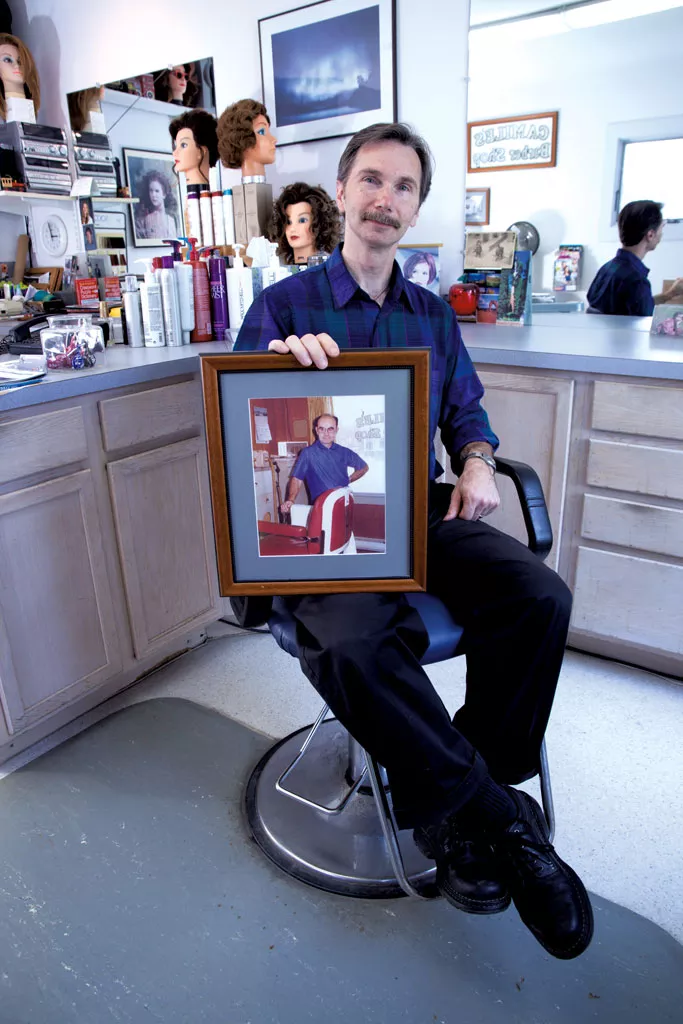 Matthew Thorsen
Bernie Dubois holds a photo of his father, Camile Dubois
I can see my older brother and me, ages 10 and 4, sailing through Burlington's South End in the back of the family pickup truck — no more secure than two bags of leaves. We're on our way to get haircuts at Camile's Barber Shop on Ferguson Avenue. It's a short trip from our home on Bittersweet Lane, off Birchcliff Parkway — too short. I love rolling down Pine Street in the bed of the El Camino. And I don't want a haircut.
The barber, Camile Dubois, is a stern-looking man in horn-rimmed glasses whose repertoire leans heavily on the buzz cut. It's 1968 — four years since the mop-topped Beatles made landfall. No self-respecting kid, not even a 4-year-old, wants to be seen with a buzz cut. In my brother's account of trips like this, I'm crying like a baby as I clamber into the barber's chair.
My memories of this period in my life are spotty, for obvious reasons. I was just a kid — a happy kid with long, blond hair that the Man just couldn't deal with. What I know for certain is that my sweet life turned a little bitter at this juncture. My father's business, a sporting goods store on Church Street, went under, and my family cleared out of the South End.
Some sweetness remained, though. We moved to South Burlington, a great place to be a kid through Nixon, Ford, Carter and Reagan. The buzz cuts ceased. I never saw Camile Dubois again.
That is, until one day last month when I stopped in at my neighborhood barber shop, B.D.'s Hairitage, on Ferguson Avenue. Since I moved five years ago to the Addition neighborhood — the one bounded by Flynn Avenue, Home Avenue, Shelburne Road and the railroad — to raise my own kids, I've taken to pushing a stroller, walking a dog or guiding preschoolers on bikes past the conspicuous white building two lots east of Pine Street.
What makes the building conspicuous, at first glance, is its size. It's a tiny cottage in the shadow of the larger, early 20th-century homes that give neighborhoods like the Addition their historical character. Second, I noticed the barber pole spinning beside its door. Third, a sense of déjà vu stopped me dead, right there on the sidewalk.
Eventually, my curiosity got the better of me. I opened the cottage's door and stepped inside, where the proprietor greeted me. He was a casually dressed man, neat in appearance right down to his mustache. He introduced himself as Bernard "Bernie" Dubois.
"Did this place use to belong to a man named Camile?" I asked.
"My father," Dubois said. He gestured to a photograph on the wall: a man in horn-rims standing beside a barber's chair — the chair. The man's wry smile seemed to ask, "How about a buzz cut?" A hand-painted sign, lettered in elegant script, hung beside the photo: "Camile's Barber Shop," it read.
"Well, then, this is the place." I said.
Dubois gave me an expectant look.
I shared with him the story of getting my hair cut by his father as a young South Ender. I left out the part about the tears.
I also told him I was surprised to find the place still in operation, given that the neighborhood is zoned for residential use only. The incongruity makes it impossible not to come upon B.D.'s Hairitage and, if you're old enough, remember an earlier era in Burlington's history — before barbershops became hair salons and many hair salons moved to strip malls.
The Addition's signature corner store, the Pine Street Deli — growing up, I knew it as Red Roberts Store — still holds fast to the northeast corner of Flynn and Pine. But these days, who'd ever think to stroll down Ferguson for a haircut?
Enough people, as it turns out, to have allowed the little white building to remain a hair-cutting destination for more than 70 years. According to Dubois family lore, Camile Dubois opened the barbershop in 1956. Details provided later by Mary O'Neil, senior planner with Burlington's Department of Planning and Zoning, reveal that the Dubois family purchased the property from the Richer clan that year. A glance at city directories indicates that Oscar Richer had operated a barbershop on the lot since 1940.
It's not hard to imagine a barbershop thriving in the thick of the South End's postwar industrial corridor. (It did a brisk business in buzz cuts, let me tell you.) For his part, though, the young Bernie Dubois gravitated more toward heavier industry than hair cutting. After graduating from Burlington High School in 1980, he worked for a company specializing in mechanical insulation. When that business folded, he moved on to other similar jobs, such as with South Burlington's Densmore Stone Manufacturing.
Some of those experiences were better than others, but Dubois' dream job remained elusive. In a conversation with his wife in 1993, Dubois told me, he mentioned that he'd always wondered what it would be like to work with hair — like his father, sure, but also in the more varied ways that distinguish cosmetology from barbering.
With his wife's encouragement, Dubois enrolled in night courses at the O'Brien School of Cosmetology on Pearl Street (now O'Briens Aveda Institute on Shelburne Road). After completing the program, he went to work for Hair Unlimited by Maurice [Paquette] on Dorset Street in South Burlington, and then at Taft Corners in Williston.
When Camile Dubois passed away in November 1994, the barber's brother-in-law, Roger Gibeault, took over the shop. A few years later, Gibeault started talking about hanging up his shears. Bernie Dubois sensed an opportunity to venture out on his own.
The unbroken chain of hair-cutting enterprises at the Ferguson Avenue location meant that Dubois could exploit a "grandfather clause" to open B.D.'s Hairitage in July 1997, even though the neighborhood was now almost uniformly residential. He made a few interior renovations in the process, but passersby encountered the place pretty much as it had looked for decades. Apparently they preferred it that way.
According to Dubois, he removed the barber pole during renovations, but neighbors kept stopping by to make sure he was going to put it back. Regardless of whether he considered himself a barber, the shop was going to remain a barbershop to some, he realized. "As far as training goes, I'm more of a cosmetologist," Dubois told me. He gestured to the pole. "I'm a barber because of the shop and the clientele."
He seems satisfied with his career choice. For one thing, Dubois said with a chuckle, he doesn't have the physique for hauling stone. Plus, the client work suits his temperament. "Before doing hair, I was always so quiet and shy," he said, and added that he enjoys the one-on-one interaction with his clients. Being his own boss, he can also take the time to do the job right. "That's one of the things I pride myself on," he said. "I'm not here to see how fast I can work or how many people I can do during the day."
That approach has worked for Dubois for 17 years. Through word of mouth, he keeps "fairly busy," he said.
I've never seen people waiting for a haircut at B.D.'s Hairitage, but on each of the three recent occasions when I stopped in, a customer was either just about to hit the chair or walking in the door behind me. Dubois and his wife have put one child through college — their daughter is a University of Maine alumna — and just saw their son depart for his senior year at the Rochester Institute of Technology.
Given his professional and personal experience, Dubois is a keen observer of hair trends — including ones on the business side. He knows, for example, that B.D.'s Hairitage isn't the social hub for men that barbershops were in his father's entrepreneurial heyday. For a guy commuting to or from work, the strip-mall shops dotting the main thoroughfares are more convenient. (Guilty.) Contrast these habits with those of Dubois' core female clients, who book weeks in advance and can spend a couple of hours at a pop for a perm or coloring.
Dubois knows he can't count on the women's eternal loyalty, either, he said. Though he added some regulars of his own to Camile and Roger's customer base when he opened B.D.'s Hairitage, some of those customers are simply aging out of the need for his services. Dubois also cuts children's hair, but his isn't the kind of frenetic, multiscreen space that salons specializing in kids' haircuts can be. It is a good shop for a kid who can sit still for 15 minutes.
Bernie Dubois isn't going for a retro vibe at B.D.'s Hairitage. Nevertheless, I find something about the place undeniably old school. Maybe it's the figure of the barber — or, in this case, the cosmetologist — as sole proprietor. Makes his own hours. Does things his way. Just like this father before him.
Or maybe it's my own hazy memories of climbing into the barber chair. Today, I look back on that time fondly — even if I did dread the sight of that barber pole.
The original print version of this article was headlined "Hair Lines"