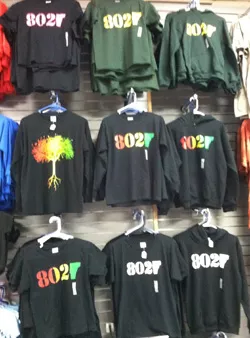 Five years ago, about the only place anyone would spot an "802" sticker was on a skateboard on Burlington's waterfront or the rear window of a local snowboarder's beater. Today, the 802 logo, with its fat, stenciled numerals followed by a silhouette of the state of Vermont, is all the rage among those who never shred the gnar or pull backside ollies.
At Burlington-area shopping malls, out-of-state tourists now shell out big bucks for hats, tees, sweatshirts and hoodies with the 802 logo silk-screened on them. The stuff accounts for about one third of total sales at Vermont Organics Reclamation's two clothing stores, in Burlington Town Center and University Mall in South Burlington, says owner Tim Camisa.
This despite the observation of one Vermont Organics saleswoman who reports that some customers buy the 802 merchandise without knowing what it means. As she puts it, "Someone asked me recently if it's a pot reference."
No one whose car sports a Green Mountain State license plate requires an explanation. Vermont is one of only a dozen U.S. states — along with Alaska, Delaware, Hawaii, Idaho, Maine, Montana, New Hampshire, North Dakota, Rhode Island, South Dakota and Wyoming — covered by a single area code for both landlines and cellphones.
The 802 phenomenon is most interesting as a case study of why certain logos, slogans or — as they call them in ad speak — "indicia" go viral while others fall flat. Notably, 802's near-iconic status offers a stark contrast to the marketing campaign unveiled in 2007 by the Lake Champlain Regional Chamber of Commerce. That year, the Chamber tried to rebrand Burlington as the "West Coast of New England."
That reboot of a Burlington marketing slogan from the 1980s beat out other contenders for the Queen City tagline, such as "Relax, you're in Burlington," "Home of the good life," "Vermont's crown jewel" and "What happens in Burlington stays with you."
In the two years after it introduced the slogan, the Chamber spent more than $35,000 on market research and consulting fees trying to convince tourists and out-of-state investors that Vermont's biggest city was some East Coast amalgam of Portland, Seattle, San Francisco, Los Angeles and Silicon Valley. Yet the tagline never really stayed with anyone. Recently, the Chamber's Cathy Davis confirmed that her organization quietly dropped "West Coast of New England" from its website, printed materials and marketing campaigns a few years ago. Says Davis, "We might still have a few sweatshirts, if you're interested."
Why did one brand boom when the other one bonked? Some Vermont-based experts on consumer attitudes say it has a lot to do with what consumers perceive as authentic, organic identity — in this case, a young, hip Vermont identity with which they want to be associated. But how does a three-digit number convey all that?
The 802 logo was the brainchild of Mark Girardi, who created the design as a way to market his Burlington-based snowboard and skate shop and clothing line. Girardi, who now licenses his trademarked 802 logos to Vermont Organics, takes a break from screening T-shirts in Camisa's shop to talk about the logo's origins.
The shop where Camisa and Girardi print the shirts doesn't detract from the 802's edgy street cred. It's located in the loft of an old South Burlington commercial garage filled with dusty classic cars in various states of disrepair. They include a 1966 Lincoln Continental convertible, a 1947 Cadillac limo, a 1948 hearse — "the ultimate surfing wagon," Camisa boasts — a '61 Rolls-Royce and a '47 Caddy, which Camisa claims was once owned by Mohammed Zahir Shah, the last king of Afghanistan.
Girardi, who got his start making bindings for the snowboard company Technine, sold all his shares in that company in 2004 to launch the 802 store. At the time, he says, he was looking for a way to brand his products with something cooler than the 'ILOVERMONT' bumper stickers and all that grandma, souvenir-store kind of stuff. We wanted to put a little more personality into it."
The store, which opened in 2005 at 67 Main Street, never even had its name outside, just two diamond-plate metal signs hanging in the front window with a stenciled 802 painted on each. That was the first of more than 50 different 802 designs Girardi later trademarked, but it's still his most popular one.
Girardi never did much conventional advertising. Instead, most of the shop's marketing was done by guys who worked in the shop itself, their college buddies, and the store's skateboard and snowboard teams, which handed out stickers and T-shirts at skate parks, ski resorts, races and competitions around the country. When the store helped fundraise for several Burlington-area youth groups, they'd inundate the kids with 802 swag. Says Girardi, "We were like an underground guerrilla marketing machine."
The physical 802 store was open for only about two years. After having "differences" with his business partners, Girardi closed it but continued the clothing line, later licensing the 802 logo to Camisa and Vermont Organics. Though others have since knocked off some of Girardi's original designs, he says he hasn't pursued them yet for dilution of his brands. As he puts it, "Who wants to spend $20,000 to $30,000 in legal fees going after some college kid in his dorm room?"
It's no easier to explain why gray-haired tourists drop $40 for a sweatshirt with the logo of a defunct Burlington snowboard shop than it is to determine why one cute cat video goes viral on YouTube while thousands of others do not. Still, Burlington branding and marketing experts offer theories.
"With 802, it's a cool number, it resonates with a cool crowd, and it's a language all to itself," suggests Yoram Samets, partner at the Burlington-based advertising firm Kelliher Samets Volk. "So it took a somewhat viral direction where the ["West Coast of New England"] is just crap marketing speak. And the only way to make crap marketing speak work is, you've got to spend a lot of money."
Matt Dodds, founder and "chief brandthropologist" at Brandthropology marketing in Burlington, digs even deeper. As he explains, whether a product achieves "brand status" and goes viral usually has less to do with whether it sits on someone's shelf than with whether it occupies space in someone's mind.
Dodds suggests that the 802 logo draws its "brand equity" from a certain preexisting impression of Vermont — or at least of those aspects of Vermont with which people want to be associated: young, hip, outdoorsy, edgy. For those "in the know," the 802 logo "rewards the mind and psyche of people who have that passion and makes them feel more like they're on the inside," Dodds says.
Why is 802 a more effective vehicle for that insider feeling than the "West Coast of New England"?
"It's not a bad concept," Dodds says about the latter. "But to get it and consume it, you have to do a lot more mental gymnastics."
And what New Englanders associate with the West Coast isn't always good.
The 802, by contrast, doesn't need an explanation for those who live here. Its meaning is already understood to be whatever people assign to it. That works in marketing, Dodds adds, where "the more reductive you can get, the better."
That reductive explanation makes sense to Bo Muller-Moore of Montpelier, whose "Eat More Kale" slogan gained national celebrity in 2011 after Chik-fil-A slapped him with a trademark-infringement claim. The multibillion-dollar fast-food giant alleged that consumers might confuse Muller-Moore's slogan with the company's own "Eat Mor Chikin."
Muller-Moore says nothing about the "Eat More Kale" phenomenon was premeditated. He created the popular T-shirt and sticker logo back in 2001 at the request of his friend Paul Betz, a kale farmer who owns High Ledge Farm in Woodbury. Because Muller-Moore didn't have a computer at the time from which to choose fonts, he sat down with a pencil and paper and traced his own fingers. The letters' height still measures from Muller-Moore's middle knuckle on his pointer finger to the tip of his fingernail.
Why did "Eat More Kale" go viral even before "going viral" was an expression? Muller-Moore suggests there's a long history of three-word T-shirt slogans becoming popular, including "Just Do It," "Life Is Good" and "Frankie Says Relax."
"I think there's something whimsical about it. It makes people ask questions," he adds about "Eat More Kale." "There's something about the lightheartedness of it that makes you get involved. You somehow can't be that passive when reading it. You have to ask, 'What's kale?' or 'What's your favorite recipe?' or 'Is that code for marijuana?'" (No, it's not.)
Muller-Moore suggests that 802 shares that simplicity: It rewards those who know what it means — and engages the curiosity of those who don't.
Ultimately, however, the self-described "Eat More Kale" guy admits he hasn't a clue why 802 became big any more than why his three-word design did. As he puts it, "I have a total of 450 designs that I've drawn, and I can't get anyone to look at 449 of them twice.
The original print version of this article was headlined "Dialed In."