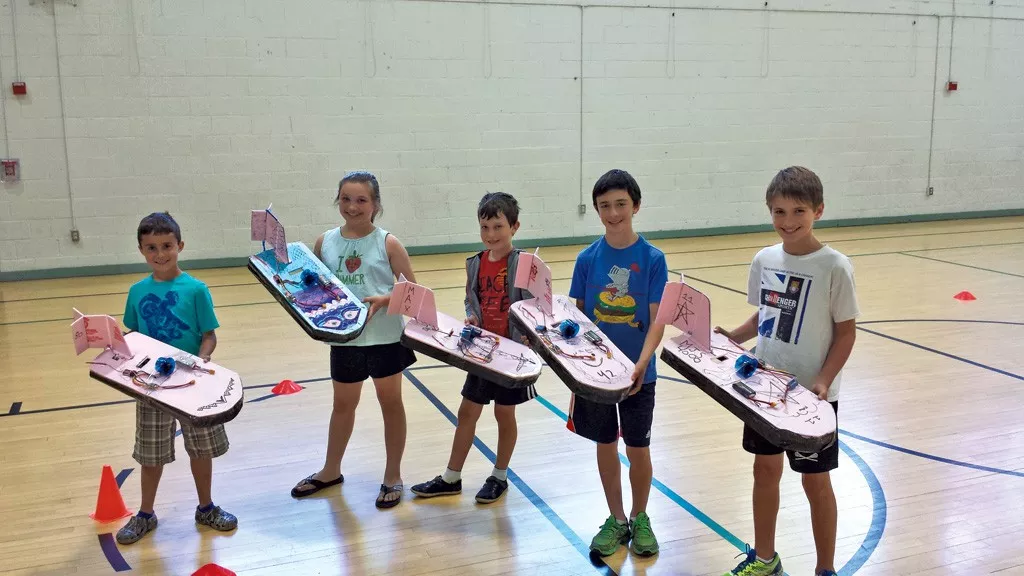 shelburne parks & recreation
Students in Bob Gurwicz's weeklong camp display their hovercrafts
The five students in Bob Gurwicz's new, weeklong Hovercraft Camp were eager to get some air time.
"Wag your tails when you're ready!" he instructed them.
At his command, the 9- to 13-year-old pilots excitedly pushed the radio controls to their hovercrafts, swiveling the rudders (aka the "tails") of the DIY contraptions they'd just spent a week building at a session organized by Shelburne Parks & Recreation.
One by one, the kids engaged their controllers' throttles to rev up the motors, lifting their hovercrafts slightly off the floor on a cushion of air.
"Go!" yelled Gurwicz, a fourth and fifth grade teacher at Shelburne Community School and small-electronics hobbyist.
Instantly, the Shelburne Town Gym filled with a buzz that sounded like thousands of bees being sucked into a giant vacuum. The hovercrafts, which resembled miniature pink tombstones covered in wires and electronics components, glided just above the floor like pucks above an air hockey table. The students maneuvered them around a racetrack marked by cones.
Over the next 20 minutes, hovercrafts zipped around the gym, banged into walls and other vehicles, got caught in corners or just slowed down as their batteries died. The scene was utter chaos, but Gurwicz, the students and the parents in attendance were beaming.
"It's so fun driving these things!" yelled Niko Kapsalis, 9, over the ruckus.
Five days earlier, on the first day of camp, none of the students had known much about hovercrafts, let alone the finer points of electronic assembly, but Gurwicz quickly sparked their interest.
As they sat in a classroom filled with glue, spray paint, toolboxes and bags of parts, the instructor asked the group to name the essential components of a hovercraft.
It has to have a propeller to move forward, said Skyler Heininger, 13.
It needs to be light enough to float on air but strong enough to support electronics, and have a fin to turn "like a fish," added Nina Peck, 11.
It has to have something soft to land on, a motor and batteries, Max Foerg, 9, told the group.
As Gurwicz explained the mechanics of the hovercraft — threading in a discussion of Isaac Newton and his laws of motion — he displayed the materials they'd use to make their own: a motor, electric fan, 40-amp speed controller, radio-controlled transmitter system and rechargeable batteries, plus simple materials including foam-board insulation for the body and garbage bags for the air-filled "skirt" on which their hovercrafts would glide.
For the remainder of the first day, kids worked with Gurwicz to create the bodies of their hovercrafts. He helped them cut thick slabs of foam into aerodynamic shapes and then carve out an oval in the interior so that, when covered with a thinner piece of foam and the fan, it would trap air in the skirt, giving the hovercraft lift.
On the last day of camp, just before testing their creations in the gym, students displayed the projects for their parents.
"It works well," said Nina as she stood beside her hovercraft, which she decorated with a drawing of a blue-and-purple koi fish. She pointed to the electronic components taped along the top. "It was fun to solder these," she added.
Nearby, Max showed his father, Florian, how the rudder helped steer his hovercraft, which he dubbed "Bullet." Before Hovercraft Camp, Max was interested in Legos. "Now we have that plus electronics," said Florian.
Florian enrolled Max in the class for "something fun, something different," he said, adding that Gurwicz has not only helped Max build a cool new toy — he's also helped him learn something about science.
"Bob does a great job explaining the physics of things like thrust," said Florian.
As he watched Max race his hovercraft around the circle of cones a short time later, Florian smiled at the crazy scene along with everyone else. When Max's hovercraft ran into a wall and stopped working, his son rushed over to fix it with a quick adjustment to the battery cable.
"You've learned a valuable skill if you ever have to repair something electronic," Gurwicz told his campers. "But first, ask your parents."