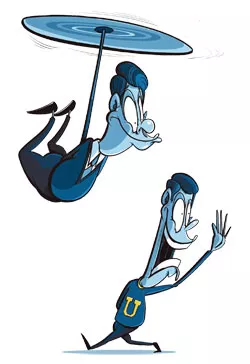 Illustration by Matt Mignanelli
Are you a helicopter parent? The term, coined in the 1990s, refers to the increasing number of moms and dads who hover closely behind their offspring, ready to provide guidance and support — and extraction from challenging situations, if necessary.
This week and next, hundreds of helicopter parents will be descending on Vermont, escorting their college-student children to campus. And faculty and staff are steeling themselves for a barrage of interfering questions. The University of Vermont has even hired "parent bouncers" in the past to keep the 'copters from following their students around during orientation.
That's because all this overparenting can keep kids from developing into well-adjusted, self-sufficient adults. Studies have shown that the children of helicopter parents are more likely to become neurotic and anxious.
Psychologist Madeline Levine gave parents some pointers recently in a New York Times op-ed titled "Raising Successful Children." "Your job," she wrote, "is to know your child well enough to make a good call about whether he can manage a particular situation. Will you stay up worrying? Probably, but the child's job is to grow, yours is to control your anxiety so it doesn't get in the way of his reasonable moves toward autonomy."
It's easy to spot a helicopter parent — unless you are one. Here, then, is a (totally nonscientific) quiz to help you determine if you are hovering. Keep track of your answers and add up your score at the end to find out if you're properly grounded.
Are you a helicopter parent? » Create A Quiz @ProProfs