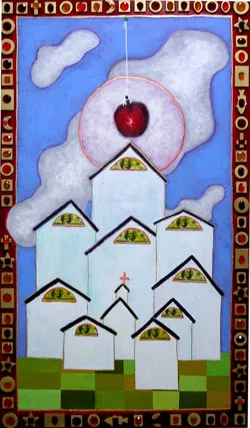 EXHIBIT: "Buyer's Market" Michael Smith, Axel Stohlberg and Ethan Azarian: Paintings and mixed-media works. Flynndog, Burlington. Through March.
ARTWORK:"Sin City" by Michael Smith
The Chinese New Year, Carnival in Rio de Janeiro and Mardi Gras in the Crescent City - not to mention the Queen City - mark February as one of the calendar's most impish months. So it's the perfect time for Burlington's Flynndog to roll out an exhibition of puckish paintings by Michael Smith and playful sculptures by Axel Stohlberg, two of Vermont's most whimsical artists. Their co-exhibition is entitled "Buyer's Market." Stohlberg and Smith present iconic images of quirky homesteads in an odd variety of painterly and sculptural settings.
Smith's "Seamless" is a paean to deer camp. Four blaze-orange cottages and five trees with camouflage canopies fit together like puzzle pieces in the 16-by-20-inch acrylic painting. Smith is a brilliant colorist, and his flat violet sky is as perfect as any color-wheel harmony. An equally successful, and surprising, light-blue border makes the fluorescent orange even more electrifying.
Smith's most textural piece is "Broken Home." The 18-by-24-inch suburban idyll bears particolored swirls of paint as thick as stucco. All design elements are edged with substantial lines, like panes of stained glass. Church references abound in Smith's work; in this one, an uneven orange cross appears near the center of the house's strange Georgian façade.
"Sin City" is more overtly ecclesiastical. The 28-by-48-inch vertical piece hangs with two similarly scaled works in a section of the exhibition subtitled "Worship in Our Community." In "Sin City," a red apple, an allusion to the "forbidden fruit," dangles from heaven over a village of white buildings, each bearing a collaged image of the all-seeing eye from the $1 bill. Jewel-like bits of glass are set into the border. Smith's canvasses are rich in subtle humor - his city seems to profit from sin without appearing overtly sinful.
Stohlberg's sculptures feature little wooden houses, each a solid block with peaked roof. "As far as my sculptures go, I find myself using a house shape very often. It has so many meanings for me and everyone," Stohlberg notes in his artist statement. "Using a house shape very often" is a bit of an understatement: More than 30 of Stohlberg's untitled house pieces appear in this exhibit. Some, with spindly legs and jagged details, border on the kind of surrealism one sees in Tim Burton films. Other houses have vaguely anthropomorphic features.
Like strange wooden toys, a group of three black-painted pieces, about 7 inches tall, rest on three small shelves on the west wall of the gallery. The house at the left stands on two twisted-wire legs. The central house resembles the head of a bird standing atop a long, curved piece of wood and a vertical pile of blocks, and the house at right is inside a box-kite-like structure. Unlike Smith's visual puns and double entendres, Stohlberg's works don't advertise a meaning. That lack of specificity enables viewers to read into the works whatever they choose.
Stohlberg's works tend to be painted in solid colors and vertically oriented. Among the tallest is a 40-inch, glossy red, totem-like piece: a cracked block house standing on four antique leg forms.
Ethan Azarian is included in the exhibition announcement, and his name is posted on a gallery wall, but there appears to be only one minor construction by him in the show. "Winter Village" consists of nine 3-by-4-inch blocks painted with jumbled, cartoonish houses akin to Smith's. The nine blocks are clustered in a metal real-estate sign frame that is painted white and has bent, rusty legs. This assemblage is mounted on the gallery wall.
"Buyer's Market" is a lighthearted exhibit on view through March. It's doubtful there's any owner financing available, but in times like these, you never know.