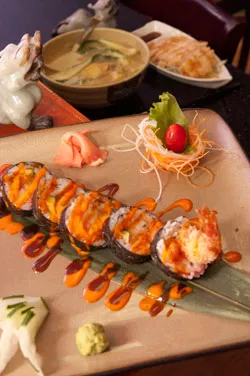 Each of the Japanese eateries in Chittenden County has its own niche. The question facing new eatery HJ House is this: Is there room for a newcomer?
Asiana House is the place for creative rolls. Its sister, Asiana Noodle Shop, offers a fairly authentic bowl of ramen among its pan-Asian dishes. Sakura Bana on Church Street is the only place to get that 1950s hot-pot favorite, sukiyaki. At Koto in South Burlington, a dexterous chef will send an onion volcano your way on the hibachi table. In Williston, ultra-casual Sushido specializes in home-style curries and croquettes served in front of a tube tuned to Nipponese news and soap operas.
HJ House, which opened earlier this month, offers a mix of most of the above, plus some novelties. Located on St. Paul Street in Burlington, just across from the Green Room, it has a well-thought-out menu of standard and unique sushi, 16 different varieties of ramen, nine teriyakis and a roster of other dishes unavailable elsewhere in Vermont. (Despite the large menu, vegetarians may have to rely on special orders: Veggie ramen and teriyaki are their main options.)
Yes, the restaurant's name sounds as much like a massage and a trip to third base as it does a dining destination. But inside, things are strictly G-rated. HJ stands for owner and chef Honja Jiang, whose HJ Sushi prepared rolls for City Market until earlier this year. Kids are clearly welcome here — a few were dining both times I visited. A staffer's tiny daughter seems always present at the cash register. Another fixture: Beyoncé and Mariah Carey on the sound system.
On my first visit to HJ House, last Friday night, the small dining room was packed with young, hip-looking customers. Most had ordered sushi. Hoping to try a fair cross-section of dishes, I came with questions for the server, but my attempts strained the limits of her English. I'm still not sure what the rice pizza appetizer is, for example.
Despite our communication breakdown, I took the plunge and ordered one of the three "special fruit rolls." I bypassed the strawberry and mango options in favor of the kiwi roll. I had no idea what to expect. Was this dessert?
Far from it. The nori-wrapped roll was filled with avocado and crab stick and covered in a layer of ultrafinely sliced kiwi, which in turn was topped with kiwi coulis. Strange as it sounds, the combination was brilliant. The creamy avocado and briny imitation crab achieved a new brightness with the help of the slightly gooey tropical sauce.
Boasting the diameter of a soup can, the King Kong roll was wide enough to earn its name. The specialty sushi included a mix of crackling shrimp tempura, spicy tuna, snow crab and avocado. The menu added "eel sauce" to this list, but in the absence of any actual eel, I took that to mean the subtly sweet, teriyaki-ish pools marbled with spicy mayo on the plate.
I was most excited to try a bowl of ramen. Accustomed to heading to Montréal for the real deal, I hoped my search for a closer alternative would end that night. I ordered the pork-chop curry ramen anticipating a combination of two of my favorite things: a steaming bowl of noodle soup and a panko-fried cutlet of pork slathered in Japanese curry. Instead, the curry came mixed into the soup's yellow broth — which didn't taste strongly of it, save for a hint of bitterness.
A conventional bowl of ramen comes with a few standard toppings. This one was missing nori, corn and butter. In their place bobbed a combination of baby bok choy, bean sprouts and fried onion straws. While all perfectly acceptable soup ingredients, none were sufficiently flavorful to give it that special ramen flair.
The half egg, another ramen standard, was present and fabulous. The curry had dyed it a foreboding gray, but it tasted like a gorgeously seasoned curried egg salad.
The side of katsu pork was evenly fried, though somewhat pale. The boat-shaped dish in which it arrived was filled with a beautiful bed of lettuce and shaved carrot and daikon, with sweet, gingery dipping sauce in one corner.
Though my meal was satisfying, it wasn't what I was looking for in a bowl of ramen. The noodles were especially disappointing: They felt mushy and overcooked. I'm hoping this, like the bitterness of the broth, is just an early glitch.
When I went to HJ the following week, the lights were dimmed, making me think the restaurant had discontinued lunch service. On closer inspection, I saw diners at two tables and ventured in. While it's a great energy-saving tactic to turn off the lights when it's bright out, it's not the clearest sign to customers that your restaurant is open. Just saying.
It was tough to choose from the 13 different lunch specials. They all sounded appealing. Once again, the sole server had trouble explaining the difference between, say, "grilled eel fried rice" and "grilled eel rice," other than an extra dollar. The latter was the most expensive lunch at $8.49. (Many ring up at less than $7.) I almost ordered more than one, but later was glad I hadn't. The combination plates were more than ample for a midday meal.
Both dishes my companion and I ordered came with a bowl of miso soup. Many restaurants serve a miso broth so thin it resembles dishwater. The one at HJ House tasted distinctly of the traditional fermented seasoning paste, but with buttery undertones. Nests of konbu were delightfully chewy, with a mild taste that didn't detract from the comforting base.
The sectioned plates also contained a salad of thickly sliced cucumbers and tomatoes, both fresh and slathered in Italian dressing. Another standard side: rings of fried squid. After we managed to convey to our server that someone in our party had a shellfish allergy, she kindly replaced the calamari on that plate with a pair of plump, gingery chicken gyoza. The thin noodles wrapping the meat sat in a pool of slightly tangy soy-based dipping sauce.
On the other plates, the calamari was naked, but its corn-starch coating lent it personality. All too often, fried squid can be tough and bouncy. This was more like toothsome, mild fish.
The $6.99 "beef ribs rice" included four Korean galbi-style grilled short-rib slices. Though that's not a lot of meat, the lightly charred beef was served over a tall pile of mixed vegetables, including red and green peppers, zucchini, and onions in thin teriyaki sauce. Though thick-cut, the veggies were tender without being overcooked.
The "HJ cold noodle" dish, too big to fit on a bento-style lunch plate, reminded me of a casual lunch at home with Japanese friends. The large pile of thin wheat noodles in sesame oil was covered with tender slices of pork, ultra-thin slivers of green beans and skinny portions of tamago, a Japanese scrambled egg loaf. Jiang simply has a way with eggs. Like the egg on the ramen, this tamago was seasoned into something less humble, with delicately sweet and umami elements. At $7.99, I would be thrilled to have that deceptively complex, yet comforting, meal for lunch any day.
For dessert, HJ House offers four types of ice cream: vanilla, chocolate, red bean and green tea. Each is available plain or fried. That's nothing unusual for a Japanese restaurant, but I think its take on fried ice cream says a lot.
This one was new. Instead of the wheat batter, cornflakes or panko I'm used to seeing, my scoop of green tea arrived in a perfect snowball shape, coated in a corn-based batter. Basically, the dessert was an ice-cream corn dog. The sweetness of the batter paired surprisingly well with the more staid, robust green tea. The ball was drizzled with a lovely strawberry coulis in a woven pattern. Berry slices completed the plate, along with a single refreshing portion of almost translucently thin cucumber.
I'm eager to return to HJ House to try all the lunch specials. The selections of comfort food call to me. I wish I could say the same after trying the ramen, but I am hoping my disappointment will be repaired in the future. Perhaps I would have been better advised to try a more conventional pork ramen dish in a soya broth instead of jumping right into curry and katsu. In any case, since only a handful of dishes at HJ House cost more than $11.99, I can continue to sample the fare without breaking my bank, or my friends'.
In Burlington's small but growing gallery of Japanese options, HJ House is carving out some niches of its own. Thanks to Jiang's creativity, fruit sushi is now on my list of cravings. And when I have a yen for corn-dog ice cream, I'll know exactly where to go.