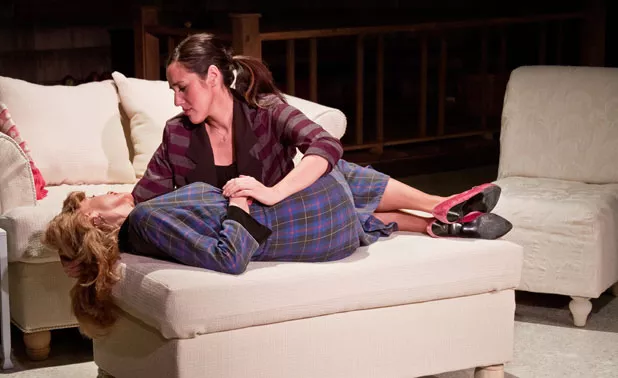 Diverse cultures throughout history have embraced the healing properties of laughter. But, for the Brazilian protagonist of The Clean House, Sarah Ruhl's 2005 play, not just any jest will do. Only the perfect joke will cure her gloom. Now if she could just come up with it. That effort, dramatized in the Vermont Stage Company production of The Clean House currently running at FlynnSpace, is a laudable laughing matter.
In her directorial debut as VSC's new producing artistic director, Cristina Alicea distinguishes herself as resourceful and ambitious. This is a funny, clever play. But its humor derives from the complex interactions among characters struggling with thorny emotional circumstances. Under Alicea's direction, the show wrangles this messiness into a breezy comedy that celebrates humor's power to lift us out of darkness.
A finalist for the Pulitzer Prize in 2005, The Clean House is a masterpiece of amusingly incidental ironies and paradoxes. The main character, a Brazilian maid named Matilde (Deanna McGovern), is a would-be standup comic mourning the recent loss of her parents — "the funniest people in Brazil," she claims. Her mother literally laughed to death at one of her father's jokes, whereupon he killed himself. Matilde's black attire contrasts with the stark-white furnishings of the American home where she works and lives. As she mopes about, racking her brain to come up with the perfect joke, her preoccupation prevents her from carrying out her duties — much to the dismay of Lane (Dana Block), one of the married surgeons who employ her.
Lane struts about in a cream-colored pantsuit — an imperious portrait of competence and order. Yet she can't move her maid to do her job, and she appears blind to problems in her own marriage. Enter Lane's sister, Virginia (Ruth Wallman). Despite her Bryn Mawr education, Virginia has domesticated herself so fully that, once she has completed her daily cleaning regimen at home, she can't think of anything else to do. The moral and psychological boost she derives from house cleaning drives her to Lane's house, where she volunteers her services to Matilde. It's a perfect arrangement. Neat. Tidy. Until it's not.
No sooner has Virginia taken over Matilde's chores than the real dirt in this Clean House is unearthed. It's a potent mixture of loss to which Matilde, Lane and Virginia all contribute. Matilde has lost her parents, Lane realizes that she has lost her husband, Charles (Paul Ugalde), and Virginia acknowledges that she has lost her sense of purpose. These realities are thrown into harsh relief when Charles bounds into the house with his newfound soul mate, Ana (Alicia Kaplan), one of his breast-cancer patients.
What follows is a comic meditation on love, life, death and laughter's transcendent commentary on human existence. More dualities emerge: the objectivity of medical science versus the fated union of two lovers; the blossoming of love versus the dying of cells; and the spotless home where dirty laundry hangs everywhere.
Scenic designer Jeff Modereger's set renders two different domestic environments — the aforementioned upper-class living room and, later, the front porch of a simpler seaside abode — with a level of verisimilitude that defies the confines of the FlynnSpace stage. John B. Forbes' lighting design incorporates projections on the stage floor — Portuguese phrases and object motifs — that, while interesting to spot, were not clearly visible from many seats in the house. One suspects his intended effect was not fully realized in this production.
Technical considerations aside, playwright Ruhl's storytelling gifts are on brilliant display from scene to scene. The Clean House conjures the kind of narrative universe where even the most minor details, such as the black olive that Lane must toss in her martini for lack of a proper garnish, appear to reinforce the work's themes.
Director Alicea, too, demonstrates solid control of her material. She has elicited strong performances from every member of her cast. Most notable is McGovern as Matilde. Her sullen demeanor and deadpan delivery, adorned with a quirky yet infectious Portuguese accent, earn a chuckle nearly every time she opens her mouth. The more gravely she proclaims her intent to channel the perfect joke, despite fearing it may kill her, the more comical her character becomes. She could be mourning the fate of a world deprived of this mystical zinger as much as the loss of her parents.
As the frosty doctor Lane, Block walks a nuanced emotional line between devastation and rage. This allows her to become a basket case when news of her husband's philandering hits, but also to show compassion when events appeal to her nature as a healer. As Charles' paramour, Ana, Kaplan exudes an alluring, exotic appeal — her tango steps seem an extension of her personality. Her carefree persona shakes up the orderly world of The Clean House, forcing to the fore some of the play's more poignant questions about living life to the fullest.
Alicea's directorial skills also find impressive expression in Ugalde's turn as Charles and Wallman's portrayal of Virginia. Until this production, these local acting talents were quantities better known to Burlington audiences than to newcomer Alicea, so it's worth noting how successfully the director has drawn on their signature strengths.
The ever-enthusiastic Ugalde brings to Charles a convincingly over-the-moon passion for his new lover, punctuated by a few well-timed comic strokes, such as when he rationalizes the union with a reference to Jewish law (neither he nor Ana is Jewish). Ugalde can run a little hot onstage, but in The Clean House he stays in the groove.
Wallman has earned a reputation for consistency and range, and this production showcases her keen theatrical instincts and comic timing. To be sure, her Virginia is a bit unreliable — maybe those furniture-polish fumes are taking their toll. But Wallman doesn't take her character's eccentricity so far over the top that she can't turn back to express credible angst, anger and a girlish infatuation with her brother-in-law.
While spirited, well-rounded performances energize The Clean House, the story strays a bit in the second act — along with some characters — and takes on a looseness that contrasts with its crisp first act. In those spots where it becomes untidy, the play's comedic luster also dulls. Not-so-comical complications — in Lane and Charles' marriage, in Ana's physical health — reveal the work's more serious side. Matilde assumes a supporting role for a stretch, and her diminished presence is conspicuous.
There are other minor inconsistencies in the play's overall tone. Ruhl's humor is rich and resonant throughout The Clean House, but a few magical-realist flourishes and sporadic moments of utter absurdity come across as more ornamental than integral. Levity is both medium and message in this play — the jokes illuminating deeper truths — but some moments feel more like gags.
Any comic voice is bound to falter once or twice over the course of a routine, especially one the length of a play. Ruhl's refreshingly original comedic vision, however, mostly buoys this work aloft on its punchy, poignant journey. That Alicea has chosen The Clean House for her VSC directorial debut reveals the talent, sensibility and technique on which she can draw in her tenure at the helm of the company.
"The Clean House," directed by Cristina Alicea, produced by Vermont Stage Company. Through February 12 at the FlynnSpace in Burlington; Wednesday through Saturday at 7:30 p.m., Saturday and Sunday at 2 p.m. $27-32.50. Info, 863-5966. flynntix.org