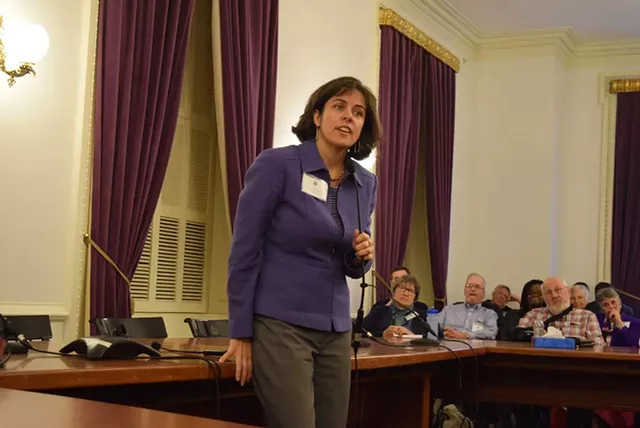 File
House Speaker Mitzi Johnson
The House's unanimous vote last week on the annual tax bill and its unanimous-but-for-one balloting on the budget bill tells you something about the chamber's new speaker.
So does the House's action a few days later to ship the much-anticipated marijuana legalization bill off to a committee for further review.
Unanimity on fiscal matters is what happens when the chamber elects a former House Appropriations Committee chair as speaker, especially one hell-bent on producing collaborative budgets. Spending bills are in Speaker Mitzi Johnson's wheelhouse.
But policy bills with political reverberations, such as the marijuana legislation? Those are new territory for the South Hero Democrat.
Three months into the job of overseeing the 150-member chamber, Johnson concedes that she is most comfortable immersing herself in the minutiae of state spending.
"The budget is what I'm most familiar with," she says. "For me, the tougher ones are the policies that never made it to Appropriations. The things I need to spend more time on are the things that haven't required appropriations."
That couldn't have been more obvious on the House floor last week.
Her chamber's passage of a $5.8 billion budget proposal that meets the governor's no-new-taxes edict reflects Johnson's skills. If House members thought they were choosing a fiery speaker looking to muscle a controversial spending plan into law, they forgot that this 46-year-old piano teacher has a thing for harmony.
The budget bill passed by a 143-1 vote. The companion tax bill sailed through with a 138-0 tally. There were only hints of discontent from anywhere on the political spectrum. Left-leaning liberals and rigid-right Republicans answered "aye" as their names were called. Spending cuts in the budget bill were apparently sufficient to please the right while not so egregious as to infuriate the left.
Harmony prevailed for a day or two, but this is no orchestra. It's politics. Johnson's handling of the marijuana bill demonstrated that it's impossible — and ill-advised — to try to keep everyone in key all the time.
Early in her tenure, the new speaker had said she would let her chamber's committees set their own goals rather than force direction upon them.
House Judiciary Committee chair Maxine Grad (D-Moretown) was crystal clear from the start that her panel planned to produce a bill to legalize marijuana along the lines of a Washington, D.C., ordinance. No pot stores, no marijuana industry, but permission for Vermonters to keep up to an ounce in their pockets and grow some plants at home.
With Johnson's blessing, Grad's committee spent weeks working out the details. When the panel was done, though, Johnson and her leadership assistants balked. They did not have the votes for the bill to pass the full chamber.
Johnson and her team made a deliberate decision. "We weren't going to be whipping votes," she says, using the term for when a party presses members to toe the line.
House Democrats had too many divergent views on the issue, says House Majority Leader Jill Krowinski (D-Burlington).
"This is a difficult issue that isn't necessarily partisan," says Krowinski, an avowed legalization supporter. "That goes [for] Republicans, too."
So when Democratic House leaders canvassed members about how they planned to vote, conversations with dissenters focused on their concerns with legalization, Krowinski says. The goal was to win over members' hearts and minds, she says.
Which sounds swell in theory.
It is not unheard of for a party caucus to allow members to vote their conscience on some issues while expecting them to stick with the team on others. But there's a difference between giving members room and letting them waffle without direction. The decision about whether the marijuana bill was ready for a vote was put off for days.
That's not the only example of legislation that stumbled indecisively toward the House floor. The House Government Operations Committee spent weeks agonizing over legislation ordering a recount in a state rep election, only to halt the bill the day it reached the House floor.
The end result: Democrats looked like they didn't know what they were doing. They let committees spend weeks on issues, apparently for naught. Johnson and her team said they supported the committee process only to find the rest of the chamber did not.
Last week, Johnson pulled the plug on a floor vote on marijuana, and members shipped the bill to the House Human Services Committee. In legislative tradition, such moves are considered the death of a bill.
That's not how Krowinski and the leadership team view what happened. The move was intended to save the bill, she insists.
"I would call it another step to see if we could get more support," Krowinski says.
The panel began to take testimony on Tuesday. Committee chair Ann Pugh (D-South Burlington) says her committee has the votes to send the bill out. The only question is whether that means the full House will have the votes to pass it.
Johnson seems to be clinging to the notion that she can find agreement on every bill.
But not all hearts and minds can be won on every political issue. Sometimes, in lieu of harmony, a firm decision is the order of the day.
Help Wanted
Gov. Phil Scott has just passed the 90-day mark in office. He should know by now where the light switches are. His staff should be all moved in and ergonomically situated. But the new gov still has a fair number of important empty seats to fill.
He has yet to fill jobs for corrections commissioner and deputy commissioners in the departments of environmental conservation, finance and human resources. Also vacant is the job of transportation deputy secretary. Just last week, he finally hired tourism and human resources commissioners.
What's up with the languorous pace?
Better to be slow than sorry seems to be the mantra from spokeswoman Rebecca Kelley. Work is under way to fill most of those vacancies, she says, though the administration is reassessing whether to hire a deputy transportation secretary.
And the governor will announce his choice for corrections commissioner this week, Kelley says.
Meanwhile, though, deliberation has consequences.
"It sets back your ability to get the job done," says Bill Lofy, who oversaw hiring as governor Peter Shumlin's chief of staff when he took office in 2011. "You need capable people in those positions to implement the governor's agenda. [Without them,] it makes state government less responsive."
Three months is an unusually long time to leave those jobs vacant, says veteran Sen. Dick Sears (D-Bennington), chair of the Senate Judiciary Committee. Lofy points out that the governor has had five months since his election.
From the Department of Corrections, Sears notes, legislators have been looking for help making big decisions about whether to close the Southeast State Correctional Facility in Windsor, as Scott has proposed, and whether the state should let more offenders out of custody to be monitored by other means.
Interim commissioner Lisa Menard, who held the post at the end of the Shumlin administration, is doing a good job, Sears said, and he'd be happy to see her continue. But because she's interim commissioner, lawmakers are less confident of the department's long-term goals, Sears says. "You'd like to know," he says.
Lofy suggests that not filling the jobs is telling. "It's not exactly clear what exactly the administration's priorities are," he says.
With Fans Like This...
Two "Phil Scott Fan Club" videos posted on YouTube take a satiric whack at the new Vermont governor. Clearly the work of Republicans irritated that Scott is not Republican enough, the three-minute pieces hammer the theme that the gov is a nice guy and ... not much else.
Scott's signature on a new law protecting Vermont police from being co-opted as federal immigration enforcers is fodder for mocking.
"The first thing groovy Thunder Gov did for us was make Vermont a sanctuary state. Yessss!" says female fan "Elizabeth."
"He did that. He sure did," adds male fan "James."
"Syrians and illegal aliens will now have the right to pick apples in Vermont with impunity," Elizabeth says.
"They will," James says before offering, "You know, he's a Republican."
Who's behind the parody? Feel free to speculate.
An email last week from somebody identifying himself as James Hunter promoted the videos. I hit reply, asking who he is.
"It is not really important who I am," came back the response. "What is important is the fact many Vermonters who supported Phil Scott in his bid to become governor, and not just Republicans, but independents, Libertarians and, yes, even Democrats, are unhappy with the direction Mr. Scott has taken," he answered. He pledged, "We've only just begun."
What he doesn't seem to acknowledge is that the prospect of a Republican-in-more-than-name-only challenging Scott in next year's election is more laughable than either of the clips.
Scott himself has not seen the videos, spokeswoman Kelley says.
Shipping Out
When word slipped out last week that Rep. Job Tate (R-Mendon) would be resigning his House seat ahead of his U.S. Navy Reserve deployment overseas, Tate didn't hold back about his legislative frustrations.
"I despise Montpelier, despise the city," Tate told reporter Neal Goswami of the Vermont Press Bureau. "There's no better feeling than driving past the 'Welcome to Killington' sign and being home."
Upon reflection, Tate says that comment came off a tad more negative than he intended. He took another stab at summing up his nearly three years in the legislature.
"I've been disheartened by how little we actually do and how long it takes us," he says. He insists that there are lots of people, including Democrats, he will miss.
Tate says he can't reveal exactly when or where he'll be deployed, but it's soon. "It'll be hot and dry," he said. The married father of two young children expects to be gone about a year.
While he says he'd hoped to keep his departure on the QT, Tate did alert local Republicans and the governor, who will appoint a replacement. Three candidates have emerged: recently retired Vermont Retail & Grocers Association president Jim Harrison, Green Mountain National Golf Course general manager Dave Soucy and Killington Police Chief Whit Montgomery.
Media Note
Sally Pollak, who was a staff writer at the Burlington Free Press for 26 years before she was laid off last October, will start as a features writer at Seven Days in mid-May. She will write about food and other topics. As her former colleague at the Free Press, I couldn't be happier to have this brash-talking reporter and skilled writer come aboard.