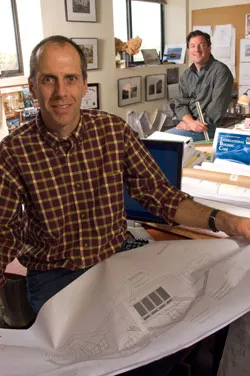 Matthew Thorsen
Tim Frost and Cliff Deetjen
Marital mediation may not be among the skills taught in design school, but nudging a squabbling couple toward agreement does represent a big part of Ali White's work for Peregrine Design/Build.
"Typically, one partner will have a definite idea of what a project should look like, while the other won't be as definite or will have a different idea," says White, a design consultant to the South Burlington firm. "I try to listen first and to see what the house is about. Then I'll edit their choices and help them come to a consensus."
For a team like Peregrine's, home design means more than picking colors and drawing up blueprints. Among Vermont design firms, Peregrine stands out; it has won numerous awards from national publications such as Better Homes and Gardens and from a regional trade group: the Home Builders and Remodelers Association of Northern Vermont. But when it comes to generating favorable word of mouth locally — essential to success in Vermont's design/build business — personal touches such as White's counseling are what the firm's clients remember. "Our clients miss us when we're gone," suggests Cliff Deetjen, Peregrine's in-house architect. "They enjoyed having us around, and that's where referrals come from."
Charlotte homeowner Rick Brokaw is one of Peregrine's satisfied customers. He selected the company to undertake "a big, big, big project" after interviewing three candidate companies and finding Peregrine's principals to be "really personable." Feeling comfortable with the designers/builders both personally and professionally would be crucial, Brokaw knew, "because I'd be practically living with them for weeks and weeks."
The addition Peregrine carried out for Brokaw more than doubled the 1200-square-foot home he bought in 1995. The living room and kitchen were enlarged, a second full bath was installed, and a garage and mudroom were built. Peregrine earned one of its awards for the work it did on Brokaw's home.
It won another for a bathroom remodeling project — the sort of work that accounts for many of Peregrine's jobs. Most design/build firms do a lot of bathroom and kitchen work, but Peregrine has a distinctively stylish approach. Deetjen notes that in the case of its 2009 bathroom award from Better Homes and Gardens, the company sought to create a warm look despite the presence of typically "cold" fixtures. An abundance of wood was used in this setting, while a lime-green wall above a pedestal sink and softly glowing task lighting further enhanced the room's warmth.
But awards won't pay the bills when the national economy turns sour, and Peregrine had to scrimp and scrape its way through a recession that forced many homeowners to postpone planned renovations or additions. The firm did manage to find some smaller jobs — defined by Tim Frost, Peregrine's president, as those in the $10,000 to $20,000 range — because clients had no choice but to "stop something from falling apart."
With an economic recovery seemingly under way, "The scope of our work has lately gotten bigger," Frost notes. For example, a couple from New York City recently chose Peregrine to remodel the 4500-square-foot home on 260 acres in Richmond they bought from Phish front man Trey Anastasio.
Frost has come a long way from washing windows in Burlington's Hill Section, the gig he and classmate Thad Fisco put together after graduating from the University of Vermont in 1987. They moved from that into painting and repairing residential exteriors. And when a Bayview Street resident offered Frost and Fisco the opportunity to build an addition to his home, they quickly accepted, "even though we really didn't know how to do it," Frost recalls. The friends sought help from a skilled carpenter, from whom they learned the rudiments of construction.
And they founded Peregrine — a name proposed by Fisco, who majored in biology at UVM. Frost says he liked the word because it suggests "soaring gracefully, dominating the sky."
A few years later, Fisco left Peregrine and Vermont to take on other challenges in the construction business. For the next several years, Frost, like many contractors, handled building projects without relying on the services of a professional architect. Sketching designs on napkins makes it hard to contain costs, however, and "owners aren't pleased when that happens," Frost says.
So, about five years ago, he decided to enhance his firm's expertise. Frost hired Deetjen, who had worked for the Bread Loaf architecture and construction company in Middlebury, and began seeking design advice on high-end projects from White, an independent consultant who got her start at Close to Home, a bath-and-kitchen fixtures and accessories retailer in Williston. Peregrine also gets marketing help from Joanne Palmisano, who's writing a book on the reuse of materials in design.
Peregrine's 10-member team "runs smoothly now," Frost says. "Our jobs are better managed, which produces better results for the client."
Professional competence should be the main standard by which a home-owner judges the suitability of a design/build contractor, Deetjen advises. "You take risks by not using professionals," he says, noting that Vermont has no licensing system for builders. "And that results in there being a lot of crap out there," Deetjen declares.
His suggestion: Take the time to interview prospective contractors and think carefully about the options: "This is going to be your biggest investment." Design/build professionals "should be right up there with doctors," Deetjen adds. "Doctors take care of your body, and we take care of your home."
Unlike most doctors, though, designers tend to the aesthetics of a home as well as its physical qualities. That's why it's important for clients, when choosing a firm, to compile a wish list that identifies both items and features they want to change and those they want to retain, Deetjen continues. "Tell us your dreams," he says. "It may turn out that they'll have to be phased in over time, so we'll come back to you with a revised wish list." The process of setting priorities is also affected by factors such as zoning regulations and the size of a project's budget, Deetjen explains.
"It does get to be a pretty personal relationship," he notes. And the nature of that relationship varies from household to household. "Some will say, 'I trust you implicitly; do what you think is best,'" Deetjen relates. "Others will want to be alongside you every step of the way."
Similarly, some clients will have a detailed vision of how a design should look, while "others will tell us, 'We don't have any taste; we don't know what we want.' That's where guidance matters a lot," Deetjen says. "Fortunately, we're very good educators in the realm of design."
For Peregrine, the relationship doesn't end when the job is finished. Frost or one of the firm's carpenters will return to a home to do fixes and touch-ups as needed. They're not needed all that often, Deetjen says, because "we won't use materials that aren't durable. People can walk into a Peregrine home 10 years later, and it will look the same as the day it was done."
Catering to clients' needs sometimes means dissuading them from spending more than they should, Frost points out. "People may come to us saying they need an addition, but what they actually need is to make their existing space flow better, to let more light in. You get a bigger bang for your buck by minimizing exterior alterations."
Peregrine let more light shine into a Shelburne condo, while simultaneously enhancing its lake view, by knocking down walls that had separated a series of small rooms in a former manor house.
"Quality and value" are what Vermonters usually want in a renovation or redesign, Deetjen finds. Unlike some upmarket clients in big cities, they're not eager to compete with their neighbors, he says, and adds, "We're not interested in creating showstopper designs."
Vermonters also tend to be conservative in their decor tastes, White observes. She says she seldom gets to do contemporary designs, although in recent years she's seen a local trend toward "painted furniture of more contemporary style — definitely not Victorian." Still, practical, traditional design predominates in Vermont: "We're not at the top of the wave up here," White says. "We're pretty much at the bottom of the wave."
Green design, however, has become part of conversations with many clients, Frost notes. That may involve simply insulating a home with "a nice tight skin" or installing a new boiler and energy-efficient lighting. Peregrine also encourages use of local products such as flooring and cabinetry made from Vermont hardwoods, Frost says.
Peregrine has been thinking green for a number of years, Frost adds. While not unusual among Vermont's design/build firms, that eco-consciousness is another example of how a savvy company evolves as its clients' wish lists do.
Rick Brokaw offers some final design/build advice from a client's perspective: "Don't start freaking out if the project takes longer than planned. Projects always take longer than planned. And don't get hung up on the price if you don't have to. No one wants to overspend," he concludes, "but being flexible can make a difference in what you'll be living with."