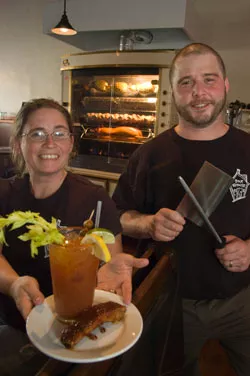 Matthew Thorsen
Maggie Barch and Matt Pearsall
Entering Our House, I was surprised to see the spitted pig spinning slowly in an enclosed rotisserie. When the owners of the newest eatery on Winooski's restaurant row began talking about doing barbecue in the tiny spot formerly occupied by Sneakers Bistro, I imagined a smoky, open fire pit into which toddlers might tumble. The reality seemed safer and almost austere: a glass and metal cabinet, with the aromas of pig skin and flesh vented to the outside.
But the heat remained. On this 80-degree day, the air conditioning was blasting by the host station, and the refurbished room, with its chocolate- and cream-colored paint slathered on the uneven walls like frosting on a cake, felt swampy. Sweat gathered in the crooks of my elbows, and my legs clung to the cushions of the booth. I ordered a draft Switchback, but retrospectively realized the $11 Mint Julep, made with Jim Beam, would have better fit the weather.
Although Our House opened just last week, the hot spot — which touts its "twisted comfort food" — has already attracted a slew of followers. The pricing is neither bargain basement nor precious, which means Our House may become a special-occasion place for some diners and a weekly visit for others.
Here, classic American dishes such as wings, sweet-potato fries and nachos show up alongside more contemporary fare: spinach salad with strawberries and goat cheese; a fat portabella mushroom cap with basil-pesto mayo.
Two visits in — with the same friendly, efficient server on both occasions and approximately half the menu under my belt — I'm ready to be counted among the eatery's fans, although a few tweaks would make the flavorful food even better.
For one thing, after trying numerous dishes served with the same sauce — a pickle-dotted, salmon-colored concoction that might be called Thousand Island dressing — I longed for something with less fat and more acid to cut through the rich fare.
That sauce was fine with the tangy Frickles, deep-fried spears of moist dill pickle that shed their beer batter on the plate like molting snakes. But the appealing Irish Eggrolls — basically St. Patrick's Day dinner plus cheddar cheese, wrapped in a wonton and fried — could have used more of the advertised spicy cabbage and a bracing mustard dip.
The ever-present dressing, plus bell-pepper-speckled salsa and some standard guacamole, came with the fish taco, my least favorite dish. The spice-rubbed and grilled flesh was a bit tough, and I couldn't understand why a dish that generally stuck close to its culinary origins came with a few incongruous strands of seaweed salad and yellow rice dotted with kidney beans and edamame.
Happily, my first visit also included the Yardbird, a tiny whole chicken roasted and flecked with herbs, accompanied by a delightful slab of gravy-topped bacon-cheddar bread pudding. While some such dishes share their texture with the dried-bread chunks from which they're made, this one was moist, custardy and stringy with cheese. Make sure you have a sharp knife with which to butcher the miniature fowl; a butter knife just doesn't cut it.
I had similar difficulties the next night with a plate of pork while trying to portion out and share with my tablemate. The meat on competition-style barbecued ribs does not fall off the bone, and Our House's toothsome version met that criterion — and bested my cutlery. But after sawing off a single juicy segment, I found it scrumptiously slathered with sweet, tomato-y sauce dotted with mustard seed, flecks of spices and bits of tender onion.
The creamy apple-cabbage slaw on the side was fine, although it could have been a little tangier. But the well-seasoned "smashed" potatoes, topped with rich, savory gravy, were perfection.
The lamb meatloaf was another smashing success: moist, flavorful and pleasantly gamy. I was uncertain about ordering a dish that came with fried onions — slimy circles of onion in doughy rings turn me off. Not to worry: These peppery bits were thin, shatteringly crisp and edible in a single bite.
When a restaurant's owners decide to innovate, there's usually a handful of hits and misses. The aforementioned Irish Eggrolls and the Armadillo Eggs — jalapeños stuffed with local cheese or pulled pork and deep-fried — were among the former: fun, delicious and unusual. Entrées and their accompaniments were arrayed on extra-long, rectangular white plates, which gave the cozy fare a hip look.
The drink list was modern, too, including a bacon-pineapple-jalapeño Margarita that I have yet to try, and four "bloody" offerings, ranging from a tomato juice-cabernet blend to a vodka version laced with barbecue sauce. The latter — upgraded from the well (Smirnoff) to Ketel One for a buck — was good, though it tasted more strongly of horseradish than of 'cue. It would have been niftier if the promised rib garnish came in the glass as a meaty swizzle stick rather than on a plate.
In a couple of cases, though, Our House's "twist" on familiar dishes seemed like difference for the sake of being different more than inspired improvements on the food. Chicken wings were crispy and delicious, and the housemade blue-cheese dressing was an earthy treat, but Our House serves the wings whole — with the flats and drumettes attached to each other. The serving may have looked classier than the chopped-up versions at other eateries, but I looked decidedly less classy when the first bite left me with sauce on my nose and cheek. Trying to separate the slippery bits at the joint was just as messy.
The accompanying whole spears of celery and carrot were tricky, too. If you're sharing, you leave saucy fingerprints on your dining companion's portion.
The desserts were generally delicious but suffered a little from too much creativity. A miniature, gooey Chocolate Lava Cake was just right, and the idea of the accompanying black-pepper-laced fruit coulis was enticing. But the pieces of cracked 'corns were so big, they were palate killers. The shot of peanut-butter-and-Fluff milkshake, which came alongside a fried PB&J sandwich, was sweet, nutty overkill.
Those small gripes aside, Our House is an excellent addition to the Greater Burlington dining scene. The chef's deft hand with seasonings and sauces makes the food shine. Given how much I cook at my own house, it's rare that I want to return to a restaurant to sample fare as homely sounding as chicken pot pie, mac 'n' cheese or tomato basil soup. But I can't wait to try the ones they make at Our House. I'm already hankering for another serving of that fantastic bread pudding — and a plate of ribs while I'm at it.