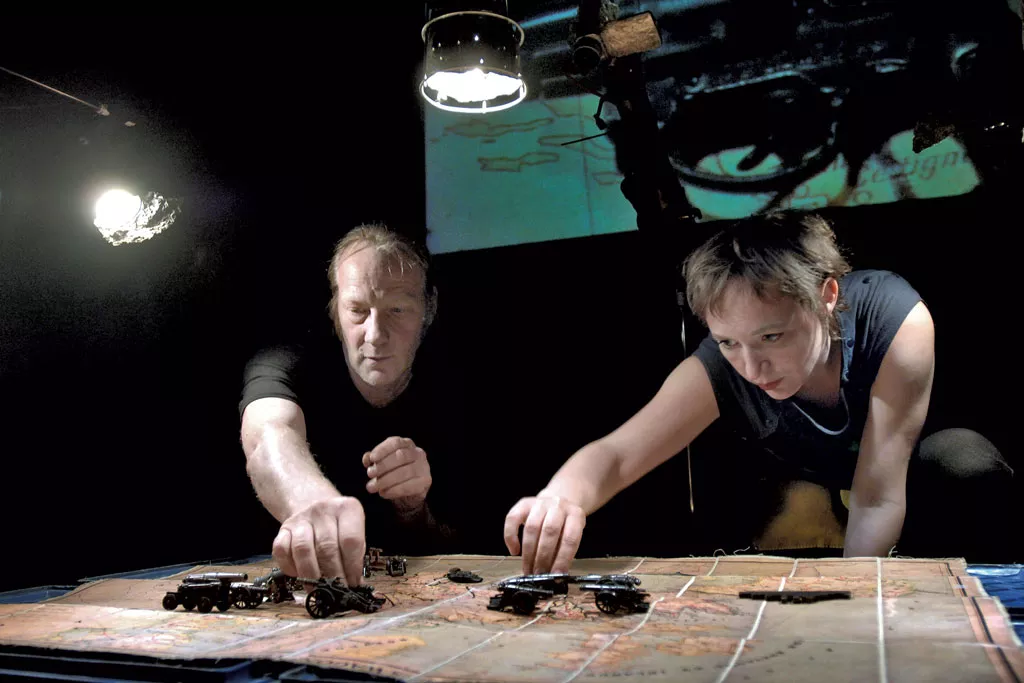 Courtesy of Joost van den Broek/Hopkins Center
Herman Helle and Pauline Kalker in performance
Hotel Modern's live performance of The Great War begins when humanity's deadliest conflagration did — Europe, 1914, in a bucolic field surrounded by tranquil blue sky. The audience watches as puppeteers build scenery as they go, positioning a village, road, bushes and trees — a miniature tableau captured by video cameras and projected live on a big screen. Sound-effects artists render the chirping of birds and insects, then the clip-clop of a horse-drawn wagon. A white dove erupts from the brush, flushed out by an approaching soldier on horseback.
The scene shifts to a wheat field, which the performers create using the head of a push broom. The mounted soldier returns, then disappears from view. We hear shots, followed by hooves galloping off.
"The sun was getting hotter. The only sounds we could hear were the crickets and the church bells in the village," narrates a woman's voice. "I watched the people coming out of the church and wondered if they knew it was war, and there were dead bodies lying in their woods."
Next, a column of miniature German soldiers marches by. A toy machine gun pushes through the bushes and mows them down with mechanical efficiency.
Courtesy of Joost van den Broek/Hopkins Center
Still images from The Great War
Anyone who enjoyed making dioramas or playing with dollhouses as a child is likely to be enthralled by the works of Dutch theater ensemble Hotel Modern. The Great War, which plays for two nights next week at Dartmouth College's Hopkins Center for the Arts, recreates the nightmares of World War I trench warfare on a scale comparable to that of a model train set, thus making them easier for the audience to grasp.
Hotel Modern was founded in 1997 by actors Arlène Hoornweg and Pauline Kalker, who were later joined by performer Herman Helle and composers Arthur Sauer and Ruud van der Pluijm. Some of their productions, which blend puppetry, music, film and performance, are light and whimsical. Shrimp Tales, for instance, is an absurdist portrayal of humanity in which 350 dried shrimp play the roles of people attending church, performing surgery and landing on the moon. Other productions are far bleaker — including Kamp, a retelling of the horrors of Auschwitz using 3,000 three-inch-tall figurines.
The Great War's script was adapted from actual letters written by a French soldier named Prospert to his mother, discovered decades after the war ended in an antiquarian bookshop in Marseilles. As we hear Prospert describe both the mundane miseries of life in the trenches and scenes of horrific bloodshed, the performers rapidly rearrange the landscape, crafting illusions such as advancing miniature tanks. They recreate explosions with sparklers and blowtorches, and the spread of mustard gas with dry ice.
Meanwhile, composer Sauer supplies the soundtrack using more than 50 instruments, including coconuts for horses' hooves and marbles in tin cans for machine-gun fire. Though the performance unfolds entirely in view of the audience, the chasm between illusion and reality quickly closes, and the immensity of a war that claimed tens of millions of lives takes on tangible qualities.
Since its premiere in 2001, The Great War has been performed in dozens of cities worldwide. Reached via email, Hoornweg and Sauer say that audience reactions haven't differed dramatically in the various countries where they've performed — except among those viewers who've recently experienced war and violence.
To that point, Hoornweg and Sauer recount the experience of performing the piece in Cairo prior to Egypt's "second revolution" in 2013, right around the corner from Tahrir Square.
"We didn't know at that time, of course, that again a revolution was about to come," Hoornweg writes. "There was no war, but you could feel the tension everywhere in the city. Small streets were blocked, with walls made out of big concrete stones, to prevent demonstrating citizens [from escaping] from the police in case of a riot. It looked like a war zone."
Separately, both artists describe being moved by their work with a young Egyptian woman who subtitled their show.
"We rehearsed the text with her and after a while we noticed she was crying," Hoornweg writes. "She told us that it was very hard for her right now to listen to these stories of soldiers in war. It [reminded] her of the things that had happened to her and her friends in Cairo ... while demonstrating against the government."
Only later did the performers learn that their Egyptian assistant and her boyfriend had demonstrated in Tahrir Square. He was later arrested and tortured, then hanged by his hair.
"A lot of students saw that performance," Hoornweg adds, "and you could feel that it touched them."
American audiences have been no less affected, she adds. One Q&A after The Great War triggered emotional responses from Iraq War veterans, who spoke of their traumas and their inability to "cope with 'normal' society anymore."
Proof positive that, though The Great War is reenacted using toy soldiers and miniatures, its dramatic impact is life-size.
Correction 4/8/15: An earlier version of this story attributed the Great War's soundtrack to both Arthur Sauer and Ruud van der Pluijm; in fact, Sauer wrote and performs the soundtrack.