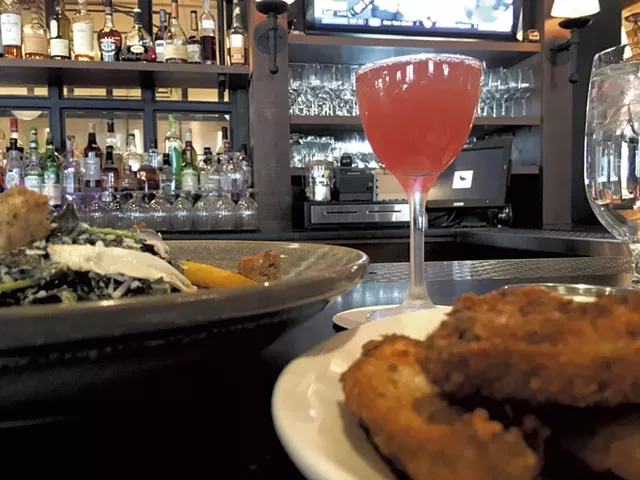 Melissa Pasanen
Spirit-free Don't Give Up the Lip pomegranate and pineapple drink
About halfway through my late Saturday lunch a few weeks ago at the Copper Grouse in Manchester, the host asked if I'd mind scooting down the bar to open up a pair of seats beside me. Although it had been relatively quiet when I first walked into the restaurant at the Taconic Hotel just before 2 p.m., icy conditions had prompted an early après-ski hour, and a steady stream of families and couples was flowing into the restaurant and bar.
Pausing over my kale Caesar salad and chicken wings, I responded that I'd be happy to move and prepared to rise from the well-padded bar stool. Instead, the host motioned for me to stay put and simply picked me up, heavy stool and all, moving me like a giant chess piece into the empty spot to my left.
Everyone along the bar smiled before turning back to their food, drink and conversation. The atmosphere at the bar had already been friendly, but the stool-moving incident prompted more conversation, especially since there were no longer any empty buffer seats between us.
Melissa Pasanen
The Copper Grouse at the Taconic Hotel in Manchester
The young couple to my left told me they had driven from Bennington to Manchester to shop at Fortuna's Sausage & Italian Market and were having a beer before heading back home. It turned out that the woman had gone to high school with the brother of the sheep farmer I had just interviewed one town to the north, a reminder that Vermont is small no matter where you are.
To my right sat a couple visiting from the Boston area who were discussing the cost of the New England Patriots' private plane. They gave a big thumbs up to the house burger, which did look fantastic with its bacon jam, Cabot cheddar, fried pickled onions and a rugged stack of burnished, hand-cut fries. The man observed that excellent burgers are harder to deliver than it might seem but that the Copper Grouse's checked all the boxes.
I had been offered the full lunch menu when I arrived but decided to order off the abbreviated Bar Bites menu. It's available in the afternoon after 2 p.m. and later at night when dinner service is over. Craving some green, as one does this time of year, I selected the baby kale Caesar. Its chunky croutons are baked just down the road at Earth Sky Time Community Farm, a warm, quirky spot that is my favorite antidote to the touristy side of Manchester.
With the optional gilding of briny white anchovies, the salad was satisfying and would have made for a solid meal with the add-on marinated grilled chicken or salmon. But when at a bar, I feel almost required to sample the chicken wings.
Melissa Pasanen
Baby kale Caesar salad
The Copper Grouse offers wings in two flavors: maple Sriracha or blackened dry rub, both served with something described as a blue cheese mousse. The general heading is "crispy wings," and the dry-rubbed version I selected did meet that description, though in a savory, crisp-crumbed way, not a sticky, crisp-skinned way. They were different and good, once I adjusted my expectations. The restaurant's general manager, Seth Dunne, later explained that the wings are baked first, then finished in a fryer and tossed in dry rub. (There was, it should be noted, no mousse-like aspect to the serviceable blue cheese dip.)
Most of the bar guests were indulging in typical après-ski beverages, including Vermont beers and hard cider from the 10-tap system. There was also ample evidence up and down the bar of the appeal of interesting cocktails under the "House Grouse Creations" section of the bar book. I was briefly tempted by the Tuxedo, made with Smugglers' Notch Distillery gin, dry sherry and orange bitters, or the Rosita, made with tequila, two vermouths, Campari and Angostura bitters. But I had not earned it on the slopes that morning and didn't have time for an afternoon siesta.
Happily, my eye landed upon the "spirit-free" offering at the bottom of the menu. I much prefer that term to the tired "mocktail," which seems to have fallen out of favor in reverse proportion to the rise of sophisticated, alcohol-free bar offerings. While one can always ask for a drink without alcohol, I appreciated that it was presented in writing and that someone had clearly put thought into it.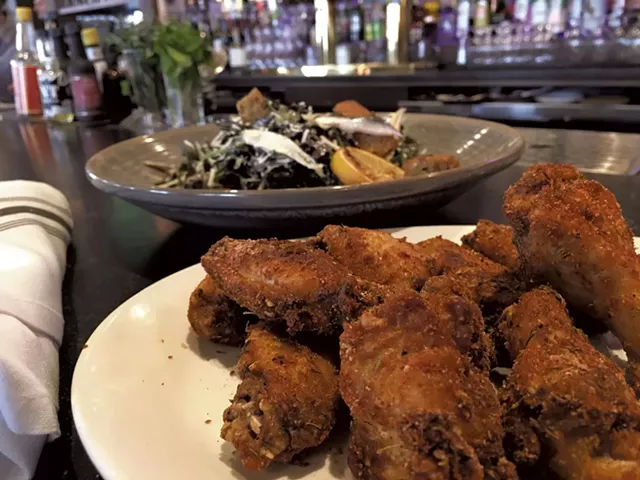 Melissa Pasanen
Blackened dry rub chicken wings
"We do it so that everyone feels like there's something for them," Dunne explained. "So people who don't want alcohol don't feel out of place."
The Don't Give Up the Lip pomegranate and pineapple drink was a gorgeous shade of sunset glowing softly in an elegant glass; each sip delivered deep, multilayered flavor. This, I discovered, was thanks to a complex British botanical mixer called Seedlip Spice 94. It's made with allspice berries, cardamom, the peel of grapefruit and lemon, and the bark of oak and the tropical shrub cascarilla.
The Taconic opened in Manchester in late 2015, a member of the international group of Kimpton boutique hotels. Dunne said that the connection to Seedlip came from being part of that global brand. My salad's Earth Sky Time croutons, on the other hand, came from being part of the local community.
Dunne said that guests represent a similar diversity, hailing from near and far: "It's a great mix," he said. I couldn't have agreed more, flanked by friendly folks from Bennington and Boston that Saturday afternoon at the Copper Grouse.