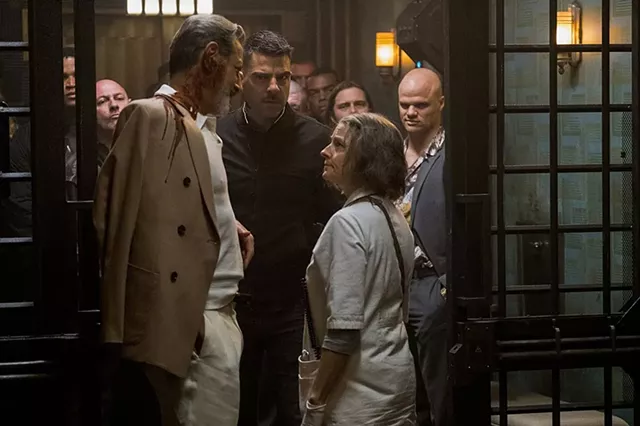 PANIC ROOMS Foster stars and Goldblum briefly appears in this story set in a getaway where all the guests dread one man's arrival.
Have you seen the new John Wick? It's called Hotel Artemis. Just kidding. The film is actually connected to the smash action franchise only in the sense that virtually anything halfway interesting in it has been purloined from the Wickiverse.
Halfway interesting, I should note, is a bar this bomb reaches fleetingly and infrequently over the course of its 93 minutes. It marks the directorial debut of Brit screenwriter Drew Pearce (Iron Man 3). And association with it may well leave a mark — "stain" is perhaps a better word — on the reputations of several A-listers.
Jodie Foster, for example. The Oscar winner returns from a five-year break to slum big-time in this frivolous futurist train wreck. She plays a woman in her mid-sixties called the Nurse. The movie is set in 2028, so, logically, you'd expect the character to look more or less the way the actress is likely to look 10 years from now (she's 56).
For some inexplicable reason, though, Pearce elected to blow much of his shoestring budget on makeup and facial prosthetics. Foster looks more like she's closing in on 80 while struggling to rebound from the heartbreak of psoriasis.
But I digress. The Nurse runs Hotel Artemis, which isn't a regular hotel but a hospital-cum-hideout for Los Angeles' criminal element. So long as they pay their membership dues and obey the house rules (no guns, no cops, no whacking the other guests), the worst of the worst are welcome to state-of-the-art medical care and a place to lie low during recovery.
You know, like the Continental, the villains-only auberge made famous by the Wick pictures. Bit of a blatant borrow. Yet the filmmaker has responded to allegations of copycatting as disingenuously as if he'd just graduated from the Trump Institute of Chicanery and Prevarication with an advanced degree in Whoppers.
Pearce protested too much to the Wrap that he "literally never thought" about John Wick. His inspiration was — wait for it — "Casablanca."
Well, that explains the nanotechnology the Nurse employs to keep criminals like those played by Charlie Day, Brian Tyree Henry and Sterling K. Brown from death's door. Along with the 3D printer she uses to whip up a new liver for one patient. (As it turns out, crime does pay.) Not to mention the acrobatic hand-to-hand combat technique of Sofia Boutella's French assassin. It's so Ingrid Bergman.
Another problem with Hotel Artemis is that it's overbooked. The citizens of LA are rioting in the streets, protesting the privatization of water and setting mandatory angry mob fires. The Nurse nurses drink after drink to forget the tragedy of her son's long-ago overdose death. The characters played by Brown and Boutella were once an item. Jenny Slate pops up as a bleeding cop who wants in. Against house rules, of course, but — wouldn't you know — she was a childhood friend of the Nurse's son, and the old woman has a soft spot for her.
These and other story lines are largely left as loose ends, are dropped mid-movie or raise questions that go unanswered. Pearce's script is less a coherent narrative than a point-free collection of noir clichés and half-baked concepts.
Most inexcusably, the entire film builds to the entrance of the Wolf King, a crime boss played by Jeff Goldblum, then does precisely nothing of interest with him once he finally checks in. Do we need a better reason than that to rate Hotel Artemis not worth checking out?