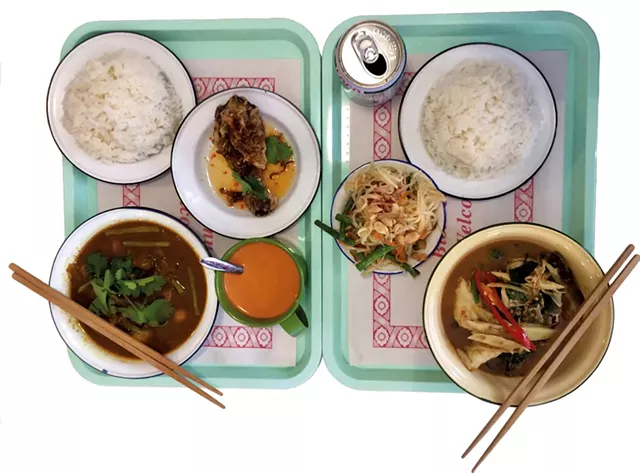 Molly Zapp
Fried chicken, papaya salad, jungle curry, cha Thai, and hunglay curry at Pumpui Grocer and Curry Shop
My face was burning, and I felt like I could exhale fire. Montréal's Pumpui Grocer and Curry Shop calls its jungle curry "très piquant," and that is truth in advertising. The Thai restaurant's dish indeed offers a complex spiciness that makes it hard to concentrate on anything besides the pain — and hence the food. I had never experienced such intensity outside of Thailand and New York City. It was parfait.
Curry in many forms is trending in Montréal right now, and as a fan of the heat and sauce in general, I had to check it out.
Lunch at Pumpui was the first stop on my tour of three restaurants that have expanded the city's Southeast Asian offerings. For dinner, I ventured to the Saint-Henri neighborhood, where Satay Brothers offers unique Malaysian and Singaporean dishes in a vibrant atmosphere. Bighi Curry, my new favorite spot for brunch in Montréal, serves Japanese and other curries that epitomize fusion done well.
Decorated with Thai calendars and advertisements from the '50s, Pumpui is designed to resemble casual curry houses in Thailand. Located in Little Italy, the small, order-at-the-counter gourmet restaurant has a bit of window seating and three large booths with beige melamine tables. In addition to satisfying seekers of the true Thai burn, Pumpui offers about eight other curries and dishes of varying spiciness on its changing chalkboard menu.
My friend and I ordered a piece of fried chicken ($2.99), which was also available in a three-piece mix for groups — or anyone who prefers not to gnaw on the same bone as their dinner date. The chicken was spot-on: perfectly juicy, with a light rice-flour breading, tiny fried shallots and a salty-sweet sauce that had just a bit of heat. Less memorable was the green papaya salad ($4), which was light on the vinegar zing and a bit limp, as if it had been prepared hours before.
For our main dishes, we began with the medium-spicy hunglay curry ($14.50), one of four options available in pans at the counter. Hunglay curry comes from the Shan state of Myanmar, which borders northern Thailand. Consisting of long-simmered, tender pork flank in a brown-red sauce and crunchy green beans, the savory curry tasted pleasantly and strongly of tamarind.
Back to that jungle curry burn. Served with sticky rice, its richly flavored chicken broth was infused with lemongrass, ginger and Thai chiles. Pieces of catfish mingled with eggplant, sliced bamboo, fresh basil and kaffir lime leaves. Small dark-green betel leaves added a slightly earthy bitterness. And beautiful sprigs of fresh green peppercorns lent another layer of spice different from the capsaicin heat of the chile peppers. (Fascinated by this ingredient, I took home the unfinished peppercorn to use in my own cooking.)
Mouth smarting but feeling satisfied and pleasantly conquered by the heat, I sipped on the milky cha Thai hot tea. On the table, I noticed the well-placed supply of napkins, handy for blowing one's nose.
Pumpui co-owner Xavier Cloutier came to our table to see how we liked the food, and we responded enthusiastically in the affirmative. The kitchen makes its curry pastes in-house, he told us, noting that the paste for the jungle curry included pickled gourami fish sauce. I learned after the meal that this sauce contains MSG. Because I generally avoid artificial ingredients and added flavors, I might have ordered differently if I'd known that the curry contained the infamous flavor enhancer. Still, the dish was delicious, and I felt fine afterward, so I'd probably order it again.
Pumpui, which opened in November, is an excellent spot for lunch or a casual dinner and is a quick walk from Marché Jean-Talon. The restaurant sells beer, but only for takeout; it does not have a license for on-site alcohol consumption. In warmer months, visitors could make like a local and turn their takeout items into a picnic; the nearby park at Dante and Alma streets is an ideal spot to eat and legally enjoy a beer. (Bonus: The park is right next to Notre-Dame-de-la-Défense, notable for its ceiling fresco that bizarrely features Benito Mussolini riding a horse.)
At Satay Brothers, people line up to eat dinner in-house or for takeout.* The Singaporean and Malaysian eatery began as a seasonal food stand and blossomed into a full restaurant in 2015. Arriving on a Friday night at 7, we took in the low lighting, energetic ambiance and club hits from the last decade while waiting briefly for a table. (Reservations are accepted only for large groups.)
Molly Zapp
Smoked octopus salad, beef satay and lamb kamouraska korma at Satay Brothers
Satay Brothers' extensive menu includes traditional gado-gado and a variety of satays and curries, along with distinct main dishes, such as grilled kingfish and smoked skate wing. We considered the skate, a fish that is part of the ray family, until the server told us it was "bon, mais aussi stringy." Not in the mood for that texture, we opted for the smoked octopus and calamari salad.
Our starters and drinks arrived quickly in the busy restaurant. The Tamarind Dream cocktail ($11) was straightforward — tamarind juice, gin, lime and simple syrup, served in a vintage ceramic tumbler with a cameo of a woman in a coconut-shell bikini. Brewed in Montréal, the Ippon sansho-ginger beer proved to be an excellent complement to the food.
Tasty but not exceptional, the beef satay was nicely marinated, and its crunchy peanut sauce was easy on the sugar. The deconstructed steam bun was better: Served taco-style, it consisted of lean pork flank smothered in a hoisin-based sauce and wrapped in a tender, flattened bun along with cucumbers and cilantro.
Unfortunately, the salad and mains arrived 30 seconds after the starters. Bad timing aside, the smoked octopus and calamari salad ($18) was as interesting as I'd hoped. Chopped lettuce and chives in light vinaigrette were piled on a base of crisp daikon, topped with earthy, roasted burdock root and sweet, roasted yam. The smoked seafood was fresh and firm; I could taste the ocean as much as the smoke.
The kamouraska korma ($16) featured large pieces of lamb, stewed with star anise, ginger, tomato and cumin and served with rice and cilantro. It was mild and flavorful but, with no vegetables except fresh jalapeños on the side, it would have benefited from something acidic or fresh to lift the flavors. I found the bitterness of the jalapeños a displeasing contrast to the warm flavors of the curry and left most of them on the plate.
More satisfying was the fried rice ($8), which was cooked with bits of curried pork and egg and drizzled with yogurt sauce and green onions. Rich, savory and creamy, it was well-executed comfort food.
Our server was friendly and willing to answer questions and, despite the crowd, we didn't feel rushed. Next time, I'll order successively to ensure better pacing and maybe give the skate a try.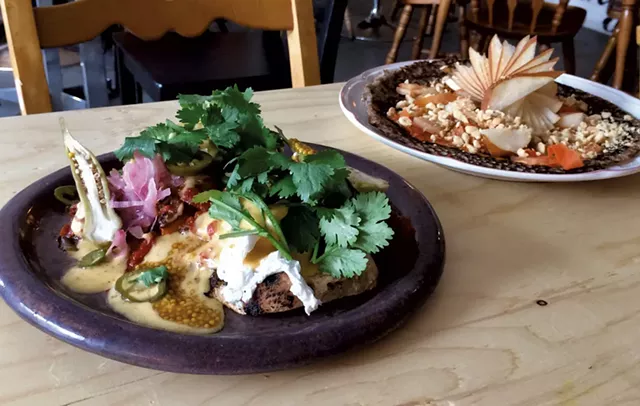 Molly Zapp
Kimchi pancake and eggs Benedict at Bighi Curry
Saturday brunch at Bighi Curry presented a markedly different vibe: cozy and filled with natural light and second-hand wooden tables. Located in the Centre-Sud neighborhood, not far from the Gay Village, Bighi serves memorable Japanese curries and fusion food and lacks the long waits typical of brunch spots in the Plateau and Mile End. (Dinner at Bighi, however, tends to be busier; I've been turned away for lack of a reservation on a weekend.)
We began our brunch with the buckwheat pancake ($11). In Québec, these are traditionally salty, not sweet; Bighi's takes that form and runs with it. The thin, crêpe-like pancake was topped with crunchy, spicy kimchi and a salty, creamy sauce. Sliced pears were elegantly fanned on top and sprinkled with roasted peanuts. Impressively, the pancake remained crisp until we were nearly finished. Some restaurants might have drizzled maple syrup on top, but this pancake was perfect without it.
For me, restaurant brunch isn't complete without eggs. Bighi offers an omelet and two perfectly poached options. The eggs Benedict ($15) replaced the usual English muffin with chewy housemade naan and added a dusting of masala spices to the otherwise traditional hollandaise. The dish was served with a side of saucy smoked chicken, pickled okra, jalapeños and red onions. The tart-sweet pickles brilliantly complemented the chicken and cut the richness of the hollandaise. I could eat this Benedict every weekend.
Enjoying a pot of pu-erh tea in the comfortably less-than-full restaurant, I recalled a previous brunch at a different Montréal eatery, where I waited in the cold for 30 minutes before being seated. Once inside, the soundtrack to my eggs Benedict was "The Thong Song," the kind of music designed to make people eat quickly and leave. At Bighi, I found a relaxed spot that encouraged taking one's time.
What lingered after three days of Montréal curry was not the restaurants' trendiness but the delectable diversity of flavors and fresh ingredients, especially at Pumpui and Bighi.
*Correction, March 22, 2018: An earlier version of this story said Satay Brothers only serves dine-in meals; the restaurant does, in fact, do takeout.