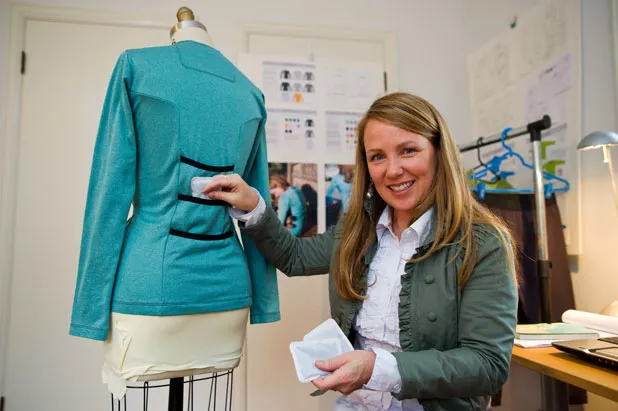 Living through a Vermont winter can be brutal. Who among us hasn't fantasized about heated clothes that would keep our limbs toasty and comfortable when the mercury drops to the single digits? Burlington industrial designer Julia Aiken certainly has. Only, unlike the rest of us, she's actually doing something about it.
Aiken, 42, is the engine behind Toast Heated Clothes, a new line of long underwear featuring strategically placed pockets for heat packs. The bottoms have pockets at the waistband; the tops, in the neck and lower-back areas. The idea seems so simple, it's shocking there's no such thing on the market already. But if there were, Aiken, a former professional snowboarder and hard-goods designer for Burton and Roxy, would know about it.
Aiken entered the field of industrial design somewhat by accident. Back when she was riding professionally, few, if any, boards could accommodate her small stature — she's only 5 feet tall. So she made her own equipment, taking boards given to her by Burton and hacking them apart to create something her size.
Aiken's jury-rigging caught the eye of Burton product designers, and the company offered her a full-time job. Over the years, she has designed women's product lines for Burton — most recently, the 2010 women's hard-goods line that was in stores last year.
Last year is also when Aiken became a casualty of the Burlington snowboard giant's layoffs — and struck out on her own to create the Toast line. Seven Days came in out of the cold to chat with Aiken about keeping warm.
SEVEN DAYS: Where did the inspiration come from for heated long underwear?
JULIA AIKEN: So, I was at Mount Baker [Wash.] for the banked slalom competition, and it was one of those days that only happens in the Pacific Northwest. It was pouring rain first thing in the morning, and then this snowstorm rolls in, and the weather plunges way below freezing. I was wearing this Roxy test outerwear, which was supposed to be the next Gore-Tex, and it so was not. It wasn't waterproof or even water resistant. I got soaked to the bone. And then, when it got cold, I literally had a layer of ice on my jacket. I had never been so miserable.
I was thinking about skipping the contest because I was so cold. My friend had this box of heater packs, like the ones used for arthritis pain with the adhesive backing. She put one on my stomach, one on my lower back, and one on the back of my neck. The next thing you know, I was so hot, I had to take off my jacket. I felt like a superhero. I was completely warmed up, ready for action, and I wound up winning my division.
SD: That's a great idea, but you can't stick those things on you all the time.
JA: I looked around at the top of the mountain during the banked slalom, and there are all these pro snowboarders there shivering, and I thought, Why don't more people know about these things? I work in this industry, and I don't think a lot of people use these. So, for the next four years, I rode around with the hand warmers duct-taped to my back. The stick-on ones were hard to find.
Fast-forward to January 2009: My husband, Andy, and I are riding the lift at Stowe, and we're both product designers, so we said, "You know what would be cool? Heated long underwear." We kind of looked at each other and went, "Wait a minute; we might actually be able to do this."
SD: When you came up with the concept of heated long underwear, what were some of the ideas you had for execution?
JA: First, I sat down to sketch the very basic concept. How would it look; where would you want the heat; how would you build it? My background was all hard goods up to this point, so apparel was completely foreign to me. I found a pattern designer named Sue Weed, who did the original Jogbra. She was incredible. I call her my fairy godmother.
We knew we wanted to do a pocket. The first piece we did was a tank top with two pockets, one on each kidney. Side access on the side seams, because I wanted to be able to put the heat pack in when you're wearing the garment. We started with a large heat pack on each kidney, which turns out to be too much heat. It's not the optimal location. It turns out it's the center of your lower back. But it's all trial and error.
SD: What's in the Toast lineup?
JA: There are four styles. A men's top and bottom and a women's top and bottom. To start, we'll be doing a web-only direct-to-consumer launch by November 1.
SD: Who is going to wear the heated long underwear?
JA: Well, it's inspired by snowboarding, but you can wear it walking the dog. I have product testers who wear them biking, running. Think about how many people hunt in Vermont or work construction.
SD: Where are the clothes being made?
JA: Our manufacturing is domestic; I'll even say New England. Our fabrics come from Massachusetts. And everything is made to order.
SD: OK, but if you're making them in the U.S., what are they costing? Like, $400?
JA: Nope — $65 to $75, depending on the garment. And they come with a set of three hand warmers, which is enough to get you started.